 Losing stream
A
losing stream
, or
influent stream
, is a
stream
Stream
A stream is a body of water with a current, confined within a bed and stream banks. Depending on its locale or certain characteristics, a stream may be referred to as a branch, brook, beck, burn, creek, "crick", gill , kill, lick, rill, river, syke, bayou, rivulet, streamage, wash, run or...
or
river
River
A river is a natural watercourse, usually freshwater, flowing towards an ocean, a lake, a sea, or another river. In a few cases, a river simply flows into the ground or dries up completely before reaching another body of water. Small rivers may also be called by several other names, including...
that loses water as it flows downstream. The water
infiltrates
Infiltration (hydrology)
Infiltration is the process by which water on the ground surface enters the soil. Infiltration rate in soil science is a measure of the rate at which soil is able to absorb rainfall or irrigation. It is measured in inches per hour or millimeters per hour. The rate decreases as the soil becomes...
into the ground recharging the local
groundwater
Groundwater
Groundwater is water located beneath the ground surface in soil pore spaces and in the fractures of rock formations. A unit of rock or an unconsolidated deposit is called an aquifer when it can yield a usable quantity of water. The depth at which soil pore spaces or fractures and voids in rock...
, because the
water table
Water table
The water table is the level at which the submarine pressure is far from atmospheric pressure. It may be conveniently visualized as the 'surface' of the subsurface materials that are saturated with groundwater in a given vicinity. However, saturated conditions may extend above the water table as...
is below the bottom of the stream channel. This is the opposite of a more usual
gaining stream
(or
effluent stream
) which increases in water volume farther down stream as it gains water from the local
aquifer
Aquifer
An aquifer is a wet underground layer of water-bearing permeable rock or unconsolidated materials from which groundwater can be usefully extracted using a water well. The study of water flow in aquifers and the characterization of aquifers is called hydrogeology...
.
Losing streams are common in arid areas
http://jersey.uoregon.edu/~mstrick/AskGeoMan/geoQuerry62.html
. Losing streams are also common in regions of
karst topography
Karst topography
Karst topography is a geologic formation shaped by the dissolution of a layer or layers of soluble bedrock, usually carbonate rock such as limestone or dolomite, but has also been documented for weathering resistant rocks like quartzite given the right conditions.Due to subterranean drainage, there...
where the streamwater may be completely captured by an underground
cavern
Cave
A cave or cavern is a natural underground space large enough for a human to enter. The term applies to natural cavities some part of which is in total darkness. The word cave also includes smaller spaces like rock shelters, sea caves, and grottos.Speleology is the science of exploration and study...
system, becoming a
subterranean river
Subterranean river
A subterranean river is a river that runs wholly or partly beneath the ground surface – one where the riverbed does not represent the surface of the Earth ....
.
Examples of losing streams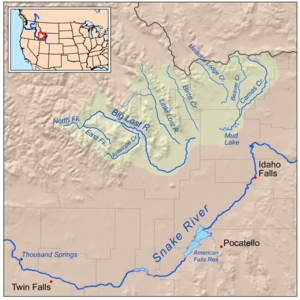 Examples of losing streams include: