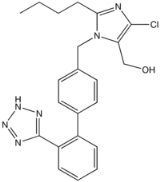 Losartan
Losartan
(icon) is an
angiotensin II receptor antagonist
Angiotensin II receptor antagonist
Angiotensin II receptor antagonists, also known as angiotensin receptor blockers , AT1-receptor antagonists or sartans, are a group of pharmaceuticals which modulate the renin-angiotensin-aldosterone system...
drug used mainly to treat high blood pressure (
hypertension
Hypertension
Hypertension or high blood pressure is a cardiac chronic medical condition in which the systemic arterial blood pressure is elevated. What that means is that the heart is having to work harder than it should to pump the blood around the body. Blood pressure involves two measurements, systolic and...
). Losartan was the first angiotensin II receptor antagonist to be marketed. Losartan potassium is marketed by Merck & Co. Inc. under the
trade name
Trade name
A trade name, also known as a trading name or a business name, is the name which a business trades under for commercial purposes, although its registered, legal name, used for contracts and other formal situations, may be another....
Cozaar
. , losartan is available in
generic
Generic drug
A generic drug is a drug defined as "a drug product that is comparable to brand/reference listed drug product in dosage form, strength, route of administration, quality and performance characteristics, and intended use." It has also been defined as a term referring to any drug marketed under its...
form.
As with all angiotensin II type 1 receptor (AT
1
) antagonists, losartan is indicated for the treatment of hypertension. It may also delay progression of
diabetic nephropathy
Diabetic nephropathy
Diabetic nephropathy , also known as Kimmelstiel-Wilson syndrome, or nodular diabetic glomerulosclerosis and intercapillary glomerulonephritis, is a progressive kidney disease caused by angiopathy of capillaries in the kidney glomeruli. It is characterized by nephrotic syndrome and diffuse...
, and is also indicated for the reduction of renal disease progression in patients with type 2 diabetes, hypertension and microalbuminuria (>30 mg/24 hours) or proteinuria (>900 mg/24 hours).
Although clinical evidence shows calcium channel blockers and thiazide-type diuretics are preferred first-line treatments for most patients (from both efficacy and cost points of view), an angiotensin II receptor antagonist such as losartan is recommended as first-line treatment in patients under the age of 55 who cannot tolerate an
ACE inhibitor
ACE inhibitor
ACE inhibitors or angiotensin-converting enzyme inhibitors are a group of drugs used primarily for the treatment of hypertension and congestive heart failure...
. The LIFE study demonstrated losartan was significantly superior to
atenolol
in the primary prevention of adverse cardiovascular events (myocardial infarction or stroke), with a significant reduction in cardiovascular morbidity and mortality for a comparable reduction in blood pressure. A study hints that losartan has a beneficial effect on mitochondria by reversing age related dysfunction in maintaining normal blood pressure and cellular energy usage.
Combination with diuretic
Losartan is available as
hydrochlorothiazide/losartan
Hydrochlorothiazide/losartan
Hydrochlorothiazide/losartan is a combination drug used as an antihypertensive, consisting of hydrochlorothiazide and losartan ....
, a combination drug with a low dose thiazide diuretic to achieve an additive antihypertensive effect.
Pharmacokinetics
Losartan is well absorbed following oral administration and undergoes significant first-pass metabolism to produce 5-carboxylic acid metabolite, designated as EXP3174. This metabolite is a long-acting (6 to 8 hr), noncompetitive antagonist at the AT
1
receptor, and contributes to the pharmacological effects of losartan. EXP3174 is 10-40 times more potent in blocking AT
1
receptors than losartan. Losartan's
bioavailability
Bioavailability
In pharmacology, bioavailability is a subcategory of absorption and is used to describe the fraction of an administered dose of unchanged drug that reaches the systemic circulation, one of the principal pharmacokinetic properties of drugs. By definition, when a medication is administered...
is about 32%.
Metabolism is primarily by cytochrome P450 isoenzymes CYP2C9 and CYP3A4. Peak plasma concentrations of losartan and E-3174 occur about one hour and three to four hours, respectively, after an oral dose. Both losartan and E-3174 are more than 98% bound to plasma proteins. Losartan is excreted in the urine, and in the feces via bile, as unchanged drug and metabolites. About 4% of an oral dose is excreted unchanged in urine, and about 6% is excreted in urine as the active metabolite. The terminal elimination half lives of losartan and E-3174 are about 1.5 to 2.5 hours and 3 to 9 hours, respectively.
Research
Losartan has been found to downregulate the expression of transforming growth factor beta (TGF-β) types I and II receptors in the kidney of diabetic rats, which may partially account for its nephroprotective effects. Effects on TGF-β expression may also account for its potential efficacy in
Marfan syndrome
Marfan syndrome
Marfan syndrome is a genetic disorder of the connective tissue. People with Marfan's tend to be unusually tall, with long limbs and long, thin fingers....
and
Duchenne muscular dystrophy
Duchenne muscular dystrophy
Duchenne muscular dystrophy is a recessive X-linked form of muscular dystrophy, which results in muscle degeneration, difficulty walking, breathing, and death. The incidence is 1 in 3,000 boys. Females and males are affected, though females are rarely affected and are more often carriers...
(DMD) – losartan has been shown to prevent
aortic aneurysm
Aortic aneurysm
An aortic aneurysm is a general term for any swelling of the aorta to greater than 1.5 times normal, usually representing an underlying weakness in the wall of the aorta at that location...
and certain pulmonary complications in a mouse model of the disease.
Losartan is being studied for use in the treatment of the 20% of
breast cancer
Breast cancer
Breast cancer is cancer originating from breast tissue, most commonly from the inner lining of milk ducts or the lobules that supply the ducts with milk. Cancers originating from ducts are known as ductal carcinomas; those originating from lobules are known as lobular carcinomas...
tumors positive for AGTR1. The
University of Michigan
University of Michigan
The University of Michigan is a public research university located in Ann Arbor, Michigan in the United States. It is the state's oldest university and the flagship campus of the University of Michigan...
Comprehensive Cancer Center announced the result of an animal study which found losartan to "block" - reverse neoplastic changes - caused by this gene.
Related news articles:
Mechanism of action and pharmacological actions
Losartan is a selective, competitive
angiotensin II receptor type 1
Angiotensin II receptor type 1
Angiotensin II receptor, type 1 or AT1 receptor is an angiotensin receptor. It has vasopressor effects and regulates aldosterone secretion. It is an important effector controlling blood pressure and volume in the cardiovascular system...
(AT
1
) receptor antagonist, reducing the end organ responses to angiotensin II. Losartan administration results in a decrease in total peripheral resistance (afterload) and cardiac venous return (preload) All of the physiological effects of angiotensin II, including stimulation of release of
aldosterone
Aldosterone
Aldosterone is a hormone that increases the reabsorption of sodium ions and water and the release of potassium in the collecting ducts and distal convoluted tubule of the kidneys' functional unit, the nephron. This increases blood volume and, therefore, increases blood pressure. Drugs that...
, are antagonized in the presence of losartan. Reduction in blood pressure occurs independently of the status of the
renin-angiotensin system
Renin-angiotensin system
The renin-angiotensin system or the renin-angiotensin-aldosterone system is a hormone system that regulates blood pressure and water balance....
. As a result of losartan dosing, plasma renin activity increases due to removal of the angiotensin II feedback.
Other uses
Losartan is a
uricosuric
Uricosuric
Uricosuric medications are substances that increase the excretion of uric acid in the urine, thus reducing the concentration of uric acid in blood plasma. In general, this effect is achieved by action on the proximal tubule...
. Because losartan can cause
hyperkalemia
Hyperkalemia
Hyperkalemia refers to the condition in which the concentration of the electrolyte potassium in the blood is elevated...
, potassium supplements or salt substitutes containing potassium should not be used without consulting the prescribing physician.
Losartan is being researched as a possible drug for marked slowing of aortic enlargement in Marfan and related syndromes.
Losartan is being researched as a possible protection against loss of damaged or old muscle.
Losartan has recently been found to be a cognitive enhancer. It improved memory in people with normal blood pressure under standard conditions, as well as during memory impaired tasks (co-administration of
scopolamine
Scopolamine
Scopolamine, also known as levo-duboisine, and hyoscine, is a tropane alkaloid drug with muscarinic antagonist effects. It is among the secondary metabolites of plants from Solanaceae family of plants, such as henbane, jimson weed and Angel's Trumpets , and corkwood...
).
Synthesis
Carini, D. J.; Duncia, J. V.; Wong, P. C. B; 1992, .
External links
Cozaar prescribing information Merck & Co.

Merck & Co.

Merck & Co., Inc. , also known as Merck Sharp & Dohme or MSD outside the United States and Canada, is one of the largest pharmaceutical companies in the world. The Merck headquarters is located in Whitehouse Station, New Jersey, an unincorporated area in Readington Township...



Hyzaar prescribing information Merck & Co.

Merck & Co.

Merck & Co., Inc. , also known as Merck Sharp & Dohme or MSD outside the United States and Canada, is one of the largest pharmaceutical companies in the world. The Merck headquarters is located in Whitehouse Station, New Jersey, an unincorporated area in Readington Township...