 Lomonosov Bridge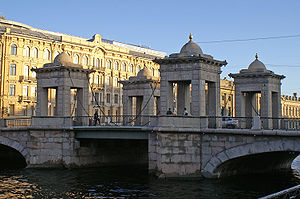 Lomonosov Bridge
across the Fontanka River is the best preserved of towered movable bridges that used to be typical for
Saint Petersburg
Saint Petersburg
Saint Petersburg is a city and a federal subject of Russia located on the Neva River at the head of the Gulf of Finland on the Baltic Sea...
in the 18th century.
The original Tchernyshov Bridge, measuring 63 metres long by 14,7 metres wide, was constructed between 1785 and 1787. During the mid-19th century industrialization other bridges had their towers removed to facilitate traffic, but Tchernyshov Bridge retained the original appearance, with four
rusticated
Rustication (architecture)
thumb|upright|Two different styles of rustication in the [[Palazzo Medici-Riccardi]] in [[Florence]].In classical architecture rustication is an architectural feature that contrasts in texture with the smoothly finished, squared block masonry surfaces called ashlar...
Doric
Doric order
The Doric order was one of the three orders or organizational systems of ancient Greek or classical architecture; the other two canonical orders were the Ionic and the Corinthian.-History:...
pavilion
Pavilion (structure)
In architecture a pavilion has two main meanings.-Free-standing structure:Pavilion may refer to a free-standing structure sited a short distance from a main residence, whose architecture makes it an object of pleasure. Large or small, there is usually a connection with relaxation and pleasure in...
s with small domed caps. Its movable middle section of wood was replaced by a metal one in 1912. The bridge was renamed after
Mikhail Lomonosov
Mikhail Lomonosov
Mikhail Vasilyevich Lomonosov was a Russian polymath, scientist and writer, who made important contributions to literature, education, and science. Among his discoveries was the atmosphere of Venus. His spheres of science were natural science, chemistry, physics, mineralogy, history, art,...
in 1948.
External links