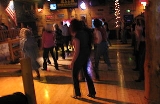 Line dance
A
line dance
is a choreographed dance with a repeated sequence of steps in which a
group
Group dance
Group dances are danced by groups of people simultaneously, as opposed to individuals dancing alone or individually, and as opposed to couples dancing together but independently of others dancing at the same time, if any....
of people dance in one or more lines or rows without regard for the gender of the individuals, all facing the same direction, and executing the steps at the same time. Line dancers are not in physical contact with each other. Older "line dances" have lines in which the dancers face each other, or the "line" is a circle, or all dancers in the "line" follow a leader around the dance floor; while holding the hand of the dancers beside them.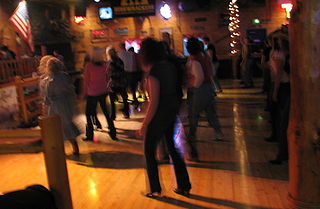 History and culture
Although line dancing is associated with country-western music and dance, it has a similarities to folk dancing. Many
folk dance
Folk dance
The term folk dance describes dances that share some or all of the following attributes:*They are dances performed at social functions by people with little or no professional training, often to traditional music or music based on traditional music....
s are danced in unison in a single, nonlinear "line", and often with a connection between dancers. The Balkan countries, among others, have a rich tradition of line dance surviving to the present. These folk line dances are also performed in the
international folk dance
International folk dance
International folk dance is a genre of dance wherein selected folk dances from multiple ethnic groups are done by the same dancers, typically as part of a regular recreational dance club, for performances or at other events. The dances are typically considered the products of national or cultural...
movement. Folk line dances have many forms: pairs of lines in which the dancers face each other, or a line formed into a circle, or the line follows around the dance floor. The dancers may hold hands with their neighbors, or use an arm-on-shoulder hold, or hold their neighbor's belts.
The absence of a physical connection between dancers is, however, a distinguishing feature of country western line dance. Line dances have accompanied many popular music styles since the early 1970s including pop,
swing
Swing (dance)
"Swing dance" is a group of dances that developed with the swing style of jazz music in the 1920s-1950s, although the earliest of these dances predate swing jazz music. The best known of these dances is the Lindy Hop, a popular partner dance that originated in Harlem and is still danced today...
,
rock and roll
Rock and roll
Rock and roll is a genre of popular music that originated and evolved in the United States during the late 1940s and early 1950s, primarily from a combination of African American blues, country, jazz, and gospel music...
,
disco
Disco
Disco is a genre of dance music. Disco acts charted high during the mid-1970s, and the genre's popularity peaked during the late 1970s. It had its roots in clubs that catered to African American, gay, psychedelic, and other communities in New York City and Philadelphia during the late 1960s and...
, Latin (
Salsa Suelta
Salsa suelta
Salsa suelta , or suelta, is a form of dancing to salsa music. Though the term technically describes any instance of salsa being danced without touching a partner, it is normally used to refer to a type of line dancing. As in casino rueda, there is often a leader who calls out names of set moves or...
), and Jazz.
The
Madison
Madison (dance)
The Madison is a novelty dance that was popular in the late 1950s to mid 1960s. The Madison was created and first danced in Columbus, Ohio, in 1957. The local popularity of the dance and record in Baltimore, Maryland, came to the attention of the producers of The Buddy Deane Show in 1960...
was a popular line dance in the late 1950s. The 1961 "San Francisco Stomp" meets the definition of a line dance. At least five line dances that are strongly associated with country-western music were written in the 1970s, two of which are dated to 1972: "Walkin' Wazi" and "Cowboy Boogie", five years before the disco craze created by the release of
Saturday Night Fever
Saturday Night Fever
Saturday Night Fever is a 1977 drama film directed by John Badham and starring: John Travolta as Tony Manero, an immature young man whose weekends are spent visiting a local Brooklyn discothèque; Karen Lynn Gorney as his dance partner and eventual friend; and Donna Pescow as Tony's former dance...
in 1977, the same (approximate) year the "Tush Push" was created. The "L.A. Hustle" began in a small Los Angeles disco in the Summer of 1975, and hit the East Coast (with modified steps) in Spring of '76 as the "Bus Stop. Another 70s line dance is the "NutBush".
Over a dozen line dances were created during the 1980s for country songs. The 1980 film
Urban Cowboy
Urban Cowboy
Released as a 2× vinyl record album, re-released on CD in 1995.Side A:#Hello Texas – Jimmy Buffett #All Night Long – Joe Walsh #Times Like These – Dan Fogelberg #Nine Tonight – Bob Seger & The Silver Bullet Band...
reflected the blurring of lines between country music and pop, and spurred renewed interest in country culture, and western fashion, music, and dance. Many early line dances, though, were adaptations of disco line dances."Boot Scootin' Boogie" was choreographed by Bill Bader in October 1990 for the original
Asleep at the Wheel
Asleep at the Wheel
Asleep at the Wheel is a American country music group that was formed in Paw Paw, West Virginia, but based in Austin, Texas. Altogether, they have won nine Grammy Awards since their 1970 inception. In their career, they have released more than twenty studio albums, and have charted more than twenty...
recording of the song of the same name. The Brooks and Dunn version of the song has resulted in there being at least 16 line dances with "Boot Scootin' Boogie" in the title, including one by Tom Maddox and Skippy Blair under contract to the recording company.
Billy Ray Cyrus
Billy Ray Cyrus
William "Billy" Ray Cyrus is an American country music singer, songwriter, actor and philanthropist, who helped make country music a worldwide phenomenon...
' 1992 hit "
Achy Breaky Heart
Achy Breaky Heart
"Achy Breaky Heart" is a hit country music song written by Don Von Tress. Originally titled "Don't Tell My Heart", its name was later changed to "Achy Breaky Heart" and was recorded by Billy Ray Cyrus on his 1992 album Some Gave All. As Cyrus' debut single and signature song, it made him famous and...
", helped catapult western line dancing into the mainstream public consciousness. In 1994 choreographer Max Perry had a worldwide dance hit with "Swamp Thang" for the song "Swamp Thing" by
The Grid
The Grid
The Grid are an English electronic dance group, consisting of Richard Norris and David Ball , with guest contributions from other musicians...
. This was a techno song that fused banjo sounds in the melody line and helped to start a trend of dancing to forms of music other than country. In this mid 1990s period country western music was influenced by the popularity of line dancing. This influence was so great that
Chet Atkins
Chet Atkins
Chester Burton Atkins , known as Chet Atkins, was an American guitarist and record producer who, along with Owen Bradley, created the smoother country music style known as the Nashville sound, which expanded country's appeal to adult pop music fans as well.Atkins's picking style, inspired by Merle...
was quoted as saying "The music has gotten pretty bad, I think. It's all that damn line dancing."
Max Perry, along with Jo Thompson, Scott Blevins and several others, began to use ballroom rhythms and technique to take line dancing to the next level. In 1998, the band Steps created further interest outside of the U.S. with the techno dance song "
5,6,7,8
5,6,7,8
"5, 6, 7, 8" was the first single released by the British pop group, Steps. The verses are performed by Lee, Lisa performed the middle 8, while the rest of the group join in for the choruses. It coincided with a minor line dancing craze in the UK at the time....
". In 1999 the Gap retailer debuted the "Khaki Country" ad on the Academy Awards ceremony. Line dancers performed to the 1999 version of "
Crazy Little Thing Called Love
Crazy Little Thing Called Love
"Crazy Little Thing Called Love" is a song by the rock band Queen. Written by Freddie Mercury in 1979, the track featured on their 1980 album The Game, and also appears on the band's compilation album, Greatest Hits...
" by
Dwight Yoakam
Dwight Yoakam
Dwight David Yoakam is an American singer-songwriter, actor and film director, most famous for his pioneering country music...
.
Line dance now has very traditional dances to country music, and not so traditional dances to non country music. It now uses more than just the "stereotypical" country music, in fact line dancers dance to most styles of music: country as well as modern pop, Irish, Latin just to name a few.'
Line dancing is practiced and learned in country-western dance bars, social clubs, dance clubs and ballrooms worldwide. It avoids the problem of imbalance of male/female partners that plagues ballroom/swing/salsa dancing clubs. It is sometimes combined on dance programs with other forms of country-western dance, such as two-step, and western promenade dances, as well as western-style variants of the
waltz
Waltz
The waltz is a ballroom and folk dance in time, performed primarily in closed position.- History :There are several references to a sliding or gliding dance,- a waltz, from the 16th century including the representations of the printer H.S. Beheim...
,
polka
Polka
The polka is a Central European dance and also a genre of dance music familiar throughout Europe and the Americas. It originated in the middle of the 19th century in Bohemia...
and
swing
Swing (dance)
"Swing dance" is a group of dances that developed with the swing style of jazz music in the 1920s-1950s, although the earliest of these dances predate swing jazz music. The best known of these dances is the Lindy Hop, a popular partner dance that originated in Harlem and is still danced today...
.
The
Macarena
Macarena (song)
"Macarena" is a Spanish dance song by Los del Río about a woman of the same name. Appearing on the 1994 album A mí me gusta, it was an international hit between 1995 and 1996, and continues to have a cult following. It was ranked the "#1 Greatest One-Hit Wonder of all Time" by VH1 in 2002.The song...
and the
Chicken Dance
Chicken Dance
The "Chicken Dance" is an oom-pah song and its associated fad dance is now a contemporary American folk dance. The song was composed by accordion player Werner Thomas from Davos, Switzerland, in the 1950s....
, the latter of which is danced in a circle, are other examples of line dance.
Line dancing reached Europe, nourished by the arrival of Country Music Television, and in 2008 gained the attention of the French government.
Step descriptions
Descriptions of some dance steps in their typical form are below. They are subject to variations in particular dances, where a stomp or a point may occur instead of a touch, for example, in the grapevine.
Chasse
]]: One foot moves to the side, the other foot is placed next to it, and the first foot moves again to the side. Technically, a chasse step can move any direction, but line dance choreographers more often use it as a side movement. This is the same as the movement some choreaographers call a "side shuffle". It can be called "side, together, side" or "side, close, side"
rapevine
One foot moves to the side, the other moves behind it, the first foot moves again to the side, and the second touches next to the first. There are variations: the final step can consist of a hitch, a scuff, placement of weight on the second foot, and so forth. The name of the step is sometimes abbreviated to vine.
Weave: To the left or the right. This is similar to a grapevine, but starting with a cross in front or a cross behind; it will obviously have another cross either in front or behind. Creates a slight zig zag pattern on the floor.
Triple step
Triple Step
Triple Step is a generic term for dance step patterns that describes three steps done on two main beats of music. Usually they are two quick steps and one slow one, i.e., often they are counted as "quick-quick-slow", "one-and-two", "three-and-four", etc....
: This is 3 steps being taken in only 2 beats of music. Can move forward, backward, left, right or on the spot.
Shuffle step: A triple step to the front or the back, left or right side, starting on either foot. The feet slide rather than being given the staccato (short and sharp) movement of the cha-cha. There is a slight difference in the interpretation of the timing to give the element its distinctive look. It is counted as 1 & 2, 3 & 4, etc. However, the actual amount of time devoted to each of the 3 steps in the shuffle is 3/4 of a beat, 1/4 of a beat, then one full beat of music. A chasse (normally used for sideways movement) is sometimes called a side(ways) shuffle. It can be called "step, together, step" or "step, close, step"
Lock step: A triple step backwards or forwards, starting on either foot, with the second foot slid up to and tightly locked in front of or behind the first foot before the first foot is moved a second time in the same direction as for the first step.
Other steps include applejack,
botafogo
Botafogo (dance move)
Botafogo, also sometimes spelt as Bota-fogo or Bota Fogo, is a dance step in Samba. Depending on relative positions and handholds, there are several versions of Botafogos while the basic footwork technique is the same...
, butterfly,
coaster step
Coaster Step
A Coaster Step is term used in swing dances, in particular in West Coast Swing to describe a Triple Step done in the pattern "back-together-forward" or "forward-together-back". Most often it is the follower's step...
, heel grind, hitch,
jazz box
Jazz Box
Jazz Box or Jazz Square is a dance move seen in numerous dances of various styles: line dance, novelty dances, jazz dance, disco, hip hop, etc. The name comes from its basic footwork: its four steps form a square pattern.-Basic footwork:Jazz square...
, kick ball change, kick ball step, lunge,
mambo
Mambo (dance)
Mambo .In the late 1940s, Perez Prado came up with the dance for the mambo music and became the first person to market his music as "mambo". After Havana, Prado moved his music to Mexico, where his music and the dance was adopted. The original mambo dance was characterized by freedom and...
step, military turn, Monterey turn, paddle,
pivot turn
Pivot turn
The term pivot turn or simply pivot refers to certain turning dance steps which may differ in different dance styles, with common character that the turn is a rotational movement of the whole body around one's own vertical axis, as if around a pivot. During the turn the foot swivels on the floor...
,
rock step
Rock Step
Rock step may refer to one of similar dance moves. The name refers to the rocking action during the move: the weight is transferred from one foot to another and then back. It is used in a number of dances, such as East Coast Swing, Zydeco, Lindy Hop, Tango.Most often it is a two-step dance move...
, sailor step, scissor step, scuff, spiral turn, stamp, stomp, sugarfoot, swivet and vaudeville.
Wall
Each dance is said to consist of a number of
walls
. A wall is the direction in which the dancers face at any given time: the front (the direction faced at the beginning of the dance), the back or one of the sides. Dancers may change direction many times during a sequence, and may even, at any given point, be facing in a direction half-way between two walls; but at the end of the sequence they will be facing the original wall or any of the other three. Whichever wall that is, the next iteration of the sequence uses that wall as the new frame of reference.
World records
Line dance resources
Major line dance events and competitions