 Laurentian Codex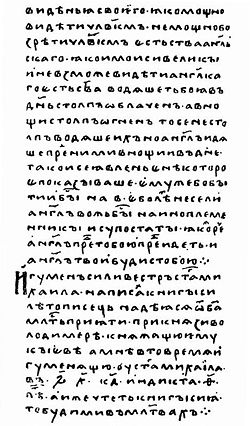 Laurentian Codex
or Laurentian Chronicle is a collection of chronicles that includes the oldest extant version of the
Primary Chronicle
Primary Chronicle
The Primary Chronicle , Ruthenian Primary Chronicle or Russian Primary Chronicle, is a history of Kievan Rus' from about 850 to 1110, originally compiled in Kiev about 1113.- Three editions :...
and its continuations, mostly relating the events in Northern
Russia
Russia
Russia or , officially known as both Russia and the Russian Federation , is a country in northern Eurasia. It is a federal semi-presidential republic, comprising 83 federal subjects...
(
Vladimir-Suzdal
Vladimir-Suzdal
The Vladimir-Suzdal Principality or Vladimir-Suzdal Rus' was one of the major principalities which succeeded Kievan Rus' in the late 12th century and lasted until the late 14th century. For a long time the Principality was a vassal of the Mongolian Golden Horde...
).
The codex was copied by the
Nizhegorod
Nizhny Novgorod
Nizhny Novgorod , colloquially shortened to Nizhny, is, with the population of 1,250,615, the fifth largest city in Russia, ranking after Moscow, St. Petersburg, Novosibirsk, and Yekaterinburg...
monk Laurentius for the Prince Dmitry Konstantinovich in 1377. The original text he used was a lost codex compiled for the Grand Duke Mikhail of Tver in 1305. The account continues until 1305, but the years 898–922, 1263–83 and 1288–94 are for some reason omitted. The manuscript was acquired by the famous
Count Musin-Pushkin
Aleksei Musin-Pushkin
Aleksei Ivanovich Musin-Pushkin , count since 1797, statesman, historian and art collector. Musin-Pushkin is credited with discovering in Yaroslavl the manuscript The Tale of Igor's Campaign...
in 1792 and subsequently presented to the
Russian National Library
Russian National Library
The National Library of Russia in St Petersburg, known as the State Public Saltykov-Shchedrin Library from 1932 to 1992 , is the oldest public library in Russia...
in St Petersburg.
External links