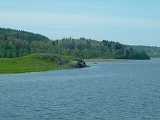 Lake Ladoga
Lake Ladoga
is a
freshwater
Freshwater
Fresh water is naturally occurring water on the Earth's surface in ice sheets, ice caps, glaciers, bogs, ponds, lakes, rivers and streams, and underground as groundwater in aquifers and underground streams. Fresh water is generally characterized by having low concentrations of dissolved salts and...
lake
Lake
A lake is a body of relatively still fresh or salt water of considerable size, localized in a basin, that is surrounded by land. Lakes are inland and not part of the ocean and therefore are distinct from lagoons, and are larger and deeper than ponds. Lakes can be contrasted with rivers or streams,...
located in the
Republic of Karelia
Republic of Karelia
The Republic of Karelia is a federal subject of Russia .-Geography:The republic is located in the northwestern part of Russia, taking intervening position between the basins of White and Baltic seas...
and
Leningrad Oblast
Leningrad Oblast
Leningrad Oblast is a federal subject of Russia . It was established on August 1, 1927, although it was not until 1946 that the oblast's borders had been mostly settled in their present position...
in northwestern
Russia
Russia
Russia or , officially known as both Russia and the Russian Federation , is a country in northern Eurasia. It is a federal semi-presidential republic, comprising 83 federal subjects...
, not far from
Saint Petersburg
Saint Petersburg
Saint Petersburg is a city and a federal subject of Russia located on the Neva River at the head of the Gulf of Finland on the Baltic Sea...
. It is the largest lake in
Europe
Europe
Europe is, by convention, one of the world's seven continents. Comprising the westernmost peninsula of Eurasia, Europe is generally 'divided' from Asia to its east by the watershed divides of the Ural and Caucasus Mountains, the Ural River, the Caspian and Black Seas, and the waterways connecting...
, and the 14th largest lake by area in the world.
The lake's area is 17,891 km² (excluding the islands). Its length (north to south) is 219 km, average width is 83 km, average depth is 51 m, maximum depth is about 230 m (in the north-western part).