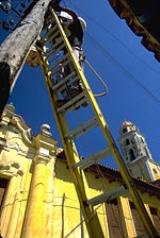 Ladder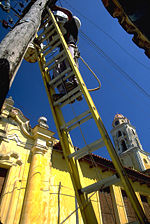 A
ladder
is a
vertical
Vertical direction
In astronomy, geography, geometry and related sciences and contexts, a direction passing by a given point is said to be vertical if it is locally aligned with the gradient of the gravity field, i.e., with the direction of the gravitational force at that point...
or inclined set of rungs or steps. There are two types: rigid ladders that can be leaned against a vertical surface such as a
wall
Wall
A wall is a usually solid structure that defines and sometimes protects an area. Most commonly, a wall delineates a building and supports its superstructure, separates space in buildings into rooms, or protects or delineates a space in the open air...
, and
rope
Rope
A rope is a length of fibres, twisted or braided together to improve strength for pulling and connecting. It has tensile strength but is too flexible to provide compressive strength...
ladders that are hung from the top. The vertical members of a rigid ladder are called stringers (US) or stiles (UK). Rigid ladders are usually
portable
Portability
Portability may refer to:*Portability , the portability of social security benefits*Software portability, the portability of a piece of software to multiple platforms...
, but some types are permanently fixed to buildings. They are commonly made of metal, wood, or fibreglass, but they have been known to be made of tough plastic.
Variations
Rigid ladders are available in many forms, such as:
Bridge ladder, a ladder laid horizontally to act as a passage between two points separated by a drop.
Cat ladder (US chicken ladder), a lightweight ladder frame used on steep roofs to prevent workers from sliding
Extension ladder or "Telescopic ladder", a fixed ladder divided into two or more lengths for more convenient storage; the lengths can be slid together for storage or slid apart to maximize the length of the ladder; a pulley system may be fitted so that the ladder can be easily extended by an operator on the ground then locked in place using the dogs

Dog clutch

A dog clutch is a type of clutch that couples two rotating shafts or other rotating components not by friction but by interference. The two parts of the clutch are designed such that one will push the other, causing both to rotate at the same speed and will never slip.Dog clutches are used where...


and pawl

Pawl

Pawl may refer to:* A common component of a ratchet* A part of the adjustable height locking mechanism of an extension ladder* Pawl , a former racing car constructor...


s
Fixed ladder

Fixed ladder

A fixed ladder is a vertical ladder mounted permanently to a structure. These ladders are primarily used to access roofs or other structures for industrial purposes...


, two side members joined by several rungs; affixed to structure with no moving parts
Folding ladder, a ladder in the step ladder style with one or more (usually no more than three) one-way hinges. Ideal for use on uneven ground (i.e. stairs), as a trestle or when fully extended a Fixed ladder. Some variations feature a central one-way hinge with extensible locking legs
Hook ladder

Hook ladder

The hook ladder was once a very important tool of the fire department as firefighters could theoretically reach every floor of a building with it. It consists of a simple 2.5-metre ladder with a long, flat hook on its top, with serrations on the underside which gripped the sill...


or pompier ladder, a rigid ladder with a hook at the top to grip a windowsill; used by firefighter

Firefighter

Firefighters are rescuers extensively trained primarily to put out hazardous fires that threaten civilian populations and property, to rescue people from car incidents, collapsed and burning buildings and other such situations...


s
Orchard ladder, a three legged step ladder with the third leg made so that it can be inserted between tree branches for fruit picking
Platform steps, a step ladder with a small horizontal platform at the top
Roof

Roof

A roof is the covering on the uppermost part of a building. A roof protects the building and its contents from the effects of weather. Structures that require roofs range from a letter box to a cathedral or stadium, dwellings being the most numerous....


ladder, a rigid ladder with a large hook at the top to grip the ridge of a pitched roof
Sectional ladder, also known as a builder's ladder, is a ladder that has sections that come apart and are interchangeable so that any number of sections can be connected together.
Step ladder, hinged in the middle to form an inverted V, with stays to keep the two halves at a fixed angle
Telescoping ladder, commonly used to refer to a hybrid between a step ladder and an extension ladder with 360 degree hinges. Has three parts and can be taken apart to form two step ladders. The Little Giant is an example of a telescoping ladder.
Turntable ladder, an extension ladder fitted to rotating platform on top of a fire truck

Fire apparatus

A fire apparatus, fire engine, fire truck, or fire appliance is a vehicle designed to assist in fighting fires by transporting firefighters to the scene and providing them with access to the fire, along with water or other equipment...



Vertically rising ladder, a ladder designed to climb high points and facilitate suspending there.
Rigid ladders were originally made of
wood
Wood
Wood is a hard, fibrous tissue found in many trees. It has been used for hundreds of thousands of years for both fuel and as a construction material. It is an organic material, a natural composite of cellulose fibers embedded in a matrix of lignin which resists compression...
,but in the 20th century tubular
aluminium
Aluminium
Aluminium or aluminum is a silvery white member of the boron group of chemical elements. It has the symbol Al, and its atomic number is 13. It is not soluble in water under normal circumstances....
became more common because of its lighter weight. Ladders with
fibreglass
Glass-reinforced plastic
Fiberglass , is a fiber reinforced polymer made of a plastic matrix reinforced by fine fibers of glass. It is also known as GFK ....
stiles are used for working on or near overhead electrical wires, because fibreglass is an electrical
insulator
Electrical insulation
thumb|250px|[[Coaxial Cable]] with dielectric insulator supporting a central coreThis article refers to electrical insulation. For insulation of heat, see Thermal insulation...
.
Safety
For safety, a rigid ladder should be leaned at an angle of about fifteen degrees to the vertical. In other words, the distance from the foot of the ladder to the wall should be about one quarter of the height of the top of the ladder. At steeper angles, the ladder is at risk of toppling backwards when the climber leans away from it. At shallower angles, the ladder may lose its grip on the ground. Ladder stabilizers are available that increase the ladder's grip on the ground. One of the first ladder stabilizers or ladder feet was offered in 1936 and today they are standard equipment on most large ladders.
A ladder standoff, or stay, is a device fitted to the top of a ladder to hold it away from the wall. This enables the ladder to clear overhanging obstacles, such as the eaves of a
roof
Roof
A roof is the covering on the uppermost part of a building. A roof protects the building and its contents from the effects of weather. Structures that require roofs range from a letter box to a cathedral or stadium, dwellings being the most numerous....
, and increases the safe working height for a given length of ladder.
Uses
Rope ladders are used where storage space is extremely limited, weight must be kept to a minimum, or in instances where the object to be climbed is too curved to use a rigid ladder. They may have rigid or flexible rungs. Climbing a rope ladder requires more skill than climbing a rigid ladder, because the ladder tends to swing like a pendulum

Pendulum

A pendulum is a weight suspended from a pivot so that it can swing freely. When a pendulum is displaced from its resting equilibrium position, it is subject to a restoring force due to gravity that will accelerate it back toward the equilibrium position...


. Steel and aluminium rope ladders are sometimes used in vertical caving.
Dissipative ladders are portable ladders built to ESD (Electrostatic Discharge

Electrostatic discharge

Electrostatic discharge is a serious issue in solid state electronics, such as integrated circuits. Integrated circuits are made from semiconductor materials such as silicon and insulating materials such as silicon dioxide...


) standard. Electrostatic Discharge is a natural occurrence in which electricity is passed through our body, or other conductor, and discharges onto some object. For example, the shock we sometimes feel when we touch a doorknob is an ESD. This natural occurrence is becoming a very hot topic in the field of electronics assembly due to the costly damage ESDs can cause to sensitive electronic equipment. Dissipative ladders are ladders with controlled electrical resistance: the resistance slows the transfer of charge from one point to another, offering increased protection during ESD events: ≥105 and < 1012 Ω / square.
Pool ladders. A ladder is also used on the side of a boat, to climb into it from the water, and in a swimming pool. Swimming pool ladders are usually made from plastic steps with special grip and metal bars on the sides to support the steps and as handrails for the user.
Assault ladders. These are designed to be used by units which may need to board or assault vessels or buildings. They can be used when a full sized ladder is not required or when working in confined spaces. They are suited for covert operations such as sniper placement and vessel boardings. It was developed and designed for tubular assaults including buses and trains and for first story breaching. Its extra wide design gives the user greater stability, but it can still fold away to be stored. It is available in standard aluminium or non-reflective black finish in 6 and 8 feet lengths.
Historical usage
Ladders are ancient tools and technology. A ladder is depicted in a
Mesolithic
Mesolithic
The Mesolithic is an archaeological concept used to refer to certain groups of archaeological cultures defined as falling between the Paleolithic and the Neolithic....
rock painting that is at least 10,000 years old, depicted in the
Spider Caves
Cuevas de la Araña en Bicorp
The Cuevas de la Araña are a group of caves in the municipality of Bicorp in Valencia, eastern Spain. The caves are in the valley of the river Escalona and were used by prehistoric people who left rock art...
in Valencia, Spain. references the rock painting which shows two naked humans carrying baskets or bags that are employing a long wobbly ladder, which appears to be made out of some kind of grass, to reach a wild honeybee nest to harvest
honey
Honey
Honey is a sweet food made by bees using nectar from flowers. The variety produced by honey bees is the one most commonly referred to and is the type of honey collected by beekeepers and consumed by humans...
. Modern ladders are believed to have been conceived by Hebrews and Egyptians.
Superstition
It is commonly said that walking under a ladder is bad luck. This is believed to have started in the Medieval times. It was believed that a leaning ladder resembled the gallows, so to walk under it would ensure a death by hanging. Another belief is that the leaning ladder resembles a triangle, or the Holy Trinity. Thus, by walking through it, one would be violating God. Yet another explanation comes from ancient Egyptians who believed that the triangle was a magical shape, because that was the shape of the pyramids. As such walking under it would break the shape.
A more natural explanation would be that an erected ladder most likely meant that someone was working above and to pass under it would make a person susceptible to injuries due to falling objects.
External links