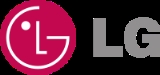 LG Group
LG Corp.
is the second-largest South Korean
conglomerate
Conglomerate (company)
A conglomerate is a combination of two or more corporations engaged in entirely different businesses that fall under one corporate structure , usually involving a parent company and several subsidiaries. Often, a conglomerate is a multi-industry company...
company following
Samsung
Samsung
The Samsung Group is a South Korean multinational conglomerate corporation headquartered in Samsung Town, Seoul, South Korea...
, and it is headquartered in the LG Twin Towers in
Yeouido-dong
Yeouido-dong
Yeouido-dong is a dong, neighbourhood of Yeongdeungpo-gu in Seoul, South Korea.-Attractions:*National Assembly of South Korea*MBC*KBS*63 Building*Yeouido*Yeouido Park-Economy:...
,
Yeongdeungpo-gu
Yeongdeungpo-gu
Yeongdeungpo-gu is an administrative district in southwest Seoul, South Korea. Although the origin of the name is uncertain, the first two syllables are thought to be from "yeongdeung" or "divine ascent", a shamanic rite. The third syllable is "po", representing water , referring to the...
,
Seoul
Seoul
Seoul , officially the Seoul Special City, is the capital and largest metropolis of South Korea. A megacity with a population of over 10 million, it is the largest city proper in the OECD developed world...
. LG produces
electronics
Electronics
Electronics is the branch of science, engineering and technology that deals with electrical circuits involving active electrical components such as vacuum tubes, transistors, diodes and integrated circuits, and associated passive interconnection technologies...
,
chemicals
Chemical substance
In chemistry, a chemical substance is a form of matter that has constant chemical composition and characteristic properties. It cannot be separated into components by physical separation methods, i.e. without breaking chemical bonds. They can be solids, liquids or gases.Chemical substances are...
, and telecommunications products and operates subsidiaries like
LG Electronics
LG Electronics
LG Electronics is a global electronics and telecommunications company headquartered in Yeouido, Seoul, South Korea. The company operates its business through five divisions: mobile communications, home entertainment, home appliance, air conditioning and business solution...
, LG Display,
LG Telecom
LG Telecom
LG U+ is a South Korean telecommunications and Mobile phone operator controlled by the LG Group, one of the country's largest chaebol. It was formerly known as LG Telecom....
and
LG Chem
LG Chem
LG Chem Ltd. , often referred to as LG Chemical and also known as Lucky GoldStar Chemical, is the largest Korean chemical company and is headquartered in Seoul, South Korea...
in over 80 countries.
History
LG Corp. founder Koo In-Hwoi established Lak-Hui Chemical Industrial Corp. in 1947. In 1952, Lak-Hui became the first Korean company to enter the plastics industry. As the company expanded its plastics business, it established
GoldStar
GoldStar
GoldStar was an electronics company established in 1958. The corporate name was changed to LG Electronics and LG Cable in 1995 after merging with Korean competitor Lucky...
Co., Ltd., (currently LG Electronics Inc.) in 1958. Both companies Lucky and Goldstar merged and formed Lucky-Goldstar.
Goldstar produced South Korea's first radio. Many
consumer electronics
Consumer electronics
Consumer electronics are electronic equipment intended for everyday use, most often in entertainment, communications and office productivity. Radio broadcasting in the early 20th century brought the first major consumer product, the broadcast receiver...
were sold under the brand name GoldStar, while some other household products (not available outside South Korea) were sold under the brand name of Lucky. The Lucky brand was famous for its line of hygiene products such as soaps and HiTi laundry detergents, but most associated with its Lucky and Perioe
toothpaste
Toothpaste
Toothpaste is a paste or gel dentifrice used with a toothbrush as an accessory to clean and maintain the aesthetics and health of teeth. Toothpaste is used to promote oral hygiene: it serves as an abrasive that aids in removing the dental plaque and food from the teeth, assists in suppressing...
.
In 1995, to better compete in the Western market, the Lucky-Goldstar was renamed "LG", the abbreviation of "Lucky-Goldstar". More recently, the company associates the letters LG with the company tagline "Life's Good" This tagline came from Australia, where many of the products are tested first by LG. Since 2009, LG also owns the domain name LG.com.
In 1996 LG formed a joint venture with IBM.This joint venture was later terminated.
On 1 April 2000, LG Chemical was split into three separate companies, namely LGCI, LG Chem and LG Household & Health Care. Later, in July 2007, LG Chem merged with LG Petrochemical
Since 2001 LG has two joint ventures with Royal Philips Electronics:
LG Philips Display
LG Philips Display
LG.Philips Displays was a joint venture created by the LG Group of South Korea and Philips Electronics of the Netherlands. It primarily manufactured CRTs used in traditional television sets....
and
LG.Philips LCD
LG.Philips LCD
LG Display is the world's largest LCD panel maker, ahead of Samsung Electronics in a slender lead. Currently, the two South Korean companies together exceed 50% of the global LCD panel market...
, but Philips sold off its shares in late 2008. In 2005, LG entered into a joint venture with Nortel Networks, creating
LG-Nortel Co. Ltd.
LG-Ericsson
LG-Ericsson is a joint venture company created between the Swedish group Ericsson and the South Korean group LG Electronics. Founded in November 2005, it engineers and designs telecommunications equipment, with LG providing distribution and marketing...
LG has a joint venture with
Hitachi
Hitachi, Ltd.
is a Japanese multinational conglomerate headquartered in Marunouchi 1-chome, Chiyoda, Tokyo, Japan. The company is the parent of the Hitachi Group as part of the larger DKB Group companies...
,
Hitachi-LG Data Storage
Hitachi-LG Data Storage
Hitachi-LG Data Storage is a joint venture between Hitachi and LG. The company was established in November 2000, started operation in January 2001, and shipped its first product, the HL-DT-ST GCC-4120B combo drive, on June 2001....
, which makes optical
data storage device
Data storage device
thumb|200px|right|A reel-to-reel tape recorder .The magnetic tape is a data storage medium. The recorder is data storage equipment using a portable medium to store the data....
s like DVD-ROM drives, CD writers, etc. LG acquired
American television
Television in the United States
Television is one of the major mass media of the United States. Ninety-nine percent of American households have at least one television and the majority of households have more than one...
manufacturing company Zenith in 1999.
LG has owned the
LG Twins
LG Twins
LG Twins Baseball Club is a Korea Professional Baseball team based in Seoul, South Korea. The club was known as the MBC Blue Dragons owned by the Munhwa Broadcasting Corporation until , when they were taken over by the LG Group...
baseball club in Seoul, South Korea since 1989.
The stocks are separated into four parts, 52% are owned by the CEO, 22% are distributed and the other 26% are owned by the next generation CEO who's currently attending a university in Orlando, Florida getting her degree in business and Recording Arts.
The company logo of LG features the letters "L" and "G", presented in the form of a smiling human face.
Commodore Business Machines, rebranded products of
GoldStar
GoldStar
GoldStar was an electronics company established in 1958. The corporate name was changed to LG Electronics and LG Cable in 1995 after merging with Korean competitor Lucky...
,
Philips
Philips
Koninklijke Philips Electronics N.V. , more commonly known as Philips, is a multinational Dutch electronics company....
,
Magnavox
Magnavox
Magnavox is a US electronics company founded by Edwin Pridham and Peter L. Jensen, who invented the moving-coil loudspeaker in 1915 at their lab in Napa, California. They formed Magnavox in 1917 in order to market their inventions....
mostly monitor displays.
Group families

Electronics industries
Chemical industries
Telecommunications and services
External links
Korean English