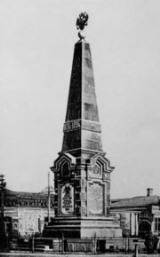 Krasnodar
Krasnodar
is a city in Southern
Russia
Russia
Russia or , officially known as both Russia and the Russian Federation , is a country in northern Eurasia. It is a federal semi-presidential republic, comprising 83 federal subjects...
, located on the
Kuban River
Kuban River
The Kuban River is a river in Russia, in the North Caucasus region. It flows mostly through Krasnodar Krai but also in the Karachay-Cherkess Republic, Stavropol Krai and the Republic of Adygea....
about 148 kilometres (92 mi) northeast of the
Black Sea
Black Sea
The Black Sea is bounded by Europe, Anatolia and the Caucasus and is ultimately connected to the Atlantic Ocean via the Mediterranean and the Aegean seas and various straits. The Bosphorus strait connects it to the Sea of Marmara, and the strait of the Dardanelles connects that sea to the Aegean...
port of
Novorossiysk
Novorossiysk
Novorossiysk is a city in Krasnodar Krai, Russia. It is the country's main port on the Black Sea and the leading Russian port for importing grain. It is one of the few cities honored with the title of the Hero City. Population: -History:...
. It is the administrative center of
Krasnodar Krai
Krasnodar Krai
-External links:* **...
(also known as
Kuban
Kuban
Kuban is a geographic region of Southern Russia surrounding the Kuban River, on the Black Sea between the Don Steppe, Volga Delta and the Caucasus...
). Population:
The city was founded on January 12, 1794 (Gregorian calendar) as
Yekaterinodar
. The original name meant "Catherine's Gift" simultaneously in recognition of
Catherine the Great's
Catherine II of Russia
Catherine II, also known as Catherine the Great , Empress of Russia, was born in Stettin, Pomerania, Prussia on as Sophie Friederike Auguste von Anhalt-Zerbst-Dornburg...
grant of land in the Kuban region to the
Black Sea Cossacks
Black Sea Cossack Host
Black Sea Cossack Host , also known as Chernomoriya , was a Cossack host of the Russian Empire created in 1787 in the southern Ukraine from former Zaporozhian Cossacks. In the 1790s, the host was re-settled to the Kuban River...
(later the
Kuban Cossacks
Kuban Cossacks
Kuban Cossacks or Kubanians are Cossacks who live in the Kuban region of Russia. Most of the Kuban Cossacks are of descendants of two major groups who were re-settled in the Western Northern Caucasus during the Caucasus War in the late 18th century...
) and in recognition of Saint Catherine,
the Martyr

Martyr

A martyr is somebody who suffers persecution and death for refusing to renounce, or accept, a belief or cause, usually religious.-Meaning:...



, who is considered to be the patron of the city.