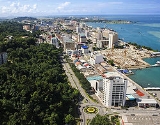 Kota Kinabalu
Kota Kinabalu
formerly known as
Jesselton
, is the capital of
Sabah
Sabah
Sabah is one of 13 member states of Malaysia. It is located on the northern portion of the island of Borneo. It is the second largest state in the country after Sarawak, which it borders on its southwest. It also shares a border with the province of East Kalimantan of Indonesia in the south...
state in East
Malaysia
. It is also the capital of the
West Coast Division
West Coast Division
West Coast Division is an administrative division of Sabah, east Malaysia, on the island of Borneo. It occupies the northwest portion of Sabah. With an area of 7,588 square kilometres, it occupies 10.3% of Sabah's territory...
of Sabah. The city is located on the northwest coast of
Borneo
Borneo
Borneo is the third largest island in the world and is located north of Java Island, Indonesia, at the geographic centre of Maritime Southeast Asia....
facing the
South China Sea
South China Sea
The South China Sea is a marginal sea that is part of the Pacific Ocean, encompassing an area from the Singapore and Malacca Straits to the Strait of Taiwan of around...
. The
Tunku Abdul Rahman National Park
Tunku Abdul Rahman National Park
The Tunku Abdul Rahman Marine Park comprises a group of 5 islands located between 3 to 8 km off Kota Kinabalu. The park is spread over 4,929 hectares, two thirds of which cover the sea. Before the Ice Age, it formed part of the Crocker Range mass of sandstone and sedimentary rock on the mainland...
lies on one side and
Mount Kinabalu
Mount Kinabalu
Mount Kinabalu is a prominent mountain on the island of Borneo in Southeast Asia. It is located in the East Malaysian state of Sabah and is protected as Kinabalu National Park, a World Heritage Site. Kinabalu is the tallest peak in Borneo's Crocker Range and is the tallest mountain in the Malay...
, which gave the city its name, is nearby. Kota Kinabalu proper has a population of 617,972 while the larger urban area has an estimated population of 900,000.