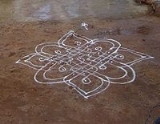 Kolam
Kolam
is a form of painting that is drawn using
rice
Rice
Rice is the seed of the monocot plants Oryza sativa or Oryza glaberrima . As a cereal grain, it is the most important staple food for a large part of the world's human population, especially in East Asia, Southeast Asia, South Asia, the Middle East, and the West Indies...
powder. A Kolam is a geometrical line drawing composed of curved loops, drawn around a grid pattern of dots. In
South India
South India
South India is the area encompassing India's states of Andhra Pradesh, Karnataka, Kerala and Tamil Nadu as well as the union territories of Lakshadweep and Pondicherry, occupying 19.31% of India's area...
, it is widely practised by female
Hindu
Hindu
Hindu refers to an identity associated with the philosophical, religious and cultural systems that are indigenous to the Indian subcontinent. As used in the Constitution of India, the word "Hindu" is also attributed to all persons professing any Indian religion...
family members in front of their homes.
Purpose
Kolams are thought to bestow prosperity to homes. Every morning in
southern India
South India
South India is the area encompassing India's states of Andhra Pradesh, Karnataka, Kerala and Tamil Nadu as well as the union territories of Lakshadweep and Pondicherry, occupying 19.31% of India's area...
, millions of women draw kolams on the ground with white rice powder. Through the day, the drawings get walked on, rained out, or blown around in the wind; new ones are made the next day. Every morning before sunrise, the floor of the owners house ,or where ever it may be, is cleaned with water and the muddy floor is swept well for an even surface. The kolams are generally drawn while the surface is still damp so that it is held better. Occasionally,
cow-dung
Cow dung
Cow dung is the waste product of bovine animal species. These species include domestic cattle , bison , yak and water buffalo. Cow dung is the undigested residue of plant matter which has passed through the animal's gut. The resultant faecal matter is rich in minerals...
is also used to wax the floors. In some cultures, cow dung is believed to have antiseptic properties and hence provides a literal threshold of protection for the home. It also provides contrast with the white powder.
Decoration was not the sole purpose of a Kolam. In olden days, kolams used to be drawn in coarse rice flour, so that the ants don't have to work that much for to long for a meal. The rice powder is said to invite birds and other small critters to eat it, thus inviting other beings into one's home and everyday life: a daily tribute to harmonious co-existence. It is a sign of invitation to welcome all into the home, not the least of whom is Goddess
Lakshmi
Lakshmi
Lakshmi or Lakumi is the Hindu goddess of wealth, prosperity , light, wisdom, fortune, fertility, generosity and courage; and the embodiment of beauty, grace and charm. Representations of Lakshmi are also found in Jain monuments...
, the Goddess of prosperity. The patterns range between geometric and mathematical line drawings around a matrix of dots to free form art work and closed shapes.
Folklore
Folklore
Folklore consists of legends, music, oral history, proverbs, jokes, popular beliefs, fairy tales and customs that are the traditions of a culture, subculture, or group. It is also the set of practices through which those expressive genres are shared. The study of folklore is sometimes called...
has evolved to mandate that the lines must be completed so as to symbolically prevent evil spirits from entering the inside of the shapes, and thus are they prevented from entering the inside of the home.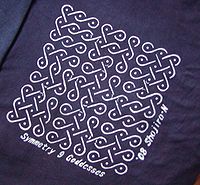 It used to be a matter of pride to be able to draw large complicated patterns without lifting the hand off the floor standing up in between. The month of
Margazhi
was eagerly awaited by young women, who would then showcase their skills by covering the entire width of the road with one big kolam.
The ritual kolam patterns created for occasions such as weddings can stretch all the way down streets. Patterns are often passed on generation to generation, from mother to daughter.
Powdered white stone (வெங்கசங்கள் பொடி / மொக்குமாவு) was used for Kolam.
Seasonal messages like welcome (நல்வரவு) is used in Kolam. Volunteering to draw kolam at temple is sometimes done when a devotee's wishes are fulfilled.
Variants
For special occasions
limestone
Limestone
Limestone is a sedimentary rock composed largely of the minerals calcite and aragonite, which are different crystal forms of calcium carbonate . Many limestones are composed from skeletal fragments of marine organisms such as coral or foraminifera....
and red
brick
Brick
A brick is a block of ceramic material used in masonry construction, usually laid using various kinds of mortar. It has been regarded as one of the longest lasting and strongest building materials used throughout history.-History:...
powder to contrast are also used. Though kolams are usually done with dry rice flour, for longevity, dilute rice paste or even paints are also used. Modern interpretations have accommodated chalk, and more recently
vinyl
Vinyl
A vinyl compound is any organic compound that contains a vinyl group ,which are derivatives of ethene, CH2=CH2, with one hydrogen atom replaced with some other group...
stickers.
Though not as flamboyant as its other Indian contemporary,
Rangoli
Rangoli
Rangoli is a traditional decorative folk art from India. These are decorative designs made on floors of living rooms and courtyards during Hindu festivals and are meant as sacred welcoming areas for the Hindu deities. The ancient symbols have been passed on through the ages, from each generation to...
, which is extremely colourful, an average South Indian Kolam is all about, symmetry, precision and complexity, providing good exercise to your eyes and mind, if you wish to figure out how it was made.
Patterns
a pattern, in which a stroke (Kambi, Sikku in Tamil) runs once around each dot (Pulli), and goes to the beginning point (endless/cycle), as a mostly geometrical figure. The stroke called as Neli from a snaky line. The stroke has Knot (Sikku) structure.
a pattern, could fill or use part of the dot grid. If that is the case, the same pattern, or a different pattern fills/uses up the remaining dot grids. Most of the times, these patterns together end up becoming a complex pattern.
a pattern, in which a stroke runs around each dot not completely, but open.
a pattern, in which strokes (Kodu/Kotto)are connected between the dots. Sometimes it represents kinds of objects, flowers, or animals etc.
a pattern, in which dots are set in a radial arrangement, called Lotus.
a pattern, which is drawn in a free style and mostly colorized.
External links