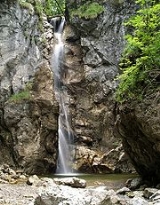 Kochel
Kochel am See
is a municipality in the district of
Bad Tolz-Wolfratshausen
Bad Tölz-Wolfratshausen
Bad Tölz-Wolfratshausen is a district in Bavaria, Germany. It is bounded by Austria and the districts of Garmisch-Partenkirchen, Weilheim-Schongau, Starnberg, Munich and Miesbach.- History :...
in
Bavaria
Bavaria
Bavaria, formally the Free State of Bavaria is a state of Germany, located in the southeast of Germany. With an area of , it is the largest state by area, forming almost 20% of the total land area of Germany...
on the shores of
Kochelsee
Kochelsee
Kochelsee or Lake Kochel is located south of Munich on the edge of the Bavarian Alps. The western third of the lake lies within the borders of the town of Schlehdorf, while the rest belongs to Kochel am See. The southern edge of the lake lies up against the mountains and the northern shore is...
.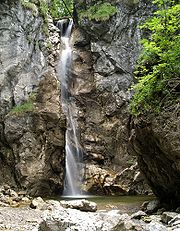 Apart from the idyllic scenery, it is known for
The Smith of Kochel
The Smith of Kochel
The Smith of Kochel is a figure from Bavarian myth. According to this myth, he was a soldier in the Habsburg-Ottoman Wars . Armed with nothing but a bar, he supposedly stove in the gates of Belgrade...
"Schmied von Kochel," who according to legend, lead a Bavarian farmer rebellion against Austro-Hungarian occupiers at
Sendling
Sendling
Sendling is a borough of Munich. It is located south-west of the city centre and spans of the city boroughs Sendling and Sendling-Westpark. Sendling is sub-divided into Obersendling, Mittersendling and Untersendling...
in the
War of the Spanish Succession
War of the Spanish Succession
The War of the Spanish Succession was fought among several European powers, including a divided Spain, over the possible unification of the Kingdoms of Spain and France under one Bourbon monarch. As France and Spain were among the most powerful states of Europe, such a unification would have...
. Kochel is also known for its hydroelectric dam. It is a popular place for winter and summer holidays.
The famous expressionistic painter
Franz Marc
Franz Marc
Franz Marc was a German painter and printmaker, one of the key figures of the German Expressionist movement...
lived in Kochel. His life is documented at the
Franz Marc museum
in Kochel. He is buried in the village cemetery.
External links
Kochel Homepage