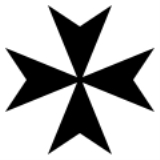 Knightly Virtues
Knightly Virtues
were part of a medieval
chivalric
Chivalry
Chivalry is a term related to the medieval institution of knighthood which has an aristocratic military origin of individual training and service to others. Chivalry was also the term used to refer to a group of mounted men-at-arms as well as to martial valour...
code of honor. The virtues were a set of 'standards' that Knights of the
High Middle Ages
High Middle Ages
The High Middle Ages was the period of European history around the 11th, 12th, and 13th centuries . The High Middle Ages were preceded by the Early Middle Ages and followed by the Late Middle Ages, which by convention end around 1500....
tried to adhere to in their daily living and interactions with others. Today, this term still carries similar meanings.

Some organizations attempt to continue this tradition. The Emblem of the
Order of St. John
Venerable Order of Saint John
The Most Venerable Order of the Hospital of Saint John of Jerusalem , is a royal order of chivalry established in 1831 and found today throughout the Commonwealth of Nations, Hong Kong, Ireland and the United States of America, with the world-wide mission "to prevent and relieve sickness and...
, (an organization that can be traced back to the
Knights Hospitaller
Knights Hospitaller
The Sovereign Military Hospitaller Order of Saint John of Jerusalem of Rhodes and of Malta , also known as the Sovereign Military Order of Malta , Order of Malta or Knights of Malta, is a Roman Catholic lay religious order, traditionally of military, chivalrous, noble nature. It is the world's...
) does have a meaning behind it.
There is no definitive list of virtues, and other proposed virtues include:
http://www.chivalrytoday.com/Farrell/Knightly-Virtues.html
http://www.middle-ages.org.uk/knights-code-of-chivalry.htm
The list of virtues has changed over time. In the
Middle Ages
Middle Ages
The Middle Ages is a periodization of European history from the 5th century to the 15th century. The Middle Ages follows the fall of the Western Roman Empire in 476 and precedes the Early Modern Era. It is the middle period of a three-period division of Western history: Classic, Medieval and Modern...
, skills like Horsemanship were also considered one amongst these ideals.