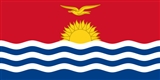 Kiribati
Kiribati
officially the
Republic of Kiribati
, is an
island nation
Island nation
An island country is a state whose primary territory consists of one or more islands or parts of islands. As of 2011, 47 of the 193 UN member states are island countries.-Politics:...
located in the central tropical
Pacific Ocean
Pacific Ocean
The Pacific Ocean is the largest of the Earth's oceanic divisions. It extends from the Arctic in the north to the Southern Ocean in the south, bounded by Asia and Australia in the west, and the Americas in the east.At 165.2 million square kilometres in area, this largest division of the World...
. The permanent population exceeds just over 100,000 (2011), and is composed of 32 atolls and one
raised coral
Raised coral atoll
A raised coral atoll is a typical atoll which has been lifted high enough above sea level by tectonic forces to protect it from scouring by storms and enable soils and diverse – often endemic – species of flora and fauna to develop...
island, dispersed over 3.5 million square kilometres, (1,351,000 square miles) straddling the
equator
Equator
An equator is the intersection of a sphere's surface with the plane perpendicular to the sphere's axis of rotation and containing the sphere's center of mass....
, and bordering the
International Date Line
International Date Line
The International Date Line is a generally north-south imaginary line on the surface of the Earth, passing through the middle of the Pacific Ocean, that designates the place where each calendar day begins...
at its easternmost point.
The name
Kiribati
is the local pronunciation of "Gilberts", derived from the main island chain, the
Gilbert Islands
Gilbert Islands
The Gilbert Islands are a chain of sixteen atolls and coral islands in the Pacific Ocean. They are the main part of Republic of Kiribati and include Tarawa, the site of the country's capital and residence of almost half of the population.-Geography:The atolls and islands of the Gilbert Islands...
.