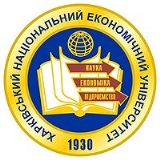 Kharkiv National University of Economics
Kharkiv National University of Economics
is the largest economic higher educational institution of the Eastern Ukraine. It's a state-owned higher school of the IV-level accreditation and belongs to the Ministry of Education and Science of Ukraine.
In the 2006/2007 academic year, the population included 12,860 students, 690 professors and teachers.
KNUE provides a full range of educational services implementing multistage training, retraining and upgrading of specialists in 22 specialties in the following fields:
economy
Economy
An economy consists of the economic system of a country or other area; the labor, capital and land resources; and the manufacturing, trade, distribution, and consumption of goods and services of that area...
and
business
Business
A business is an organization engaged in the trade of goods, services, or both to consumers. Businesses are predominant in capitalist economies, where most of them are privately owned and administered to earn profit to increase the wealth of their owners. Businesses may also be not-for-profit...
,
management
Management
Management in all business and organizational activities is the act of getting people together to accomplish desired goals and objectives using available resources efficiently and effectively...
,
government
Government
Government refers to the legislators, administrators, and arbitrators in the administrative bureaucracy who control a state at a given time, and to the system of government by which they are organized...
, computer sciences, publishing business and printing industry,
tourism
Tourism
Tourism is travel for recreational, leisure or business purposes. The World Tourism Organization defines tourists as people "traveling to and staying in places outside their usual environment for not more than one consecutive year for leisure, business and other purposes".Tourism has become a...
, on three qualifying levels:
bachelor
Bachelor
A bachelor is a man above the age of majority who has never been married . Unlike his female counterpart, the spinster, a bachelor may have had children...
, expert (qualification), master.
History
The Kharkiv National University of Economics is connected by direct historical continuity with the Kharkiv commercial school of
Emperor Alexander III
Alexander III of Russia
Alexander Alexandrovich Romanov , historically remembered as Alexander III or Alexander the Peacemaker reigned as Emperor of Russia from until his death on .-Disposition:...
(1893-1919), Kharkov higher commercial courses of the Kharkov merchant society (1912-1916), Kharkov Commercial Institute (1916-1919) and the Kharkov Institute of a National Economy (1919-1930).
Official date of creation is October 1, 1930 when it was formed on the basis of industrial faculty of the Kharkov Institute of a National Economy as the Kharkov Engineering and Economic Institute. It prepared experts specialized in
engineering
Engineering
Engineering is the discipline, art, skill and profession of acquiring and applying scientific, mathematical, economic, social, and practical knowledge, in order to design and build structures, machines, devices, systems, materials and processes that safely realize improvements to the lives of...
and economic analysis for the key branches of the
heavy industry
Heavy industry
Heavy industry does not have a single fixed meaning as compared to light industry. It can mean production of products which are either heavy in weight or in the processes leading to their production. In general, it is a popular term used within the name of many Japanese and Korean firms, meaning...
of
Ukraine
Ukraine
Ukraine is a country in Eastern Europe. It has an area of 603,628 km², making it the second largest contiguous country on the European continent, after Russia...
and the USSR on machine-building, metallurgical, chemical and a forge faculties. In 1964 the faculty of the mechanized processing of the economic information was founded; the economics faculty was formed in 1970.
The institute rendered wide advisory help to the industrial enterprises on reconstruction, technological updating, increase of labour productivity and economic efficiency of manufacture, cost-effectiveness analysis and, since 1960, on the organization of automated control systems (management information systems). During this period the institute had created the advanced system of retraining and improvement of professional skill of the supervising personnel of the industry.
At the institute a number of research laboratories operated, including research laboratory of economy and organizations of machine-building industry of the Kharkov economic region under the scientific management of Prof. E.G. Liberman. Its research was assumed as a basis of economic reform in 1965 in the USSR.
In 1994 KhIEI was conferred the rank of the state economic university of the supreme IV level of accreditation. Since August 21, 2004 it has been the Kharkov National Economic University. It has been a participant of Magna Charta Universitatum since 2004.
Science
Scientific schools exist in the field of strategic management of the industrial enterprises and associations, economic cybernetics, a tax policy, management of social and economic development of regions. The institute has developed a "Strategy of social and economic development of the Kharkov area for the period till 2011."
Structure
The university includes the following faculties:
Account and audit
Management and marketing
Financial
Economic informatics
International economic relations
Economy and Law
Foundation (Preparatory)
Correspondence (part-time) education
The structure of university includes 34 departments, the higher schools, interbranch institute of the improvement of professional skill, special councils for defending a thesis, educational and research laboratories, business center, computer center, scientific library, publishing house, sports complexes, hostels.
Notable alumni
Simon Smith Kuznets, American economist, Nobel prize winner (1971).
Evsei Liberman

Evsei Liberman

Evsei Liberman was a Soviet economist who lived in Kharkiv .He was a teacher at the Kharkiv Institute of Peoples Econome, the Kharkiv Institute of Engineering and Economy and the University of Kharkiv....


, Soviet economist, architect of the economic reforms of 1965.