 Kericho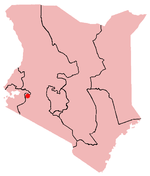 Kericho
is a Kenyan County located to the South West of the country and lies within the highlands west of The
Great Rift Valley
Great Rift Valley
The Great Rift Valley is a name given in the late 19th century by British explorer John Walter Gregory to the continuous geographic trench, approximately in length, that runs from northern Syria in Southwest Asia to central Mozambique in South East Africa...
. The capital of the district is Kericho town. The district home to the best of Kenyan Tea which is world famous for its brightness, attractive color, brisk flavor and textures of fragrant leaves. The district is also home to some of the world's best long distance runners among whom have repeatedly won gold medals in international events.
Kericho is home to Kenya's biggest water catchment area, the
Mau Forest
Mau Forest
Mau Forest is a forest complex in the Rift Valley of Kenya. It is the largest indigenous montane forest in East Africa. The Mau Forest complex has an area of ....
. With a high altitude and virtually daily rains, Kericho is the centre of Kenya's large
tea
Tea
Tea is an aromatic beverage prepared by adding cured leaves of the Camellia sinensis plant to hot water. The term also refers to the plant itself. After water, tea is the most widely consumed beverage in the world...
industry, its
town square
Town square
A town square is an open public space commonly found in the heart of a traditional town used for community gatherings. Other names for town square are civic center, city square, urban square, market square, public square, and town green.Most town squares are hardscapes suitable for open markets,...
even known as Chai Square (Chai is Hindi for Tea). Some of the largest tea companies including
Unilever
Unilever
Unilever is a British-Dutch multinational corporation that owns many of the world's consumer product brands in foods, beverages, cleaning agents and personal care products....
Kenya, James Finlay and Williamson tea are based here. It is also home to the popular
Ketepa
Ketepa
Ketepa is a brand of tea in KenyaThe name derives from Kenya Tea Packers.Ketepa is the largest tea company in Kenya, it has been making tea since 1978, and has its headquarters in Kericho but the law allowing Ketepa to export was only passed in 1992One advertising campaign seeks to turn "tea time"...
brand. Much of the tea is also exported, with the UK being the largest market. The town has an urban population of 150,000 and total population of over 500,000 (1999 census ).
History and Culture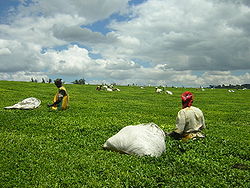 Kericho is the home town of the Kipsigis people, who are a part of the Kalenjin people. The Kipsigis are rated some of the most hospitable and courteous people in the country
The Kipsigis just like their Kalenjin counterparts are well known to be good in Athletics. Such athletes as
Kipchoge Keino
Kipchoge Keino
Kipchoge Keino , chairman of the Kenyan Olympic Committee , is a retired Kenyan track and field athlete and two-time Olympic gold medalist...
have brought great victory during World Athletic Competitions.
The Kipsigis is one of the communities in Kenya that still hold their cultural values dearly.
The favorite meal in the for the Kipsigis people is Maizemeal(kimyet) that is enjoyed with vegetables and beef. An almost constant accompaniment is a glass of sour milk locally known as
Mursik
Mursik
Mursik is a basic element of the cuisine of the Kalenjin people of Kenya. Made from curdled dairy products cooked in a specially made gourd container, it is commonly served at dinner.-Preparation:...
. Tea is also widely consumed in the district, taken 3 times a day at dawn, midmorning and at 4 oclock. Tea after the evening meal is also common.
The origin of towns name has not been established. One theory is that it was home to the region's first public hospital, built by the British at the dawn of the 20th century. Medicine in the local Kipsigis language is referred to as
Kerich
ek. Another theory is that the town was originally home of a medicine man named KipKerich.
Transport Network
Kericho has a comparatively good transport network. Road is the main mode of transport to and around the district. 3 main highways lead to Kericho town, the Nakuru-Kericho , the Kisumu-Kericho and the Kericho-Kisii highways. As of 2008, The Kericho-Kisumu highway is being constructed. An alternative route to Kericho would be Nakuru-Njoro-Molo-Kericho, this road is in good condition. The Nakuru-Eldoret highway is being constructed, from the Total Junction all the way to Kisumu it is in an excellent state. The district has direct bus (matatu) links to Nakuru, Kisumu, Eldoret, Kisii and Bomet towns.
Rail transport is available from Kipkelion, Londiani and Fort-Ternan stations, all agricultural hubs within the district.
Air transport is also available through chartered light aircraft from Wilson Airport, Nairobi. The district's main airstrip is Kerenga Aerodrome, 10 2 km from Kericho town.
Communication and Media
Kericho has a good communication infrastructure. The town is home to one of the only 2 satellite earth stations (the only available international link for Kenya). It is also served by a fibre optic cable. The district is well covered by the fixed line operator
Telkom Kenya
Telkom Kenya
Telkom Kenya is the sole provider of landline phone services in Kenya. It was previously a part of the Kenya Posts and Telecommunications Corporation which was the sole provider of both postal and telecommunication services...
and the 4 mobile operators
Yu
Yu
is a very common Japanese given name used by either sex.-Possible writings:Yū can be written using different kanji characters and can mean:*優, "tenderness" or "superiority"*夕, "evening"*友, "friend"*有, "qualified"*勇, "courage"*祐, "help"*裕, "abundant"...
,
Safaricom
Safaricom
Safaricom, Ltd is a leading mobile network operator in Kenya. It was formed in 1997 as a fully owned subsidiary of Telkom Kenya. In May 2000, Vodafone group Plc of the United Kingdom, the world's largest telecommunication company, acquired a 40% stake and management responsibility for the...
,
Zain
Zain
-People:*as a given name in general , orwith a first name of Zain*Zain Abbas , a Pakistan-born cricketer*Zain Amat , a Singaporean trapshooter*Zain Awan , an India-born Arab TV journalist...
and Orange who offer voice and data services.
The district is served by all major local TV stations. KBC is still widely watched. Others are KTN,K-24, NTV, Citizen TV, Family TV, STV and Sayare. All FM station broadcasting from Nairobi are also available including Capital, Easy, Kiss, Classic, Family, Hope, BBC, Citizen, KBC etc. Local stations include Kass FM, Chamgei FM, KBC Kisumu, Radio Injili 103.7 FM, Sayare TV & Radio. Light and Life 107.3 FM, Sema Radio and The Just FM.
Investment Climate
Kericho provides a good investment destination. Strengths include:
Good transport network
Good communication facilities
Big market within and around the district
Affordable well educated labour
Excellent Security
Plentiful water
Access to banking: The following banks have local branches:

Barclays
Stanchart
KCB
Coop
Equity
Krep
KWFT
Diamond Trust
Family
Trans National

Central location: centrally located to 3 of Kenya's 5 cities:

Kisumu (70km)
Nakuru (100km)
Eldoret (130km)
Also readily accessible to Kisii, Bomet, Litein and Narok

Efficient local authority
Administration
Kericho forms a municipality with nine wards. Six of them (Central, Chelimo, Kimugu, Kapkugerwet, Kipchimchim and Motobo) belong to the
Ainamoi Constituency
Ainamoi Constituency
Ainamoi is an electoral constituency in Kenya. It is one of three constituencies of Kericho District. The constituency was established for the 1997 elections.- Members of Parliament :- Locations and wards :...
and remaining three (Kapcheptoror, Kapsuser and Kipkoiyan) belong to
Belgut Constituency
Belgut Constituency
Belgut is an electoral constituency in Kenya. It is one of three constituencies of Kericho District. The constituency was established for the 1963 elections.- Members of Parliament :- Locations and wards :...
. Both constituencies have additional wards located within Kipsigis County Council, the rural council of Kericho District.
Kericho was split in the 1990s to curve out Bomet and Bureti districts. In June 2007 Kipkelion district was again curved out of Kericho.
Kericho is sister town of
Portsmouth, Virginia
Portsmouth, Virginia
Portsmouth is located in the Hampton Roads metropolitan area of the U.S. Commonwealth of Virginia. As of 2010, the city had a total population of 95,535.The Norfolk Naval Shipyard, often called the Norfolk Navy Yard, is a historic and active U.S...
http://www.sister-cities.org/icrc/directory/Africa/Kenya
.
Famous people from Kericho
Paramount chief, Cheborge arap Tengecha was one of the most powerful and the most influential paramount Chiefs in the Kipsigis land from economics, social to political matters. Dr. Taitta Toweett was a prominent politician in the district. A renowned scholar in Linguistics and culture, Dr. Towett was the first Education Minister in independent Kenya. He died in 2007 in a road accident aged over 80,
Moses Kiprono arap Keino
Moses Kiprono arap Keino
Moses Kiprono arap Keino was Speaker of the Parliament of Kenya from 1988 until 1991.-Education and early life:...
(born September, 1937 - November 4, 1998) was Speaker of the Parliament of Kenya from 1988 until 1991.Other famous people born in the district include former politicians Prof. Jonathan Ngeno,
Kipkalya Kones
Kipkalya Kones
Kipkalya Kiprono Kones – 10 June 2008) was a Kenyan politician who served as a minister during the 1990s and was briefly Minister of Roads in 2008. He was a member of the National Assembly of Kenya from 1988 to 2008....
,
Lorna Laboso
Lorna Laboso
Lorna Chepkemoi Laboso was a Kenyan politician of the Orange Democratic Movement . She was briefly a Member of Parliament and Assistant Minister in 2008....
and
David Kimutai Too
David Kimutai Too
David Kimutai Too was a Kenyan politician affiliated to the Orange Democratic Movement . He was a high school teacher and then a headmaster from Kericho in central Kenya before being elected to the National Assembly from Ainamoi Constituency from a field of 13 candidates in the December 2007...
. Others are
Franklin Bett
Franklin Bett
Franklin Kipn'getich Bett is a Kenyan politician currently serving as Minister of Roads. He belongs to the Orange Democratic Movement and was elected to represent the Bureti Constituency in the National Assembly of Kenya since the Kenyan parliamentary election, 2007.He was born in 1953 at...
, Kipngeno arap Ngeny, Noah arap Too. Other achievers from the district include Mr. Paul Melly (Standard Group, CMA), Samuel Kirui (Telkom, PS, OPDM), Prof Mibei (VC, Moi University), Wilson Chepkwony (State House), Jeremiah Ruto (Director KARI, TRF), Kipchamba arap Tapotuk who was a famous musician. Joel arap Kimeto who is a renowned gospel musician and also the director of radio Injili 103.7 FM formerly at Chepsir, North of Kericho town.
Kericho is the birthplace of
Joginder Singh
Joginder Singh (rally driver)
Sardar Joginder Singh Bhachu was a successful endurance rally driver in the 1960s and 1970s. He won the Safari Rally three times, in 1965 driving a Volvo PV544 with his brother Jaswant as co-driver, and in 1974 and 1976 driving a Mitsubishi Colt Lancer 1600 GSR.-Career:The eldest of ten children...
,
Kenya
Kenya
Kenya , officially known as the Republic of Kenya, is a country in East Africa that lies on the equator, with the Indian Ocean to its south-east...
's famous
Rally
Rallying
Rallying, also known as rally racing, is a form of auto racing that takes place on public or private roads with modified production or specially built road-legal cars...
Driver.
Joyce Chepchumba
Joyce Chepchumba
Joyce Chepchumba is a long distance athlete from Kenya.- Achievements :*1995**Tilburg Ten Miles winner**Parelloop 10Kwinner *1997**London Marathon winner*1998**Chicago Marathon winner*1999...
, a successful woman marathoner and an Olympic medalist is also from Kericho. Dr Baldev Singh,
National Teacher of the Year
National Teacher of the Year
The National Teacher of the Year is a professional award in the United States. The program began in 1952, as a project by the Council of Chief State School Officers , and aims to reward excellence in teaching...
for Innovation in Education in the UK in 2004 is Kericho-born.
The famous
Chandarana Records
Chandarana Records
Chandarana Records is a record company from Kericho, Kenya.. The company was known throughout Africa for releasing several thousand 45-rpm singles featuring a wide range of Kenyan and Tanzanian groups.Founded by A.P...
are also present in Kericho.
http://www.voanews.com/english/africa/blog/index.cfm?mode=cat&catid=9176673E-0ECF-118C-BA2AC5BF1A2D2B8A
http://www.kalenjin.net/newsite/index.php?option=com_content&task=view&id=164&Itemid=222
http://www.nation.co.ke/magazines/lifestyle/-/1214/522264/-/8wc4bqz/-/index.html
Colleges in Kericho
Kabianga University College A constituent of
Moi University
Moi University
Moi University is a Kenyan public university located in Eldoret, western Kenya. It is one of seven fully fledged public institutions of higher learning in Kenya...
, which is at kericho West District located next at kabianga high School where ATC Training College was. It offers degree courses ranging from Science, Agriculture, Business, Natural Resource, Human Resource and has plans to introduce Health Science Course
Kenya Highlands Bible College
Kenya Highlands Bible College
Kenya Highlands Bible College is an educational institution in Kericho, Kenya.- History :The ideological heritage of educational instruction at the College dates back to 1932 when missionaries of World Gospel Mission saw the need for training their converts. This instruction not only needed to...
- run by the Africa Gospel Church, it offers degree courses in Theology, Computer Science and Education.
Kericho Teachers Training College - recently began offering degree courses under agreement with Moi University.
Kenya Forestry College - Londiani
Kenya Institute of Management
Kericho Institute of Professional Studies
Eland College - Kabarak University and Eland Schools are jointly running Diploma and Bridging courses being offered at Eland, located next to the stadium.
South Rift International College---SORICO, located at AM Plaza, 3rd floor (next to Kipsigis Teachers SACCO).
Niskam Saint Puran Singh Institute (NSPSI) located behind the GNNSJ Gurdwara.
Kericho Technical Institute
High Schools in Kericho
There are many schools in Kericho including some of the following:
Momoniat secondary School
Kericho High School
Kipsigis Girls High School
Kabianga High School
Sosiot Girls Secondary School
Kericho Day Secondary School
Kericho Tea Secondary School
Moi Tea Girls High School
Cheptenye High School
Moi Sitotwet High School
Londiani High School
Londiani Girls High School
Kipchimchim Secondary School
Kaptebeswet Secondary School
Torsogek Secondary School
Eland Girls High School
Kapmaso Day Secondary School
Kabokyek Adventist Secondary School
Soliat Boys Secondary School
Chemamul Secondary School
Koiwalelach Girls Secondary School
Kakibei Secondary School
Mercy Girls Secondary School
Kaborok Secondary School
Kiptere Secondary School
St Thomas Mindililwet Secondary School
Milimani Secondary School
Kipsolu Secondary School
Tugunon Seondary School
Chepsir Secondary School
Chepngobob Secondary School
Taita Towett Secondary School
Barsiele Secondary School
Kipchorian Secondary School
Religion
Kericho residents are mostly Christians. The most widespread church is the Africa Gospel Church which has affiliations with The World Gospel Mission of the USA. The church has the biggest church in the district in the town (Immanuel AGC) and heart centers at Cheptenye, Chepkutung, Keongo, Kipkelion, Londiani, Kabianga and Kaptebeswet.
The other churches present in the district include AIC, Catholic Church, Anglican Church, SDA, Full Gospel and a host of Independent churches.
Kericho is also home to
Africa
Africa
Africa is the world's second largest and second most populous continent, after Asia. At about 30.2 million km² including adjacent islands, it covers 6% of the Earth's total surface area and 20.4% of the total land area...
's largest Gurudwara or
Sikh
Sikh
A Sikh is a follower of Sikhism. It primarily originated in the 15th century in the Punjab region of South Asia. The term "Sikh" has its origin in Sanskrit term शिष्य , meaning "disciple, student" or शिक्ष , meaning "instruction"...
place of worship. It is a monument, dedicated to the memory of "Baba Puran Singh Ji of Kericho" who was the founder of the international charitable organisation, Guru Nanak Nishkam Sewak Jatha which promotes the spirit and practice of selfless service ("nishkam sewa") in the name of Guru Nanak Dev Ji, the founder of the
Sikh
Sikh
A Sikh is a follower of Sikhism. It primarily originated in the 15th century in the Punjab region of South Asia. The term "Sikh" has its origin in Sanskrit term शिष्य , meaning "disciple, student" or शिक्ष , meaning "instruction"...
faith. The site has been
gazette
Gazette
A gazette is a public journal, a newspaper of record, or simply a newspaper.In English- and French-speaking countries, newspaper publishers have applied the name Gazette since the 17th century; today, numerous weekly and daily newspapers bear the name The Gazette.Gazette is a loanword from the...
d by the Government of Kenya as a place of spiritual significance. Kericho also holds the Muslim faith with at least two mosques. There is also a
Hindu
Hindu
Hindu refers to an identity associated with the philosophical, religious and cultural systems that are indigenous to the Indian subcontinent. As used in the Constitution of India, the word "Hindu" is also attributed to all persons professing any Indian religion...
population.