 Kemira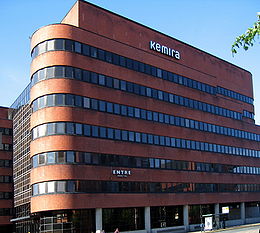 Kemira Oyj
is a chemical industry group that consists of three main segments. Kemira is headquartered in Helsinki, Finland.
Kemira's main shareholder is Oras Invest Oy and its owners, members of the Paasikivi family. Its former main owner, the State of
Finland
Finland
Finland , officially the Republic of Finland, is a Nordic country situated in the Fennoscandian region of Northern Europe. It is bordered by Sweden in the west, Norway in the north and Russia in the east, while Estonia lies to its south across the Gulf of Finland.Around 5.4 million people reside...
, sold the largest part of its holding to Finnish investors in August 2007. After the sale transaction Oras Invest holds 17.1% and the State of Finland holds 16.5% of Kemira's shares.
Harri Kerminen, President and CEO has acted as the Group's Managing Director since January 1, 2008. The Group's Deputy CEO is Jyrki Mäki-Kala.
Members of the Board of Directors as of March 16, 2010
Pekka Paasikivi (b. 1944), B.Sc. (Eng.), Board Chairman
Jukka Viinanen (b. 1948), M.Sc. (Tech.), Vice Chairman of the Board
Elizabeth Armstrong (b. 1947), Ph.D., member
Juha Laaksonen (b. 1952), B.Sc. (Econ.), member
Wolfgang Büchele (b. 1959), Doctor, member
Kaija Pehu-Lehtonen (b. 1962), M.Sc. (Eng.), member
Kerttu Tuomas, b. 1957, B.Sc. (Econ.), member
In June 2008 Kemira announced its strategy which focuses on water and fiber management chemistry. Kemira's segments focusing water intensive industries are Paper, Municipal & Industrial and Oil & Mining.
Kemira became the world's biggest provider of the
pulp
Pulp (paper)
Pulp is a lignocellulosic fibrous material prepared by chemically or mechanically separating cellulose fibres from wood, fibre crops or waste paper. Wood pulp is the most common raw material in papermaking.-History:...
and paper chemicals after its acquisition of the
pulp and paper chemical
Paper chemicals
-Optical brightening agent:Optical brightener is used to make paper appear more white. Optical brightening agents use fluorescence to absorb invisible radiation from the ultraviolet part of the light spectrum and re-emit the radiation as light in the visible blue range. The optical brightening...
operations of
Lanxess
Lanxess
Lanxess AG is a specialty chemicals group based in Germany, with headquarters and major operations in Leverkusen. It was founded in 2004 when Bayer AG spun off its chemicals operations and parts of its polymer activities. As measured by sales, Lanxess is the fourth largest chemicals group in Germany...
. In 2009 Kemira's Paper segment's market area is global and it's second in pulp and paper chemicals worldwide. Paper segment is further divided into four customer segments: Pulp, Printing & Writing, Packaging & Board and Tissue & Specialties.
Municipal & Industrial segment
Water treatment
Water treatment describes those processes used to make water more acceptable for a desired end-use. These can include use as drinking water, industrial processes, medical and many other uses. The goal of all water treatment process is to remove existing contaminants in the water, or reduce the...
is divided into Municipal Water and Industrial Water customer segments. Also Municipal & Industrial segment's market is global and it's #2 in
coagulant
Coagulant
Coagulant can refer to:* flocculation* coagulation agent...
s and #5 in flocculants worldwide. Oil & Mining segment was launched in June 2008 to develop businesses in the oil, gas and mining industries. It is divided into
Oil & Gas
Drilling fluid
In geotechnical engineering, drilling fluid is a fluid used to aid the drilling of boreholes into the earth. Often used while drilling oil and natural gas wells and on exploration drilling rigs, drilling fluids are also used for much simpler boreholes, such as water wells. Liquid drilling fluid...
,
Minerals & Metals
Froth flotation
Froth flotation is a process for selectively separating hydrophobic materials from hydrophilic. This is used in several processing industries...
and Formulation Technology customer segments. Oil & Mining segment has a global market area, in which it is #1 in coagulants and #3 in flocculants worldwide.
ChemSolutions sells chemical products and services to food, feed, pharmaceutical and chemical industries. In September 2008 a joint venture was created which combines Kemira's
titanium dioxide
Titanium dioxide
Titanium dioxide, also known as titanium oxide or titania, is the naturally occurring oxide of titanium, chemical formula . When used as a pigment, it is called titanium white, Pigment White 6, or CI 77891. Generally it comes in two different forms, rutile and anatase. It has a wide range of...
business, formerly known as Kemira Pigments operating in Pori, Finland and Rockwood's titanium dioxide pigments and functional additives business. Kemira owns 39 % of the company, which operates as Sachtleben.
Kemira's customers:
Pulp & paper industries
Municipal water treatment
Industrial water treatment
Oil & gas industries
Mining industry
Pharmaceutical industry
Detergent & cleaning industries
Feed industry
Food industry
Other selected industries
Kemira was originally a state chemical company, producing
fertilizer
Fertilizer
Fertilizer is any organic or inorganic material of natural or synthetic origin that is added to a soil to supply one or more plant nutrients essential to the growth of plants. A recent assessment found that about 40 to 60% of crop yields are attributable to commercial fertilizer use...
. However, the corporation expanded, and the fertilizer division was separated into
Kemira GrowHow
Kemira GrowHow
Kemira GrowHow is a fertilizer producer headquartered in downtown Helsinki, Finland. Its products are sold in over 100 countries but it has market stronghold in Northern Europe. Most of the revenue comes from Western Europe, particularly from the UK and Ireland . Kemira Growhow was a division of...
, which was later acquired by and consolidated into
Yara International
Yara International
Yara International ASA is a Norwegian-based chemical company. Its largest business area is the production of nitrogen fertilizer, however it also encompasses the production of dry ice, nitrates, ammonia, urea and other nitrogen-based chemicals....
. In 1972, Kemira bought the paint manufacturer
Tikkurila
Tikkurila (corporation)
Tikkurila Oyj is a Finnish manufacturer of paints and lacquers. The main office and most of the production is located in Tikkurila, Vantaa near Helsinki....
, but divested of it in 2010 by distributing the shares as dividend to its shareholders.
Short videoclip about Kemira Headquarters in Helsinki, Finland: Media:kemira.ogg