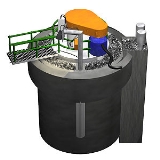 Froth flotation
Froth flotation
is a process for selectively separating hydrophobic materials from hydrophilic. This is used in several processing industries. Historically this was first used in the mining industry.
William Haynes in 1869 patented a process for separating
sulfide
Sulfide
A sulfide is an anion of sulfur in its lowest oxidation state of 2-. Sulfide is also a slightly archaic term for thioethers, a common type of organosulfur compound that are well known for their bad odors.- Properties :...
and
gangue
Gangue
In mining, gangue is the commercially worthless material that surrounds, or is closely mixed with, a wanted mineral in an ore deposit. The separation of mineral from gangue is known as mineral processing, mineral dressing or ore dressing and it is a necessary and often significant aspect of mining...
minerals using oil and called it
bulk-oil flotation
.
The first successful commercial flotation process for mineral sulphides was invented by Frank Elmore who worked on the development with his brother, Stanley.