 Kalimantan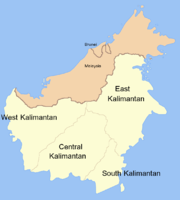 In English, the term
Kalimantan
refers to the
Indonesia
Indonesia
Indonesia , officially the Republic of Indonesia , is a country in Southeast Asia and Oceania. Indonesia is an archipelago comprising approximately 13,000 islands. It has 33 provinces with over 238 million people, and is the world's fourth most populous country. Indonesia is a republic, with an...
n portion of the island of
Borneo
Borneo
Borneo is the third largest island in the world and is located north of Java Island, Indonesia, at the geographic centre of Maritime Southeast Asia....
, while in
Indonesian
Indonesian language
Indonesian is the official language of Indonesia. Indonesian is a normative form of the Riau Islands dialect of Malay, an Austronesian language which has been used as a lingua franca in the Indonesian archipelago for centuries....
, the term "Kalimantan" refers to the whole island of Borneo.
The Indonesian territory makes up 73% of the island by area, and 69.5% (13,772,543 at the 2010 Census of Indonesia) by population. The non-Indonesian parts of Borneo are of
Brunei
Brunei
Brunei , officially the State of Brunei Darussalam or the Nation of Brunei, the Abode of Peace , is a sovereign state located on the north coast of the island of Borneo, in Southeast Asia...
(400,000) and
East Malaysia
East Malaysia
East Malaysia, also known as Malaysian Borneo, is the part of Malaysia located on the island of Borneo. It consists of the Malaysian states of Sabah and Sarawak, and the Federal Territory of Labuan. It lies to the east from Peninsular Malaysia , which is located on the Malay Peninsula. The two are...
(5,625,000). The region within Indonesia is also known as
Indonesian Borneo
.
Kalimantan's total area is 544150 square kilometres (210,097 sq mi).
Kalimantan is divided into four
provinces
Provinces of Indonesia
The province is the highest tier of local government subnational entity in Indonesia. Each province has its own local government, headed by a governor, and has its own legislative body...
:
Jakarta's Cities/Municipalities (Kota Administrasi/Kotamadya)
City/Regency
Area (km2)
Total population (2000 Census)
Total population (2005 estimate)
Total population (2010 Census)
Provincial Capital
West Kalimantan

West Kalimantan

West Kalimantan is a province of Indonesia. It is one of four Indonesian provinces in Kalimantan, the Indonesian part of the island of Borneo. Its capital city Pontianak is located right on the Equator....


(Kalimantan Barat)
147,307.00
4,016,353
4,042,817
4,393,239
Pontianak
Central Kalimantan

Central Kalimantan

Central Kalimantan is a province of Indonesia, one of four in Kalimantan - the Indonesian part of the island of Borneo. Its provincial capital is Palangka Raya.The province has a population of just over 2.2 million at the 2010 Census...


(Kalimantan Tengah)
153,564.50
1,801,965
1,913,026
2,202,599
Palangkaraya
South Kalimantan

South Kalimantan

South Kalimantan/South Borneo is one of the thirty-three Provinces of Indonesia and one of four Indonesian provinces in the Indonesian part of Borneo. The provincial capital is Banjarmasin...


(Kalimantan Selatan)
38,744.23
2,984,026
3,271,413
3,626,119
Banjarmasin
East Kalimantan

East Kalimantan

East Kalimantan is the second largest Indonesian province, located on the Kalimantan region on the east of Borneo island. The resource-rich province has two major cities, Samarinda and Balikpapan...


(Kalimantan Timur)
204,534.34
2,451,895
2,840,874
3,550,586
Samarinda