Kaempferia galanga
Kaempferia galanga
, commonly known as
kencur
,
aromatic ginger
,
sand ginger
,
cutcherry
or
resurrection lily
, is a
monocotyledon
Monocotyledon
Monocotyledons, also known as monocots, are one of two major groups of flowering plants that are traditionally recognized, the other being dicotyledons, or dicots. Monocot seedlings typically have one cotyledon , in contrast to the two cotyledons typical of dicots...
ous plant in the
ginger family
Zingiberaceae
Zingiberaceae, or the Ginger family, is a family of flowering plants consisting of aromatic perennial herbs with creeping horizontal or tuberous rhizomes, comprising ca. 52 genera and more than 1300 species, distributed throughout tropical Africa, Asia, and the Americas.Many species are important...
. It is found primarily in open areas in Indonesia, southern
China
China
Chinese civilization may refer to:* China for more general discussion of the country.* Chinese culture* Greater China, the transnational community of ethnic Chinese.* History of China* Sinosphere, the area historically affected by Chinese culture...
,
Taiwan
Taiwan
Taiwan , also known, especially in the past, as Formosa , is the largest island of the same-named island group of East Asia in the western Pacific Ocean and located off the southeastern coast of mainland China. The island forms over 99% of the current territory of the Republic of China following...
,
Cambodia
Cambodia
Cambodia , officially known as the Kingdom of Cambodia, is a country located in the southern portion of the Indochina Peninsula in Southeast Asia...
and
India
India
India , officially the Republic of India , is a country in South Asia. It is the seventh-largest country by geographical area, the second-most populous country with over 1.2 billion people, and the most populous democracy in the world...
, but is also widely cultivated throughout
Southeast Asia
Southeast Asia
Southeast Asia, South-East Asia, South East Asia or Southeastern Asia is a subregion of Asia, consisting of the countries that are geographically south of China, east of India, west of New Guinea and north of Australia. The region lies on the intersection of geological plates, with heavy seismic...
. The plant is used as a herb in cooking in Indonesia, where it is called
kencur
, and especially in Javanese and Balinese cuisines. Its leaves are used in the Malay rice dish,
nasi ulam
. Unlike
Boesenbergia pandurata
(grachai or Chinese key),
K. galanga
is not commonly used in Thai cuisine, but can be bought as a dried rhizome or in powder form at herbal medicine stalls. It is known in Thai as
proh horm
(เปราะหอม) or
waan horm
(ว่านหอม). It is also used in Chinese cooking and Chinese medicine, and is sold in Chinese groceries under the name
sha jiang
, while the plant itself is referred to as
shan nai
.
Kaempferia galanga
has a peppery camphorous taste. It is one of four plants known as
galangal
Galangal
Galangal is a rhizome of plants of the genus Alpinia or Kaempferia in the ginger family Zingiberaceae, with culinary and medicinal uses originated from Indonesia...
, and is differentiated from the others by the absence of stem and dark brown, rounded rhizomes, while the other varieties all have stems and pale rosebrown rhizomes.
Lesser galangal
Lesser galangal
Alpinia officinarum, known as lesser galangal, is a plant in the ginger family, cultivated in Southeast Asia. It originated in China, where its name ultimately derives. It can grow several feet high, with long leaves and reddish-white flowers. The rhizomes, known as galangal, are valued for their...
properly refers to
Alpinia officinarum
. In common usage, however, it is also erroneously applied to
Kaempferia galanga
.
K. galanga
is also erroneously called
zedoary
Zedoary
Zedoary is the name for a perennial herb and member of the genus Curcuma Linn., family Zingiberaceae. The plant is native to India and Indonesia...
.
Thai common name : กระชาย (krachai)
Similar species
Pharmacology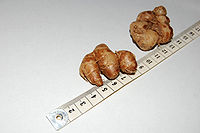 The rhizomes of aromatic ginger have been reported to include cineol,
borneol
Borneol
Borneol is a bicyclic organic compound and a terpene. The hydroxyl group in this compound is placed in an endo position.Borneol is easily oxidized to the ketone yielding camphor. One historical name for borneol is Borneo camphor which explains the name. Borneol can be synthesized by reduction of...
, 3-carene,
camphene
Camphene
Camphene is bicyclic monoterpene. It is nearly insoluble in water, but very soluble in common organic solvents. It volatilizes readily at room temperature and has a pungent smell. It is a minor constituent of many essential oils such as turpentine, cypress oil, camphor oil, citronella oil,...
,
kaempferol
Kaempferol
Kaempferol is a natural flavonol, a type of flavonoid, that has been isolated from tea, broccoli, Delphinium, Witch-hazel, grapefruit,cabbage, kale, beans, endive, leek, tomato, strawberries, grapes, brussels sprouts, apples and other plant sources. Kaempferol is a yellow crystalline solid with a...
,
kaempferide
Kaempferide
Kaempferide is an O-methylated flavonol, a type of chemical compound. It can be found in Kaempferia galanga .-Metabolism:...
,
cinnamaldehyde
Cinnamaldehyde
Cinnamaldehyde is the organic compound that gives cinnamon its flavor and odor. This pale yellow viscous liquid occurs naturally in the bark of cinnamon trees and other species of the genus Cinnamomum...
, p-methoxycinnamic acid,
ethyl cinnamate
Ethyl cinnamate
Ethyl cinnamate is the ester of cinnamic acid and ethanol. It is present in the essential oil of cinnamon. Pure ethyl cinnamate has a "fruity and balsamic odor, reminiscent of cinnamon with an amber note"....
and ethyl p-methoxycinnamate. Extracts of the plant using
methanol
Methanol
Methanol, also known as methyl alcohol, wood alcohol, wood naphtha or wood spirits, is a chemical with the formula CH3OH . It is the simplest alcohol, and is a light, volatile, colorless, flammable liquid with a distinctive odor very similar to, but slightly sweeter than, ethanol...
have shown larvicidal activity against the second stage larvae of dog roundworms (
Toxocara canis
Toxocara canis
Toxocara canis is worldwide distributed helminth parasite of dogs and other canids. T. canis are gonochorists, adult worms measure from 9 to 18 cm, are yellow-white in color, and occur in the intestine of the definitive host. In adult dogs, the infection is usually asymptomatic. By the...
). It was also found to be effective as an amebicide in vitro against three species of
Acanthamoeba
Acanthamoeba
Acanthamoeba is a genus of amoebae, one of the most common protozoa in soil, and also frequently found in fresh water and other habitats. The cells are small, usually 15 to 35 μm in length and oval to triangular in shape when moving. The pseudopods form a clear hemispherical lobe at the anterior,...
, which cause granulomatous amebic encephalitis and amebic keratitis. In 1999, the rhizome extract was found to inhibit activity of
Epstein-Barr virus
Epstein-Barr virus
The Epstein–Barr virus , also called human herpesvirus 4 , is a virus of the herpes family and is one of the most common viruses in humans. It is best known as the cause of infectious mononucleosis...
. Further research has demonstrated the extract effectively kills larvae of the mosquito
Culex

Culex

Culex is a genus of mosquito, and is important in that several species serve as vectors of important diseases, such as West Nile virus, filariasis, Japanese encephalitis, St. Louis encephalitis and avian malaria....


quinquefasciatus
and repels adult
Aedes aegypti
Aedes aegypti
The yellow fever mosquito, Aedes aegypti is a mosquito that can spread the dengue fever, Chikungunya and yellow fever viruses, and other diseases. The mosquito can be recognized by white markings on legs and a marking in the form of a lyre on the thorax...
mosquitoes, both of which are serious disease vectors. As a result of these findings, research is underway to evaluate the plant extract's use as an insect repellent, with preliminary findings suggesting that it is not an irritant to the skin of rats.
Biological activities of the extracts and essential oils
The rhizomes of the plant, which contain essential oils, have been used in Chinese medicine as a
decoction
Decoction
Decoction is a method of extraction, by boiling, of dissolved chemicals, or herbal or plant material, which may include stems, roots, bark and rhizomes. Decoction involves first mashing, and then boiling in water to extract oils, volatile organic compounds, and other chemical substances...
or powder for treating indigestion, colds, pectoral and abdominal pains, headache and toothache. Its alcoholic maceration has also been applied as
liniment
Liniment
Liniment , from the Latin linere, to anoint, is a medicated topical preparation for application to the skin. Preparations of this type are also called balm...
for rheumatism. The extract causes
central nervous system
Central nervous system
The central nervous system is the part of the nervous system that integrates the information that it receives from, and coordinates the activity of, all parts of the bodies of bilaterian animals—that is, all multicellular animals except sponges and radially symmetric animals such as jellyfish...
depression, a decrease in motor activity, and a decrease in respiratory rate.
The decoctions and the sap of the leaves may have hallucinogenic properties, which may be due to unidentified chemical components of the plant's essential oil fraction.
A purified extract of
Kaempferia galanga
and polyester-8 stabilize the UV absorptive properties of sunscreen combinations containing
avobenzone
Avobenzone
Avobenzone is an oil soluble ingredient used in sunscreen products to absorb the full spectrum of UVA rays....
.
It has been reported recently that the rhizomes of
Kaempferia galanga
contains chemicals that are potent insecticides. and may have potential in mosquito control.
A similar finding was also revealed previously for
Zingiber cassumunar
and
Kaempferia rotunda
.
K. galanga
extracts possesses antioxidant antiinflammatory and analgesic activities.
Kaempferia galanga
contains up to 2.5% ethyl
p
-methoxycinnamate, which may be useful as a potential anti-tuberculosis
lead molecule
Lead compound
A lead compound in drug discovery is a chemical compound that has pharmacological or biological activity and whose chemical structure is used as a starting point for chemical modifications in order to improve potency, selectivity, or pharmacokinetic parameters.Lead compounds are often found in...
. In an anticancer assay, it was found that ethyl
p
-methoxycinnamate could inhibit the proliferation of the human hepatocellular liver carcinoma HepG2 cell line
in vitro
In vitro
In vitro refers to studies in experimental biology that are conducted using components of an organism that have been isolated from their usual biological context in order to permit a more detailed or more convenient analysis than can be done with whole organisms. Colloquially, these experiments...
.
Two major aromatic compounds found in
Kaempferia galanga
, ethyl
p
-methoxycinnamate and
ethyl cinnamate
Ethyl cinnamate
Ethyl cinnamate is the ester of cinnamic acid and ethanol. It is present in the essential oil of cinnamon. Pure ethyl cinnamate has a "fruity and balsamic odor, reminiscent of cinnamon with an amber note"....
had
sedative
Sedative
A sedative or tranquilizer is a substance that induces sedation by reducing irritability or excitement....
effects on mice when inhaled.
Aroma attributes
See also
External links