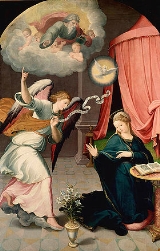 Juan Correa de Vivar
This article is about the Spanish painter. For the Mexican painter, see Juan Correa

Juan Correa

Juan Correa was a Mexican painter of mixed Moorish or African, Indian and Spanish heritage. His years of greatest activity were from 1671 to 1716. He painted many religious-themed, Baroque paintings for cathedrals in Mexico. Correa was José de Ibarra's teacher...


.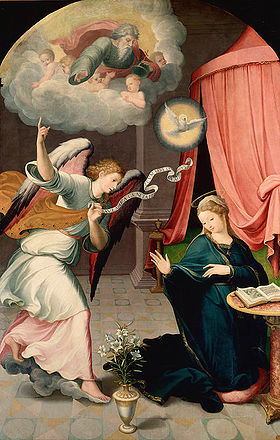 Juan Correa de Vivar
(
Mascaraque
Mascaraque
Mascaraque is a municipality located in the province of Toledo, Castile-La Mancha, Spain. According to the 2006 census , the municipality has a population of 550 inhabitants....
, c. 1510 - 16 of April of 1566) was a Spanish painter.
Life
Correa's date of birth has been determined to be around 1510. Records show he grew up wealthy. When Juan was 17 or 18 years old he joined an artist workshop in Burgundy where he met with many other Spanish artists at the time, including Pedro de Cisneros whom he befriended.
Juan's brother Eufrasia and Eufrasia's son Rodrigo also grew up to be artists. Rodrigo was apprenticed with his uncle, and continued some of his uncle's works after his death. In Mascaraque, Juan was a substantial landowner with a nice house where he did much of his painting. He took frequent trips but always stayed in the
Toledo
Toledo (province)
Toledo is a province of central Spain, in the western part of the autonomous community of Castile-La Mancha. It is bordered by the provinces of Madrid, Cuenca, Ciudad Real, Badajoz, Cáceres, and Ávila....
area.
Juan was married and a religious man. It can be seen in his testament: a copy was found in the church files of Mascaraque. When he died, Juan split all his possessions between his nephew Rodrigo and the church of Mascaraque.
Juan was a well-regarded painter during his life, but many records were lost. His works and life were brought to light again when the researcher and art historian Ceán Bermudez in 1800 published a dictionary of famous artists and included a brief article about his works and Italian influences. The full reconstruction of its biography has been primarily accomplished in the 20th century.
Records show Juan died on April 16, 1566 in San Miguel. Juan's body was taken back to Mascaraque where he was buried, in the same plot where his parents were laid to rest. Many members of the artistic community came to the funeral service, including architects Alonso de Covarrubias and
Nicolás de Vergara
Nicolás de Vergara el Mozo
Nicolás de Vergara el Mozo was a Spanish sculptor, architect, ironworker and glazier, most notable for his work on religious buildings, including Toledo Cathedral. He was the nephew of the master glaziers Arnao de Vergara and Arnao de Flandes and grandson of Arnao de Flandes the Elder....
, the sculptor Francisco de Linares, and the painters Diego de Aguilar and Blas Pablín.
Works
Juan was heavily influenced by
Raphael
Raphael
Raffaello Sanzio da Urbino , better known simply as Raphael, was an Italian painter and architect of the High Renaissance. His work is admired for its clarity of form and ease of composition and for its visual achievement of the Neoplatonic ideal of human grandeur...
. One of his most important works was the altarpiece of the church of
Almonacid de Zorita
Almonacid de Zorita
Almonacid de Zorita is a municipality located in the province of Guadalajara, Castile-La Mancha, Spain. According to the 2004 census , the municipality has a population of 826 inhabitants....
, in province of Guadalajara. This work was done in collaboration with Alonso de Covarrubias. It was destroyed in
World War II
World War II
World War II, or the Second World War , was a global conflict lasting from 1939 to 1945, involving most of the world's nations—including all of the great powers—eventually forming two opposing military alliances: the Allies and the Axis...
in 1936-39.
From Raphael he took his colorful tone and delicate and smooth figures. Over the years his style evolved into more dynamic forms of Mannerism, especially with respect to the way to bring about violent movement in the figures.
In the province of Toledo have been found some of Juan's better known works. This includes the altarpiece of San Roque, in
Almorox
Almorox
Almorox is a municipality located in the province of Toledo, Castile-La Mancha, Spain. According to the 2006 census , the municipality has a population of 2371 inhabitants....
, and the altarpiece of the collegiate church of
Torrijos
Torrijos, Spain
Torrijos is a Spanish municipality of Toledo province, in the autonomous community of Castile-La Mancha. Its population is 12,000 and its surface is 17 km², with a density of 682.76 people/km². Torrijos is the center of the "comarca" of the same name....
, whose twelve tables were done with the help of students of their factory. The
Museo del Prado
Museo del Prado
The Museo del Prado is the main Spanish national art museum, located in central Madrid. It features one of the world's finest collections of European art, from the 12th century to the early 19th century, based on the former Spanish Royal Collection, and unquestionably the best single collection of...
of
Madrid
Madrid
Madrid is the capital and largest city of Spain. The population of the city is roughly 3.3 million and the entire population of the Madrid metropolitan area is calculated to be 6.271 million. It is the third largest city in the European Union, after London and Berlin, and its metropolitan...
also includes many excellent examples of his work.
His first independent works began when he was twenty years old. Some of the work came to him through familiar contacts. For example Juan's paintings for the greater altarpiece of Clarisas of Nectarine, between 1532 and 1534, were funded by his uncle Don Rodrigo de Vivar.
Included works in these early years are also the table of the Birth of the
Santa María de Guadalupe
Santa María de Guadalupe
The Royal Monastery of Santa Maria de Guadalupe is a Roman Catholic monastic establishment in Guadalupe, Cáceres, a province of the Extremadura autonomous community of Spain It was one of the most important monasteries in the country for more than four centuries...
monastery, and the altarpiece of identical subject that Juan did for Stewing and which today can be found in both the Museo del Prado and the Museum of Santa Cruz de Toledo. The influence of his teacher, very evident in these first works, became more diluted over the years.
In the Forties some of his masterpieces can can be found at the monastery of
San Martin de Valdeiglesias
San Martín de Valdeiglesias
San Martín de Valdeiglesias is a town of Comunidad de Madrid with a population is 8.190 people.San Martín has a castle, the Castle of Coracera which was built in the fifteenth century....
today. There were also highly admired altarpieces that were taken to the Prado after the ecclesiastical confiscation of 1836 and museum distributed the national them by other pinacotecas like the one of Saragossa or
Vigo
Vigo
Vigo is a city and municipality in north-west Spain, in Galicia, situated on the ria of the same name on the Atlantic Ocean.-Population:...
, churches like
San Jerónimo el Real
San Jerónimo el Real
San Jerónimo el Real is a Roman Catholic church from the early 16th-century in central Madrid .The church, which has undergone numerous remodelings and restorations over the centuries is the remaining structure of the Hieronymite monastery that once stood beside the royal palace of Buen Retiro, of...
of Madrid or in the deposit of the same Prado.
Between 1550 and 1566, the year of his death, Juan's style became more personal, taking on a mannerism style that make his figures more forceful and energetic, but without losing his traditional elegance.