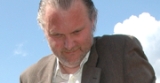 Jon Fosse
Jon Fosse
is a Norwegian
author
Author
An author is broadly defined as "the person who originates or gives existence to anything" and that authorship determines responsibility for what is created. Narrowly defined, an author is the originator of any written work.-Legal significance:...
and dramatist.
Fosse was born in
Haugesund
Haugesund
is a town and municipality in the county of Rogaland, Norway.-Location:Haugesund was separated from Torvastad as a town and municipality of its own in 1855. The rural municipality of Skåre was merged with Haugesund on January 1, 1958. Haugesund is a small municipality, only 73 km²...
,
Norway
Norway
Norway , officially the Kingdom of Norway, is a Nordic unitary constitutional monarchy whose territory comprises the western portion of the Scandinavian Peninsula, Jan Mayen, and the Arctic archipelago of Svalbard and Bouvet Island. Norway has a total area of and a population of about 4.9 million...
and currently lives in Bergen. He debuted in 1983 with the novel
Raudt, svart
(
Red, black
). His first play,
Og aldri skal vi skiljast
, was performed and published in 1994. Jon Fosse has written novels, short stories, poetry, children's books, essays and plays. His works have been translated into more than forty languages. He is widely considered as one of the world's greatest contemporary playwrights. Fosse was made a chevalier of the
Ordre national du Mérite
Ordre National du Mérite
The Ordre national du Mérite is an Order of State awarded by the President of the French Republic. It was founded on 3 December 1963 by President Charles de Gaulle...
of
France
France
The French Republic , The French Republic , The French Republic , (commonly known as France , is a unitary semi-presidential republic in Western Europe with several overseas territories and islands located on other continents and in the Indian, Pacific, and Atlantic oceans. Metropolitan France...
in 2007. Fosse also has been ranked number 83 on the list of the Top 100 living geniuses by
The Daily Telegraph
The Daily Telegraph
The Daily Telegraph is a daily morning broadsheet newspaper distributed throughout the United Kingdom and internationally. The newspaper was founded by Arthur B...
.
Honours and awards
Nynorsk Literature Prize

Nynorsk Literature Prize

The Nynorsk Literature Prize is awarded annually by Noregs Mållag, Det Norske Teatret and Det Norske Samlaget for the best book in either Nynorsk or dialect...


(1988)
Aschehoug Prize

Aschehoug Prize

The Aschehoug Prize is published annually by the Norwegian publishing house Aschehoug. The Aschehoug Prize is awarded Norwegian authors on the basis of the merit of a recent publication. It is awarded on merit, irrespective of the publisher, base on a binding recommendation from the Norwegian...


(1997 )
Dobloug Prize

Dobloug Prize

The Dobloug Prize is a literature prize awarded for Swedish and Norwegian fiction. The prize is named after Norwegian businessman and philanthropist Birger Dobloug pursuant to his bequest. The prize sum is . The Dobloug Prize is awarded annually by the Swedish Academy.-Prize winners:...


(1999 )
Norsk kulturråds ærespris

Norsk kulturråds ærespris

The Arts Council Norway Honorary Award is awarded annually by the Arts Council Norway. The prize is awarded annually to a person who has made a significant contribution to Norwegian art and culture. The prize committee does not solicit nominations and the decision on award is made in closed meeting...


(2003)
Nynorsk Literature Prize

Nynorsk Literature Prize

The Nynorsk Literature Prize is awarded annually by Noregs Mållag, Det Norske Teatret and Det Norske Samlaget for the best book in either Nynorsk or dialect...


(2003)
Brage Prize

Brage Prize

The Brage Prize is a Norwegian literature prize that is awarded annually by the Norwegian Book Prize foundation...


(2005)
Commander of the Royal Norwegian Order of St. Olav (2005)
The Swedish Academy

Swedish Academy

The Swedish Academy , founded in 1786 by King Gustav III, is one of the Royal Academies of Sweden.-History:The Swedish Academy was founded in 1786 by King Gustav III. Modelled after the Académie française, it has 18 members. The motto of the Academy is "Talent and Taste"...


's nordiska pris (2007)
The Federal Ministry of Family Affairs' Deutscher Jugendliteraturpreis

Deutscher Jugendliteraturpreis

The Deutscher Jugendliteraturpreis is an annual award established in 1956 by the Federal Ministry of Family Affairs, Senior Citizens, Women and Youth to recognise outstanding works of children's literature. It is Germany's only state-funded literary award. In the past, authors from many countries...


(2007)
Chevalier of the Ordre national du Mérite

Ordre National du Mérite

The Ordre national du Mérite is an Order of State awarded by the President of the French Republic. It was founded on 3 December 1963 by President Charles de Gaulle...


of France (2007)
Ibsen Awards 2010
Plays
Nokon kjem til å komme (Someone Is Going To Come) (written in 1992-93; first produced in 1996)
Og aldri skal vi skiljast (And Never we'll be Parted) (1994)
Namnet (The Name) (1995)
Barnet (The Child) (1996)
Mor og barn (Mother and Child) (1997)
Sonen (The Son) (1997)
Natta syng sine songar (Night Sings its Songs) (1997)
Gitarmannen (The Guitar Man) Monolog (1999)
Ein sommars dag (A Summer's Day) (1999)
Draum om hausten (Autumn Dream) (1999)
Sov du vesle barnet mitt (Sleep you little Child of mine) (2000)
Besøk (Visits) (2000
Vinter (Winter) (2000)
Ettermiddag (Afternoon) (2000)
Vakkert (Beauftiful) (2001)
Dødsvariasjonar (Deathvariations) (2001)
Jenta i sofaen (The Girl on the Sofa) (2002)
Lilla (Lilac) (2003)
Suzannah (2004)
Dei døde hundane (The Dead Dogs) (2004)
Sa ka la (2004)
Varmt (Warm) (2005)
Svevn (Sleep) (2005)
Rambuku (2006)
Skuggar (Shadows) (2006)
Eg er vinden (I Am the Wind) (2007)
Prose
Raudt, svart (Red, black) Novel (1983)
Stengd gitar (Closed Guitar) Novel (1985, 1992, 1997)
Blod. Steinen er (Blood. The stone is) Novella (1987)
Naustet (The boat-house) Novel (1989, 1991, 1997, 1998, 2001)
Flaskesamlaren (The Bottle-collector) Novel (1991)
Bly og vatn (Lead and water) Novel (1992)
To forteljingar (Two Tales) Novellas (1993)
Prosa frå ein oppvekst (Prose from a Growing-up). Short prose (1994)
Melancholia I. Novel (1995, 1997, 1999 (English translation: Melancholy)
Melancholia II. Novel (1996, 1997, 1999)
Eldre kortare prosa med 7 bilete av Camilla Wærenskjold (Older shorter prose with 7 pictures of Camilla Wærenskjold) Short prose (1998)
Morgon og kveld (Morning and Evening) Novel (2000, 2001)
Det er Ales (This is Ales) Novel (2004, 2005)
Andvake (Sleepless) Novella (2007)
Poetry
Engel med vatn i augene (1986)
Hundens bevegelsar (1990)
Hund og engel (1992)
Dikt (1986–1992) Revidert samleutgåve (1995)
Nye dikt (1991–1994 (1997)
Dikt (1986–2001. Samla dikt. Lyrikklubben (2001)
Auge i vind (2003)
Essays
Frå telling via showing til writing (1989)
Gnostiske essay (1999)
External links