 John of Leiden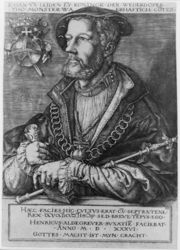 John of Leiden
(1509? – January 22, 1536), was an
Anabaptist
Anabaptist
Anabaptists are Protestant Christians of the Radical Reformation of 16th-century Europe, and their direct descendants, particularly the Amish, Brethren, Hutterites, and Mennonites....
leader from the
Dutch
Netherlands
The Netherlands is a constituent country of the Kingdom of the Netherlands, located mainly in North-West Europe and with several islands in the Caribbean. Mainland Netherlands borders the North Sea to the north and west, Belgium to the south, and Germany to the east, and shares maritime borders...
city of
Leiden
. He was the illegitimate son of a Dutch mayor, and a tailor's apprentice by trade.
Life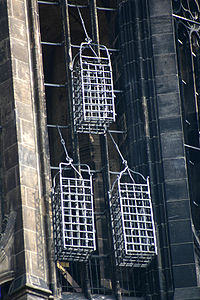 Raised in poverty, young John became a charismatic leader who was widely revered by his followers. According to his own testimony, he went to the German city of
Münster
Münster
Münster is an independent city in North Rhine-Westphalia, Germany. It is located in the northern part of the state and is considered to be the cultural centre of the Westphalia region. It is also capital of the local government region Münsterland...
, arriving in 1533, because he had heard there were inspired preachers there. He sent for
Jan Matthys
Jan Matthys
Jan Matthys was a charismatic Anabaptist leader, regarded by his followers as a prophet....
, who had baptized him, to come. After his arrival Matthys – recognized as a prophet – became the principal leader in the city. Following a failed military attempt on Easter Sunday 1534, in which Matthys died, John of Leiden became King of Münster until its fall in June of 1535.
The army of Münster was defeated in 1535 by the prince bishop
Franz von Waldeck
Franz von Waldeck
Count Franz von Waldeck , was Prince-Bishop of Münster, Osnabrück, and Minden and a leading figure in putting down the Münster Rebellion....
, and John of Leiden was captured. He was found in the cellar of a house, from where he was taken to a dungeon in Dülmen, then brought back to Münster. On January 22, 1536, along with Bernhard Krechting and
Bernhard Knipperdolling
Bernhard Knipperdolling
Bernhard Knipperdolling was a German leader of the Münster Anabaptists. He was also known as Bernd or Berndt Knipperdollinck or Knypperdollynck; his birth name was van Stockem.-Early life:...
, he was tortured and then executed. Each of the three was attached to a pole by an iron spiked collar and his body ripped with red-hot tongs for the space of an hour. After Knipperdolling saw the process of torturing John of Leiden, he attempted to kill himself with the collar, using it to choke himself. After that the executioner tied him to the stake to make it impossible for him to kill himself. After the burning, their tongues were pulled out with tongs before each was killed with a burning dagger thrust through the heart. The bodies were placed in three cages and hung from the steeple of St. Lambert's Church and the remains left to rot. About fifty years later the bones were removed, but the cages have remained into the 21st century.
Historiography
The conventional view is that John of Leiden set up in Münster a
polygamous
Polygamy
Polygamy is a marriage which includes more than two partners...
theocracy
Theocracy
Theocracy is a form of organization in which the official policy is to be governed by immediate divine guidance or by officials who are regarded as divinely guided, or simply pursuant to the doctrine of a particular religious sect or religion....
, best known for a law John passed stating that any unmarried woman must accept the first or any requests for a husband, with the result that men competed to acquire the most wives. Some sources report that John himself took sixteen wives aside from his "Queen"
Divara van Haarlem
Divara van Haarlem
Divara van Haarlem also spelled Dieuwertje Brouwersdr., was a Dutch Anabaptist, married to Jan van Leiden and by him proclaimed Queen of the Anabaptist regime in Münster....
, and that he publicly beheaded one of his wives,
Elisabeth Wandscherer
Elisabeth Wandscherer
Elisabeth Wandscherer was a Dutch Anabaptist.She lived in Münster during the reign of Jan van Leiden and was chosen by him as one of his sixteen spouses in June 1534, when he introduced polygamy for men...
, after she rebelled against his authority.
Karl Kautsky
Karl Kautsky
Karl Johann Kautsky was a Czech-German philosopher, journalist, and Marxist theoretician. Kautsky was recognized as among the most authoritative promulgators of Orthodox Marxism after the death of Friedrich Engels in 1895 until the coming of World War I in 1914 and was called by some the "Pope of...
however, in his
Communism in Central Europe at the Time of the Reformation
, notes that this picture of Anabaptist Münster is based almost entirely on accounts written by the Anabaptists' enemies, who sought to justify their bloody reconquest of the city. Kautsky's reading of the sources emphasizes the Anabaptists' emphasis on social equality, political democracy, and communal living during the time of John's nominal rule.
In proverb, on stage and in fiction
John's name still lives on in the Netherlands in the saying (literally: ), which means
not putting too much effort (or any effort) into something
.
The
opera
Opera
Opera is an art form in which singers and musicians perform a dramatic work combining text and musical score, usually in a theatrical setting. Opera incorporates many of the elements of spoken theatre, such as acting, scenery, and costumes and sometimes includes dance...
Le prophète
Le prophète
Le prophète is an opera in five acts by Giacomo Meyerbeer. The French-language libretto was by Eugène Scribe.-Performance history:...
(1849) by
Giacomo Meyerbeer
Giacomo Meyerbeer
Giacomo Meyerbeer was a noted German opera composer, and the first great exponent of "grand opera." At his peak in the 1830s and 1840s, he was the most famous and successful composer of opera in Europe, yet he is rarely performed today.-Early years:He was born to a Jewish family in Tasdorf , near...
features John as its hero. It involves the capture of Münster (Acts III and IV), John's coronation as God's elect at the cathedral (Act IV), and its finale is set in John's palace in Münster.
John also features in
Luther Blissett's
Luther Blissett (nom de plume)
Luther Blissett is a multiple-use name, an "open reputation" informally adopted and shared by hundreds of artists and activists all over Europe and the Americas since 1994...
novel,
Q
Q (novel)
Q is a novel by Luther Blissett first published in Italian in 1999. The novel is set in Europe during the 16th century, and deals with Protestant reformation movements....
.
John is a central character in Jonathon Rainbow's
Speak to Her Kindly
, a novel of historical fiction set during the events of the Munster Rebellion.
John Leiden features in
Thomas Nashe
Thomas Nashe
Thomas Nashe was an English Elizabethan pamphleteer, playwright, poet and satirist. He was the son of the minister William Nashe and his wife Margaret .-Early life:...
's
The Unfortunate Traveller
The Unfortunate Traveller
The Unfortunate Traveller: or, the Life of Jack Wilton by Thomas Nashe is a picaresque novel set during the reign of Henry VIII of England....
(1594), whose hero, Jack Wilton, satirically describes the siege of Münster and Leiden's death.
John (as Jan Bockelson) is one of the main protagonists in the play
Die Wiedertäufer
by
Friedrich Dürrenmatt
Friedrich Dürrenmatt
Friedrich Dürrenmatt was a Swiss author and dramatist. He was a proponent of epic theatre whose plays reflected the recent experiences of World War II. The politically active author's work included avant-garde dramas, philosophically deep crime novels, and often macabre satire...
John of Leiden appears in the novel "L'Œuvre au noir" or "The Abyss" by
Marguerite Yourcenar
Marguerite Yourcenar
Marguerite Yourcenar was a Belgian-born French novelist and essayist. Winner of the Prix Femina and the Erasmus Prize, she was the first woman elected to the Académie française, in 1980, and the seventeenth person to occupy Seat 3.-Biography:Yourcenar was born Marguerite Antoinette Jeanne Marie...
, from 1968, in which Yourcenar blends fictitious and real characters, describing the whole Münster Rebellion and its downfall. The passage occupies a short chapter.
External links