 John Krubsack
John Krubsack
was a banker and naturalist from
Embarrass, Wisconsin
Embarrass, Wisconsin
Embarrass is a village in Waupaca County, Wisconsin, United States. The population was 399 at the 2000 census.-Geography:Embarrass is located at ....
. He conceived, planted and shaped living trees to create the first known grown chair. He started his chair in 1903 and harvested 11 years later in 1914.
Biography
In addition to banking, Krubsack was a prominent naturalist who farmed, made cheese, and landscaped his property long before these were common practice. His house was the first in his region to have running water. He also was skilled at piecing together furniture from found branches. He'd scour the local river flats with a yardstick and a saw, looking for just the right shaped piece of blue beech, a hardwood tree with a smooth, wavy bark and a beautiful blue color when varnished. John took his youngest son, Hugo, on these weekend wood-hunting excursions, and it was during one of his trips that the idea first came to him to grow his own chair.
Chair
In a letter sent to his nephew Dennis in 1975, Hugo described his father's announcement of the living chair: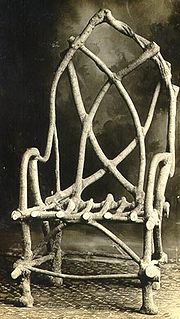 Krubsack explains the process in which he grew the chair in detail:
Legacy
The chair, eventually dubbed the "Chair That Grew," had its first big public showing in a natural history exhibit at the 1915 World's Fair, the Panama-Pacific International Exposition, held that year in San Francisco, California.
Hugo assisted his father in all aspects of the living chair project and went on to promote it in many ways, including contacting Robert Ripley, who ran it in his "Believe It or Not" column and later filmed John standing beside the chair explaining all about it. The film ran in the weekly newsreels of the time in theaters across the US.
The Lloyd Mfg. Co. at the Chicago Furniture Mart subsequently showed the chair during a large trade show for furniture manufacturers. The "Chair That Grew" was displayed on a golden pedestal at the entrance.
Krubsack's chair garnered many offers (one was $5,000) from would-be buyers over the years, but John, and later Hugo, turned them all down. Hugo had no heirs and simply could not bear to see it in the hands of others. He maintained possession of it until he let his nephew Gerhard A. Krubsack buy it for a token amount to use in advertising his furniture business, Noritage Furniture of Embarrass, Wisconsin.
In 1988 the chair was summoned to make another appearance, this time to be sat upon by an actor in the costume of
Mickey Mouse
Mickey Mouse
Mickey Mouse is a cartoon character created in 1928 by Walt Disney and Ub Iwerks at The Walt Disney Studio. Mickey is an anthropomorphic black mouse and typically wears red shorts, large yellow shoes, and white gloves...
, at Disney World in Orlando, Florida, on the occasion of the character's 60th birthday. Currently the chair sits inside a special Plexiglas case at the entrance of Noritage Furniture, the furniture manufacturing business now owned by John Krubsack's descendants, Steve and Dennis Krubsack.
See also
Tree Shaping
Topiary

Topiary

Topiary is the horticultural practice of training live perennial plants, by clipping the foliage and twigs of trees, shrubs and subshrubs to develop and maintain clearly defined shapes, perhaps geometric or fanciful; and the term also refers to plants which have been shaped in this way. It can be...



Espalier

Espalier

Espalier is the horticultural and ancient agricultural practice of controlling woody plant growth by pruning and tying branches so that they grow into a flat plane, frequently in formal patterns, against a structure such as a wall, fence, or trellis, and also plants which have been shaped in this...



Pleaching

Pleaching

Pleaching is a technique to weave the branches of trees into a hedge or to form a quincunx. Commonly, deciduous trees are planted in lines, then pleached to form a flat plane on clear stems above the ground level. Branches are woven together and lightly tied...



Arthur Wiechula

Arthur Wiechula

Arthur Wiechula was a German landscape engineer. His marriage to Lydia Lindnau, produced three children, Margarethe , Max and Ernst .He received the German Royal State Inventor's Honor Cross...



Axel Erlandson

Axel Erlandson

Axel Erlandson was a Swedish American farmer who shaped trees as a hobby, and opened a horticultural attraction in 1947 advertised as "See the World's Strangest Trees Here," and named "The Tree Circus."...



Richard Reames

Richard Reames

Richard Reames is an American nurseryman, and author who lives and works in Williams, Oregon. He coined the word "arborsculpture".-Biography:...



Fab Tree Hab

Fab Tree Hab

As a direct contribution to building knowledge in the fields of architecture and urban design the Fab Tree Hab supposes ecology as the main driver for dwelling...


: Living Home of Shaped Trees
Gilroy Gardens

Gilroy Gardens

Gilroy Gardens is a garden-themed family theme park in Gilroy, California and current location of the world-famous Circus Trees created by Axel Erlandson. It was founded by Michael and Claudia Bonfante after selling their Nob Hill Foods supermarket chain to build the park. The park was constructed...


: Home of the Circus Trees
External links
wikisource:Page:Popular Science Monthly Volume 88.djvu/692