 Gilroy Gardens
Gilroy Gardens
is a garden-themed family theme park in
Gilroy, California
Gilroy, California
Gilroy is the southernmost city in Santa Clara County, California, United States. The population was 48,821 at the 2010 census. Gilroy is well-known for its garlic crop and for the annual Gilroy Garlic Festival, featuring various garlicky foods, including garlic ice cream. Gilroy also produces...
and current location of the world-famous Circus Trees created by
Axel Erlandson
Axel Erlandson
Axel Erlandson was a Swedish American farmer who shaped trees as a hobby, and opened a horticultural attraction in 1947 advertised as "See the World's Strangest Trees Here," and named "The Tree Circus."...
. It was founded by Michael and Claudia Bonfante after selling their Nob Hill Foods supermarket chain to build the park. The park was constructed gradually over a period of 25 years. Before it became an amusement park open to the public, it was known as Tree Haven, and was a commercial plant nursery, as well as a recreational facility for employees of Nob Hill Foods. The park opened to the public in June 2001 as
Bonfante Gardens
. The name was changed to Gilroy Gardens in February 2007. It features 19 rides, 27 attractions and six gardens.
In the summer, Gilroy Gardens hosts weddings. Starting in 2004, the park began its annual holiday celebration, Gilroy Gardens Holiday Lights.
The park struggled with financial difficulty and low attendance the first two years it was open. It closed early for its first two seasons and the park's management debated whether to open at all for the third season.
Paramount Parks
Paramount Parks
Paramount Parks was an operator of theme parks and attractions, which annually attracted about 13 million patrons. Viacom had assumed control of the company as part of its acquisition of Paramount Pictures in 1994....
began to manage the park on contract starting with the 2003 season.
Gilroy Gardens operates under the management of Cedar Fair Entertainment Company, which acquired Paramount Parks from
CBS Corporation
CBS Corporation
CBS Corporation is an American media conglomerate focused on commercial broadcasting, publishing, billboards and television production, with most of its operations in the United States. The President and CEO of the company is Leslie Moonves. Sumner Redstone, owner of National Amusements, is CBS's...
on June 30, 2006.
The city of Gilroy purchased the 536 acres (including the theme park rides) March 5, 2008. This purchase bought out about half the existing bond holders. The other half is planned to be bought out in 2010. Gilroy Gardens Family Theme Park leases the land from the city.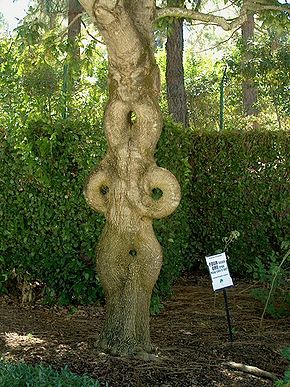 Attractions
Banana Split — Banana-shaped swinging ship ride.
Mushroom Swing — Mushroom shaped swing ride.
Timber Twister — Rattlesnake themed junior roller coaster
Garlic Twirl — Garlic-themed "tea cups" style ride.
Sky Trail Monorail — Monorail ride through Monarch Butterfly Greenhouse.
Paddle Boats — Duck shaped paddle boats.
Rainbow Gardens Boats — Raft ride though flower gardens.
Coyote & Redwood Railroad — Train ride around park perimeter.
Quicksilver Express — Mine-themed roller coaster.
External links