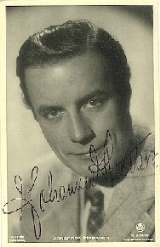 Johannes Heesters
Johan Marius Nicolaas "Johannes" Heesters
(born 5 December 1903) is a Dutch actor, singer and entertainer with a -year career, almost exclusively in the German-speaking world. In Germany and Austria, Heesters is mainly known for his acting career. , aged , Heesters is the oldest performer worldwide who is still active, both on the
stage
Theatre
Theatre is a collaborative form of fine art that uses live performers to present the experience of a real or imagined event before a live audience in a specific place. The performers may communicate this experience to the audience through combinations of gesture, speech, song, music or dance...
and on
television
Television
Television is a telecommunication medium for transmitting and receiving moving images that can be monochrome or colored, with accompanying sound...
.
Early life
Heesters was born in
Amersfoort
Amersfoort
Amersfoort is a municipality and the second largest city of the province of Utrecht in central Netherlands. The city is growing quickly but has a well-preserved and protected medieval centre. Amersfoort is one of the largest railway junctions in the country, because of its location on two of the...
, Netherlands, the youngest of four sons. His father Jacobus Heesters (1865–1946) was a salesman and his mother Geertruida Jacoba van den Heuvel (1866–1951), a homemaker. Heesters decided to become an actor and a singer at the age of sixteen and began vocal training. Heesters very early in his career specialized in Viennese
operetta
Operetta
Operetta is a genre of light opera, light in terms both of music and subject matter. It is also closely related, in English-language works, to forms of musical theatre.-Origins:...
, making his Viennese stage debut in 1934 in Carl Millöcker's
Der Bettelstudent
Der Bettelstudent
Der Bettelstudent is an operetta in three acts by Carl Millöcker with a German libretto by Camillo Walzel and Richard Genée, based on Les noces de Fernande by Victorien Sardou and The Lady of Lyons by Edward Bulwer-Lytton...
(
The Beggar Student
) after having relocated to Germany for career. Heesters was fluent in German from a very early age having lived for several years in the household of a German grand-uncle from Bavaria.
During the War
Heesters permanently moved to Germany with his wife and daughters in 1935, aged 31. During his time there, he performed for Adolf Hitler and visited the
Dachau concentration camp
which has made him a controversial figure amongst some Dutch.
Goebbels
Joseph Goebbels
Paul Joseph Goebbels was a German politician and Reich Minister of Propaganda in Nazi Germany from 1933 to 1945. As one of Adolf Hitler's closest associates and most devout followers, he was known for his zealous oratory and anti-Semitism...
placed Heesters on the
Gottbegnadeten list
Gottbegnadeten list
The Gottbegnadeten list was a 36-page list of artists considered crucial to Nazi culture. The list was assembled in September 1944 by Joseph Goebbels, the head of the Ministry of Public Enlightenment and Propaganda, and Germany's dictator Adolf Hitler.The list exempted the designated artists from...
as an artist considered crucial to Nazi culture.
He has been known to have funded the German war machine by donating money to the weapon industry. For this, Heesters became a very controversial figure in the late 1970s. Heesters, however, has always denied these accusations despite the existence of proof.
Heesters befriended several highranking Nazi-officials and
SS-officers
Schutzstaffel
The Schutzstaffel |Sig runes]]) was a major paramilitary organization under Adolf Hitler and the Nazi Party. Built upon the Nazi ideology, the SS under Heinrich Himmler's command was responsible for many of the crimes against humanity during World War II...
. Mr. "Jopie" also performed regularly for people such as Hitler and Goering, the first of whom was known to be an avid admirer of his acting skills. Throughout the war Heester kept performing for German soldiers in camps and barracks. He has always denied having visited concentration camps, although he did have knowledge of their existence.
According to German author Volker Kühn, Heesters did in fact perform for the SS in Dachau concentration camp. For this claim he uses as evidence the testimony of Dachau inmate Viktor Matejka who worked for the SS and told Kühn he pulled the curtain when Heesters performed in 1941. According to German writer Jürgen Trimborn however, the interview with Matejka may not be reliable as it occurred some fifty years after the performance was said to have taken place. In December 2009, Heesters lost his libel suit against Kühn. While acknowledging having visited the camp, Heesters denies having performed as entertainment for the SS troops. In its ruling, the German court did not find that Kühn's allegations were true, but rather that too much time had passed for an accurate determination of fact to be made.
After the War
Heesters worked extensively for
UFA
Universum Film AG
Universum Film AG, better known as UFA or Ufa, is a film company that was the principal film studio in Germany, home of the German film industry during the Weimar Republic and through World War II, and a major force in world cinema from 1917 to 1945...
until almost the end of the
Second World War
World War II
World War II, or the Second World War , was a global conflict lasting from 1939 to 1945, involving most of the world's nations—including all of the great powers—eventually forming two opposing military alliances: the Allies and the Axis...
(his last wartime movie being
Die Fledermaus
Die Fledermaus
Die Fledermaus is an operetta composed by Johann Strauss II to a German libretto by Karl Haffner and Richard Genée.- Literary sources :...
, produced in 1945) and easily made the transition from the Nazi-controlled cultural scene to post-war Germany and Austria, appearing again in a number of films. These included
Die Jungfrau auf dem Dach
Die Jungfrau auf dem Dach
Die Jungfrau auf dem Dach is a 1954 American comedy film produced and directed by Otto Preminger. The screenplay by Carl Zuckmayer is a German language translation of the script for The Moon is Blue by F...
and the 1957 version of
Viktor und Viktoria
Viktor und Viktoria
Viktor and Viktoria is a 1933 German musical comedy film directed by Reinhold Schünzel, starring Renate Müller as a woman pretending to be a female impersonator...
. Heesters stopped making movies around 1960 to concentrate on stage and television appearances and on producing
record
Gramophone record
A gramophone record, commonly known as a phonograph record , vinyl record , or colloquially, a record, is an analog sound storage medium consisting of a flat disc with an inscribed, modulated spiral groove...
s.
Heesters' signature tune is Count Danilo Danilovitch's entrance song "Da geh' ich ins
Maxim
Maxim's Paris
Maxim's is the name of a restaurant in Paris, France, located at No. 3 of the rue Royale. It is known for its art nouveau interior decor.-History:...
" from
Franz Lehár
Franz Lehár
Franz Lehár was an Austrian-Hungarian composer. He is mainly known for his operettas of which the most successful and best known is The Merry Widow .-Biography:...
's
Die Lustige Witwe
(
The Merry Widow
The Merry Widow
The Merry Widow is an operetta by the Austro–Hungarian composer Franz Lehár. The librettists, Viktor Léon and Leo Stein, based the story – concerning a rich widow, and her countrymen's attempt to keep her money in the principality by finding her the right husband – on an 1861 comedy play,...
). He met Hitler several times and was reportedly Hitler's favorite actor for the part of Danilo.
In recent years Heesters has spoken fondly of Hitler as a person, but has condemned his political stance. In the 1990s, he and his wife toured Germany and Austria with
Curth Flatow
Curth Flatow
Curth Flatow was a German dramatist and screenwriter who started his career in post-war Germany specializing in light comedy. Flatow was born in Berlin. Many of his plays have been adapted for the big screen...
's play
Ein gesegnetes Alter
(
A Blessed Age
), which was also televised in 1996. On 5 December 2003, he celebrated his 100th birthday with a television special "Eine Legende wird 100" ("A legend turns 100") on the
ARD
ARD (broadcaster)
ARD is a joint organization of Germany's regional public-service broadcasters...
television channel.
In December 2004, aged 101, Heesters appeared in Stuttgart at the
Komödie im Marquardt
theatre in a show commissioned on the occasion of his
100th birthday
Centenarian
A centenarian is a person who is or lives beyond the age of 100 years. Because current average life expectancies across the world are less than 100, the term is invariably associated with longevity. Much rarer, a supercentenarian is a person who has lived to the age of 110 or more, something only...
,
Heesters – eine musikalische Hommage
. In 2005 aged 102 he was featured as a soloist in a major concert tour with the
Deutsches Filmorchester Babelsberg
Deutsches Filmorchester Babelsberg
The German Film Orchestra Babelsberg is a symphony orchestra based in Potsdam, Germany. It was founded in 1993 by Klaus Peter Beyer. The orchestra derives its name from the legendary Babelsberg Studios in Potsdam-Babelsberg, a city part of Potsdam today, where notable films such as Metropolis, Dr...
under the direction of Scott Lawton.
On 5 December 2006 Heesters celebrated his 103rd birthday with a concert at the
Wiener Konzerthaus
Konzerthaus, Vienna
The Konzerthaus in Vienna was opened 1913. It is situated in the third district just at the edge of the first district in Vienna. Since it was founded it has always tried to emphasise both tradition and innovative musical styles.In 1890 the first ideas for a Haus für Musikfeste came about...
. On 5 December 2007 he celebrated his 104th birthday with a concert at the
Admiralspalast
Admiralspalast
The Admiralspalast is a theatre in the Mitte district of Berlin, Germany, located on Friedrichstraße No. 101. Opened in 1910, it is one of the few preserved variety venues of the pre-World War II era in the city....
, Berlin, and in February 2008 he performed in his home country for the first time in four decades amidst protests against his Nazi associations.
Heesters is less active in his latest years and mostly plays smaller roles as he cannot be on stage for a long period of time due to his health. He is currently almost completely blind due to
glaucoma
Glaucoma
Glaucoma is an eye disorder in which the optic nerve suffers damage, permanently damaging vision in the affected eye and progressing to complete blindness if untreated. It is often, but not always, associated with increased pressure of the fluid in the eye...
and
macular degeneration
Macular degeneration
Age-related macular degeneration is a medical condition which usually affects older adults and results in a loss of vision in the center of the visual field because of damage to the retina. It occurs in "dry" and "wet" forms. It is a major cause of blindness and visual impairment in older adults...
. He still sings and plays small roles in musicals and is still capable of learning his lines.
Personal life
Heesters has two daughters by his first wife Louisa Ghijs, whom he married in 1930. After her death in 1985, he remarried in 1992; his second wife, Simone Rethel (born 1949), is a German actress, painter, and photographer. His younger daughter
Nicole Heesters
Nicole Heesters
Nicole Heesters is a German actress. Nicole comes from a family of actors; her parents are Johannes Heesters a Dutch-German actor and Louise Ghijs a Belgian stage actress. Her husband was movie director Pit Fischer and one of her children, daughter Saskia Fischer, is also an actress. Nicole's...
is a well-known actress in the German-speaking world as is his granddaughter
Saskia Fischer
Saskia Fischer
Saskia Fischer is a German actress who began her career in 1991.She is the daughter of Nicole Heesters and the granddaughter of famous actors Johannes Heesters and Louisa Ghijs.- Filmography :* 1991: Altes Herz wieder jung...
. , Heesters has five grandchildren, eleven great-grandchildren and three great-great grandchildren.
In December 2010 aged 107, Heesters announced that he had quit smoking for his then 61 year old wife: "She should have me as long as possible".
On 1 January 2008, he fell down some stairs in his holiday house in
Tyrol
Tyrol (state)
Tyrol is a state or Bundesland, located in the west of Austria. It comprises the Austrian part of the historical region of Tyrol.The state is split into two parts–called North Tyrol and East Tyrol–by a -wide strip of land where the state of Salzburg borders directly on the Italian province of...
and broke two ribs. On 29 November 2011, he suddenly became very ill and was rushed into the hospital.
2008 interview
Heesters apologised for statements made regarding Adolf Hitler on the widely watched German TV show
Wetten, dass..?
Wetten, dass..?
Wetten, dass..? is a long-running German-language entertainment television show. It is the most successful Saturday television show in Europe...
on Saturday, 13 December 2008, aged 105. He said that he had said something stupid and horrible and asked for forgiveness. In addition, German media pointed out that the aged Heesters could not grasp the satiric nature of the TV show in question.
Discography
Albums
1965: Jetzt geh' ich ins Maxim
2003: Ich werde 100 Jahre alt

Ich werde 100 Jahre alt

Ich werde 100 Jahre alt is a studio album by the German singer and actor Johannes Heesters with only one single. It is the best selling album from Heesters.-Track listing:# "Ich werde 100 Jahre alt" - 3:37# "Ein bisschen Liebe gehört zum Leben" - 0:30...



Singles
1937: "Ich werde jede Nacht von ihnen träumen"
1939: "Musik, Musik, Musik" (featuring Marika Rökk

Marika Rökk

Marika Rökk was an Austrian-German singer, dancer and actress of Hungarian descent, who became famous in German films, notably in the Nazi era.- Life and work :...


)
1941: "Liebling, was wird nun aus uns beiden"
1941: "Man müßte Klavier spielen können"
1949: "Das kommt mir spanisch vor"
1949: "Tausendmal möchte' ich dich küssen"
1998: "Ich werde 100 Jahre alt" (song)
2007: "Generationen" (featuring Claus Eisenmann)
Honours, decorations, awards
1984: Bavarian Order of Merit

Bavarian Order of Merit

The Bavarian Order of Merit is the order of merit of the Free State of Bavaria. It is awarded by the Minister-President of Bavaria as a "recognition of outstanding contributions to the Free State of Bavaria and the Bavarian people"....



1993: Berlinian Order of Merit
2000: Ring of Honour of the City of Vienna

Vienna

Vienna is the capital and largest city of the Republic of Austria and one of the nine states of Austria. Vienna is Austria's primary city, with a population of about 1.723 million , and is by far the largest city in Austria, as well as its cultural, economic, and political centre...



Bambi

Bambi (prize)

The Bambi - Deutschlands Wichtigster Medienpreis, often simply called Bambi Awards and stylized as BAMBI, are presented annually by Hubert Burda Media to recognize excellence in international media and television "with vision and creativity who affected and inspired the German public that year",...


in 1967, 1987, 1990, 1997, 2003, 2007, 2008, 2009, 2010, 2011
2001: Platinum Romy (TV award)

Romy (TV award)

The Romy TV award in honor of the actress Romy Schneider was created in 1990 by the Austrian newspaper Kurier – or rather their movie reviewer Rudolf John, who also designed the 30.5 cm gilded trophy. It recalls a scene from the movie The Swimmingpool with Alain Delon, when Romy Schneider...



2003: Goldene Kamera
Filmography
1924: Cirque hollandais
1934: Bleeke Bet
1935: De vier Mullers
1936: Die Leuchter des Kaisers
1936: Der Bettelstudent
1936: Das Hofkonzert
1937: Wenn Frauen schweigen
1937: Gasparone
1938: Nanon
1938: Immer wenn ich glücklich bin..!
1939: Hallo Janine!
1939: Das Abenteuer geht weiter
1939: Meine Tante – Deine Tante
1940: Liebesschule
1940: Die lustigen Vagabunden
1940: Rosen in Tirol
1941: Immer nur … Du!
1941: Jenny und der Herr im Frack
1941: Illusion
1942: Karneval der Liebe
1944: Es lebe die Liebe
1944: Glück bei Frauen
1944: Es fing so harmlos an
1944: Frech und verliebt (1948)
1946: Die Fledermaus (1946
1946: Renée / Renée XIV. Der König streikt
1947: Wiener Melodien
1949: Liebe Freundin
1950: Wenn eine Frau liebt
1950: Hochzeitsnacht im Paradies

Hochzeitsnacht im Paradies

Hochzeitsnacht im Paradis is an operetta in eight scenes. Book by Heinz Hentschke, lyrics by Gunther Schwenn and music by Friedrich Schröder. It premiered in Berlin at the Metropol Theater September 24, 1942. It was filmed several times in German and several other languages....



1951: Professor Nachtfalter
1951: Tanz ins Glück
1951: Die Csardasfürstin
1952: Im weißen Rößl
1953: Die geschiedene Frau
1953: Die Jungfrau auf dem Dach
1953: Schlagerparade
1953: Hab' ich nur Deine Liebe
1954: Stern von Rio
1955: Bel-Ami
1955: Gestatten, mein Name ist Cox (Film)
1956: Ein Herz und eine Seele / …und wer küßt mich
1956: Opernball
1956: Heute heiratet mein Mann
1957: Bel Ami. Der Frauenheld von Paris
1957: Viktor und Viktoria
1957: Von allen geliebt
1958: Bühne frei für Marika!
1958: Besuch aus heiterem Himmel / Jetzt ist er da aus USA
1958: Frau im besten Mannesalter
1959: Die unvollkommene Ehe
1960: Am grünen Strand der Spree (TV, part 5)
1961: Junge Leute brauchen Liebe
1968: Unsere liebste Freundin (TV)
1973: Hallo, Hotel Sacher…Portier (TV, episode 2)
1974: Hochzeitsnacht im Paradies (TV)
1980: Liebe bleibt nicht ohne Schmerzen (TV)
1982: Sonny Boys (TV) (Carl-Heinz Schroth

Carl-Heinz Schroth

Carl-Heinz Schroth was a German actor and film director. He appeared in 60 films between 1931 and 1989. He also directed seven films between 1953 and 1963....


)
1984: Die schöne Wilhelmine (TV fourt part series)
1985: Otto – Der Film

Otto – Der Film

Otto – Der Film is a German comedy film from 1985, starring Otto Waalkes. With 14.5 million sold tickets it was the most successful German movie until it was succeeded by Der Schuh des Manitu.-Plot:...



1991: Altes Herz wird nochmal jung
1993: Zwei Münchner in Hamburg
1994: Silent Love (Short film)
1995: Grandhotel
1996: Ein gesegnetes Alter (TV)
1999: Theater: Momo (TV)
2001: Otto – Mein Ostfriesland und mehr (TV)
2003: Zurück ins Leben
2008: 1½ Ritter – Auf der Suche nach der hinreißenden Herzelinde
2008: Wege zum Glück
2011: Ten (short film)
Quotes
External links