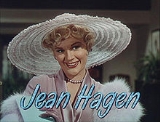 Jean Hagen
Early life
Hagen was born as
Jean Shirley Verhagen
in Chicago, Illinois, to Christian Verhagen (born August 10, 1890 — died April 1983), a Dutch immigrant, and his Chicago-born wife, Marie. The family moved to
Elkhart, Indiana
Elkhart, Indiana
Elkhart is a city in Elkhart County, Indiana, United States. The city is located east of South Bend, northwest of Fort Wayne, east of Chicago, and north of Indianapolis...
when she was 12 and she subsequently graduated from Elkhart High School. She studied drama and worked as a theater usherette before making her
Broadway theatre
Broadway theatre
Broadway theatre, commonly called simply Broadway, refers to theatrical performances presented in one of the 40 professional theatres with 500 or more seats located in the Theatre District centered along Broadway, and in Lincoln Center, in Manhattan in New York City...
debut in
Another Part of the Forest
Another Part of the Forest
Another Part of the Forest is a 1946 play by Lillian Hellman, a prequel to her 1939 drama The Little Foxes.-Plot synopsis:Set in the fictional town of Bowden, Alabama in June 1880, the plot focuses on the wealthy, ruthless, and innately evil Hubbard family and their rise to prominence...
in 1946.
Career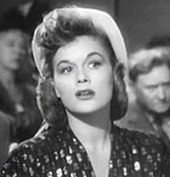 Her film debut was as a
femme fatale
Femme fatale
A femme fatale is a mysterious and seductive woman whose charms ensnare her lovers in bonds of irresistible desire, often leading them into compromising, dangerous, and deadly situations. She is an archetype of literature and art...
in
Adam's Rib
Adam's Rib
Adam's Rib is a 1949 American film written by Ruth Gordon and Garson Kanin and directed by George Cukor. It stars Spencer Tracy and Katharine Hepburn as married lawyers who come to oppose each other in court. Judy Holliday co-stars in her first substantial film role...
in 1949.
The Asphalt Jungle
The Asphalt Jungle
The Asphalt Jungle is a 1950 film noir directed by John Huston. The caper film is based on the novel of the same name by W. R. Burnett and stars an ensemble cast including Sterling Hayden, Jean Hagen, Sam Jaffe, Louis Calhern, James Whitmore, and, in a minor but key role, Marilyn Monroe, an unknown...
(1950) provided Hagen with her first starring role beside
Sterling Hayden
Sterling Hayden
Sterling Hayden was an American actor and author. For most of his career as a leading man, he specialized in westerns and film noir, such as Johnny Guitar, The Asphalt Jungle and The Killing. Later on he became noted as a character actor for such roles as Gen. Jack D. Ripper in Dr...
, and excellent reviews. She appeared in the film noir Side Street (1950) playing a gangster's sincere, but none-too-bright gun moll. She is arguably best remembered for her comic performance in
Singin' in the Rain
Singin' in the Rain
Singin' in the Rain is a 1952 American comedy musical film starring Gene Kelly, Donald O'Connor and Debbie Reynolds and directed by Gene Kelly and Stanley Donen, with Kelly also providing the choreography...
as the vain and talentless
silent movie
Silent Movie
Silent Movie is a 1976 satirical comedy film co-written, directed by, and starring Mel Brooks, and released by 20th Century Fox on June 17, 1976...
star Lina Lamont; Hagen received an Academy Award nomination for Best Supporting Actress.
By 1953, she had joined the cast of the television sitcom
Make Room for Daddy
The Danny Thomas Show
The Danny Thomas Show is an American sitcom which ran from 1953-1957 on ABC and from 1957-1964 on CBS...
. As the first wife of
Danny Thomas
Danny Thomas
Danny Thomas was an American nightclub comedian and television and film actor, best known for starring in the television sitcom Make Room for Daddy . He was also the founder of St. Jude Children's Research Hospital...
, Hagen received three
Emmy Award
Emmy Award
An Emmy Award, often referred to simply as the Emmy, is a television production award, similar in nature to the Peabody Awards but more focused on entertainment, and is considered the television equivalent to the Academy Awards and the Grammy Awards .A majority of Emmys are presented in various...
nominations, but after three seasons she grew dissatisfied and left the series. Thomas, who also produced the show, reportedly didn't appreciate Jean's departing the successful series, and her character was killed off rather than recast. This was the first TV character to be killed off a family sitcom.
Marjorie Lord
Marjorie Lord
Marjorie Lord is an American television and film actress. She played Kathy "Clancy" Williams opposite Danny Thomas on Make Room for Daddy and later Make Room for Granddaddy.-Early life and career:...
was cast a year later as Danny's second wife and played against Thomas successfully for several seasons. Hagen starred in the 1957 Alfred Hitchcock Presents, Season 3, Episode 7, entitled "Enough Rope for Two". She appeared as Frida Daniels in
The Shaggy Dog
The Shaggy Dog (1959 film)
The Shaggy Dog is a black and white 1959 Walt Disney film about Wilby Daniels, a teenage boy who is transformed into an Old English Sheepdog by an enchanted ring of the Borgias. The film was based on the story, The Hound of Florence by Felix Salten...
starring with
Fred MacMurray
Fred MacMurray
Frederick Martin "Fred" MacMurray was an American actor who appeared in more than 100 movies and a successful television series during a career that spanned nearly a half-century, from 1930 to the 1970s....
. In 1960, she appeared as "Elizabeth" in the episode "Once Upon a Knight" of CBS's anthology series
The DuPont Show with June Allyson
The DuPont Show with June Allyson
The DuPont Show with June Allyson is an American anthology drama series which aired on CBS from September 21, 1959 to April 3, 1961 with rebroadcasts continuing until June 12, 1961...
.
Although she made frequent guest appearances in various television series, she was unable to successfully resume her film career, and for the remainder of her career played supporting roles, such as Marguerite LeHand, personal secretary to Franklin Delano Roosevelt in
Sunrise at Campobello
Sunrise at Campobello
Sunrise at Campobello is a 1960 American biographical film made by Dore Schary Productions and Warner Bros. It tells the story of the initial struggle by future President of the United States Franklin Delano Roosevelt and his family when he was stricken with paralysis at the age of 39 in August...
(1960), and the friend of
Bette Davis
Bette Davis
Ruth Elizabeth "Bette" Davis was an American actress of film, television and theater. Noted for her willingness to play unsympathetic characters, she was highly regarded for her performances in a range of film genres, from contemporary crime melodramas to historical and period films and occasional...
in
Dead Ringer
Dead Ringer (1964 film)
Dead Ringer, also known as Who is Buried in my Grave? is a 1964 thriller film made by Warner Bros. It was directed by Paul Henreid and produced by William H. Wright from a screenplay by Oscar Millard and Albert Beich from the story La Otra by Rian James...
(1964). In the 1960s, Hagen's health began to decline and she spent many years hospitalised or under medical care.
In 1976, she made a comeback of sorts playing character roles in episodes of the television series
Starsky and Hutch
Starsky and Hutch
Starsky and Hutch is a 1970s American cop thriller television series that consisted of a 90-minute pilot movie and 92 episodes of 60 minutes each; created by William Blinn, produced by Spelling-Goldberg Productions, and broadcast between April 30, 1975 and May 15, 1979 on the ABC...
and
The Streets of San Francisco
The Streets of San Francisco
The Streets of San Francisco is a 1970s television police drama filmed on location in San Francisco, California, and produced by Quinn Martin Productions, with the first season produced in association with Warner Bros...
, and made her final film appearance in the 1977 television movie
Alexander: The Other Side of Dawn
Alexander: The Other Side of Dawn
Alexander: The Other Side of Dawn was a NBC made-for-television movie, that was first telecast on May 16, 1977, and was directed by John Erman. It was a sequel to Dawn: Portrait of a Teenage Runaway, which came out the prior year,...
.
Death
Hagen died of
esophageal cancer
Esophageal cancer
Esophageal cancer is malignancy of the esophagus. There are various subtypes, primarily squamous cell cancer and adenocarcinoma . Squamous cell cancer arises from the cells that line the upper part of the esophagus...
in 1977, at age 54. She is buried in
Chapel of the Pines Crematory
Chapel of the Pines Crematory
Chapel of the Pines Crematory is a crematory and columbarium located at 1605 South Catalina Street Los Angeles, California, in the historic West Adams District a short distance southwest of Downtown...
.
Hagen has a star on the
Hollywood Walk of Fame
Hollywood Walk of Fame
The Hollywood Walk of Fame consists of more than 2,400 five-pointed terrazzo and brass stars embedded in the sidewalks along fifteen blocks of Hollywood Boulevard and three blocks of Vine Street in Hollywood, California...
for her contribution to television, at 1502 Vine Street.
Filmography
Film
Year
Role
Notes
Adam's Rib

Adam's Rib

Adam's Rib is a 1949 American film written by Ruth Gordon and Garson Kanin and directed by George Cukor. It stars Spencer Tracy and Katharine Hepburn as married lawyers who come to oppose each other in court. Judy Holliday co-stars in her first substantial film role...



1949
Beryl Caighn
film debut. National Film Registry

National Film Registry

The National Film Registry is the United States National Film Preservation Board's selection of films for preservation in the Library of Congress. The Board, established by the National Film Preservation Act of 1988, was reauthorized by acts of Congress in 1992, 1996, 2005, and again in October 2008...



The Asphalt Jungle

The Asphalt Jungle

The Asphalt Jungle is a 1950 film noir directed by John Huston. The caper film is based on the novel of the same name by W. R. Burnett and stars an ensemble cast including Sterling Hayden, Jean Hagen, Sam Jaffe, Louis Calhern, James Whitmore, and, in a minor but key role, Marilyn Monroe, an unknown...



1950
Doll Conovan
National Film Registry

National Film Registry

The National Film Registry is the United States National Film Preservation Board's selection of films for preservation in the Library of Congress. The Board, established by the National Film Preservation Act of 1988, was reauthorized by acts of Congress in 1992, 1996, 2005, and again in October 2008...



Side Street
1950
Hariette Sinton
Singin' in the Rain

Singin' in the Rain

Singin' in the Rain is a 1952 American comedy musical film starring Gene Kelly, Donald O'Connor and Debbie Reynolds and directed by Gene Kelly and Stanley Donen, with Kelly also providing the choreography...



1952
Lina Lamont
nominated-Academy Award for Best Supporting Actress

Academy Award for Best Supporting Actress

Performance by an Actress in a Supporting Role is one of the Academy Awards of Merit presented annually by the Academy of Motion Picture Arts and Sciences to recognize an actress who has delivered an outstanding performance while working within the film industry. Since its inception, however, the...


. National Film Registry

National Film Registry

The National Film Registry is the United States National Film Preservation Board's selection of films for preservation in the Library of Congress. The Board, established by the National Film Preservation Act of 1988, was reauthorized by acts of Congress in 1992, 1996, 2005, and again in October 2008...


. Selected by AFI as Best Movie Musical. National Film Registry

National Film Registry

The National Film Registry is the United States National Film Preservation Board's selection of films for preservation in the Library of Congress. The Board, established by the National Film Preservation Act of 1988, was reauthorized by acts of Congress in 1992, 1996, 2005, and again in October 2008...



Latin Lovers

Latin Lovers (1953 film)

Latin Lovers is a Technicolor 1953 romantic musical comedy film made by MGM. It was directed by Mervyn LeRoy, and written by Isobel Lennart...



1953
Anne Kellwood
The Big Knife

The Big Knife

The Big Knife is a film noir directed and produced by Robert Aldrich from a screenplay by James Poe based on the play by Clifford Odets. The film stars Jack Palance, Ida Lupino, Wendell Corey, Jean Hagen, Rod Steiger, Shelley Winters, Ilka Chase, and Everett Sloane.-Plot:Charlie Castle, a very...



1955
Connie Bliss
The Shaggy Dog

The Shaggy Dog (1959 film)

The Shaggy Dog is a black and white 1959 Walt Disney film about Wilby Daniels, a teenage boy who is transformed into an Old English Sheepdog by an enchanted ring of the Borgias. The film was based on the story, The Hound of Florence by Felix Salten...



1959
Freeda Daniels
Later remade

The Shaggy Dog (2006 film)

The Shaggy Dog is a 2006 film by Walt Disney Pictures. It is the second remake of the 1959 film of the same name, which was first remade as a television film in 1994....



Sunrise at Campobello

Sunrise at Campobello

Sunrise at Campobello is a 1960 American biographical film made by Dore Schary Productions and Warner Bros. It tells the story of the initial struggle by future President of the United States Franklin Delano Roosevelt and his family when he was stricken with paralysis at the age of 39 in August...



1960
Marguerite "Missy" LeHand
Panic in Year Zero
1962
Ann Baldwin
Dead Ringer

Dead Ringer (1964 film)

Dead Ringer, also known as Who is Buried in my Grave? is a 1964 thriller film made by Warner Bros. It was directed by Paul Henreid and produced by William H. Wright from a screenplay by Oscar Millard and Albert Beich from the story La Otra by Rian James...



1964
Dede Marshall
last film
Television appearances
| Show | Role | Episodes | Notes |
| --- | --- | --- | --- |
| Make Room for Daddy | Margaret Williams | 117 (3 seasons) | later called The Danny Thomas Show; first family sitcom character to be killed off |
External links