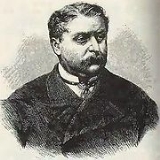 James Fisk (financier)
James Fisk, Jr.
—known variously as "Big Jim," "Diamond Jim," and "Jubilee Jim"—was an American
stock broker
Stock broker
A stock broker or stockbroker is a regulated professional broker who buys and sells shares and other securities through market makers or Agency Only Firms on behalf of investors...
and corporate executive.
Early life and career
Fisk was born in the hamlet of
Pownal, Vermont
Pownal, Vermont
Pownal is a town in Bennington County, Vermont, United States. As of the 2000 census, the town population was 3,560. The town of Pownal includes the villages of Pownal, North Pownal, and Pownal Center.-History:...
, in the township of Bennington on April Fool's Day. After a brief period in school, he ran away in 1850 and joined Van Amberg's Mammoth Circus & Menagerie. Later, he became a hotel waiter, and finally adopted the business of his father, a peddler. He applied what he learned in the circus to his peddling and grew his father's business. He then became a salesman for
Jordan Marsh
Jordan Marsh
Jordan Marsh & Company was a department store in Boston, Massachusetts, which grew to be a major regional chain in the New England area of the United States. In 1996, the last of the Jordan Marsh stores were converted to Macy's. The store was formerly part of Allied Stores and then Federated...
, a Boston dry goods firm. A failure as a salesman, he was sent to Washington, D.C., in 1861 to sell textiles to the government. By his shrewd dealing in army contracts during the
Civil War
American Civil War
The American Civil War was a civil war fought in the United States of America. In response to the election of Abraham Lincoln as President of the United States, 11 southern slave states declared their secession from the United States and formed the Confederate States of America ; the other 25...
, and, by some accounts, cotton smuggling across enemy lines (in which he enlisted the help of his father), he accumulated considerable wealth, which he soon lost in speculation.
Business career
In 1864 he became a stock broker in
New York
New York
New York is a state in the Northeastern region of the United States. It is the nation's third most populous state. New York is bordered by New Jersey and Pennsylvania to the south, and by Connecticut, Massachusetts and Vermont to the east...
and was employed by
Daniel Drew
Daniel Drew
-Biography:He was born in Carmel, New York.Drew was poorly educated. His father died when Daniel was fifteen years old. Drew enlisted and drilled, but because he enlisted too late, never fought in the War of 1812. After the war, he started a successful cattle-driving business. In 1823, he married...
as a buyer. He aided Drew in the
Erie War
Erie War
The Erie War was a 19th century conflict between American financiers for control of the Erie Railroad, which operated in several American states and connected New York to Chicago....
against
Cornelius Vanderbilt
Cornelius Vanderbilt
Cornelius Vanderbilt , also known by the sobriquet Commodore, was an American entrepreneur who built his wealth in shipping and railroads. He was also the patriarch of the Vanderbilt family and one of the richest Americans in history...
for control of the
Erie Railroad
Erie Railroad
The Erie Railroad was a railroad that operated in New York State, New Jersey, Pennsylvania, Ohio, Indiana, and Illinois, originally connecting New York City with Lake Erie...
. This resulted in Fisk and
Jay Gould
Jay Gould
Jason "Jay" Gould was a leading American railroad developer and speculator. He has long been vilified as an archetypal robber baron, whose successes made him the ninth richest American in history. Condé Nast Portfolio ranked Gould as the 8th worst American CEO of all time...
becoming members of the Erie directorate, and subsequently, a well-planned raid netted Fisk and Gould control of the railroad. The association with Gould continued until Fisk's death.
Fisk and Gould carried financial buccaneering to extremes: their program included an open alliance with
Boss Tweed
Boss Tweed
William Magear Tweed – often erroneously referred to as William Marcy Tweed , and widely known as "Boss" Tweed – was an American politician most notable for being the "boss" of Tammany Hall, the Democratic Party political machine that played a major role in the politics of 19th century...
, the wholesale bribery of legislatures, and the buying of judges. Their attempt to
corner
Cornering the market
In finance, to corner the market is to get sufficient control of a particular stock, commodity, or other asset to allow the price to be manipulated. Another definition: "To have the greatest market share in a particular industry without having a monopoly...
the gold market culminated in the fateful
Black Friday
Black Friday (1869)
Black Friday, September 24, 1869 also known as the Fisk/Gould scandal, was a financial panic in the United States caused by two speculators' efforts to corner the gold market on the New York Gold Exchange. It was one of several scandals that rocked the presidency of Ulysses S. Grant...
of September 24, 1869.
Personal life
Fisk married Lucy Moore in 1854, when he was 19 and she was 15. Lucy was an orphan, reared by an uncle from
Springfield, Massachusetts
Springfield, Massachusetts
Springfield is the most populous city in Western New England, and the seat of Hampden County, Massachusetts, United States. Springfield sits on the eastern bank of the Connecticut River near its confluence with three rivers; the western Westfield River, the eastern Chicopee River, and the eastern...
. She tolerated Fisk's many extramarital affairs and lived with a woman friend in Boston, suggesting she may have been a
lesbian
Lesbian
Lesbian is a term most widely used in the English language to describe sexual and romantic desire between females. The word may be used as a noun, to refer to women who identify themselves or who are characterized by others as having the primary attribute of female homosexuality, or as an...
. Regardless, they remained close, with Fisk visiting her every few weeks and spending summers and vacations with her every chance he could.
In New York, Fisk had a relationship with Josie Mansfield (1842?-1931), a showgirl. Fisk housed Josie in an apartment a few doors down from the Erie Railroad headquarters on West 23rd Street and had a covered passage built linking the backdoors of the headquarters and her apartment building. Fisk's relationship with Mansfield scandalized New York society. Mansfield eventually fell in love with Fisk's business associate Edward S. Stokes (1840–1901), a man noted for his good looks. Stokes left his wife and family, and Mansfield left Fisk.
In a bid for money, Mansfield and Stokes tried to extort money from Fisk by threatening the publication of letters written by Fisk to Mansfield that allegedly proved Fisk's legal wrongdoings. A legal and public relations battle followed, but Fisk refused to pay Mansfield anything. Increasingly frustrated and flirting with bankruptcy, Stokes shot and killed Fisk in New York City on January 6, 1872. Fisk gave a
dying declaration
Dying declaration
In the law of evidence, the dying declaration is testimony that would normally barred as hearsay but may nonetheless be admitted as evidence in certain kinds of cases because it constituted the last words of a dying person.-History:...
identifying Stokes as the killer, and Stokes served four years of a six-year prison sentence for Manslaughter. Fisk is buried in the Prospect Hill Cemetery in Brattleboro Vermont.
Fisk was vilified by High Society for his amoral and eccentric ways and by many pundits of the day for his business dealings; but he was loved and mourned by the workingmen of New York and the Erie Railroad. During the Stokes trial, his quick assistance to the victims of the
Great Chicago Fire
Great Chicago Fire
The Great Chicago Fire was a conflagration that burned from Sunday, October 8, to early Tuesday, October 10, 1871, killing hundreds and destroying about in Chicago, Illinois. Though the fire was one of the largest U.S...
was remembered in a song, "Jim Fisk (He Never Went Back on the Poor)". He was known as "Colonel" for being the nominal commander of the 9th New York National Guard Infantry Regiment, although his only experience of military action with this unit was an inglorious role in the
Orange Riot
Orange Riots
The Orange riots took place in Manhattan, New York City in 1870 and 1871, and involved violent conflict between Irish Protestants, called "Orangemen", and Irish Catholics, along with the New York City Police Department and the New York State National Guard....
of July 12, 1871.
Fisk's life was fictionalized in the
1937
1937 in film
The year 1937 in film involved some significant events, including the Walt Disney production of the first full-length animated film, Snow White and the Seven Dwarfs.- Events :*April 16 - Way Out West premieres in the US....
film
Film
A film, also called a movie or motion picture, is a series of still or moving images. It is produced by recording photographic images with cameras, or by creating images using animation techniques or visual effects...
The Toast of New York
The Toast of New York
The Toast of New York is a 1937 American biopic starring Edward Arnold, Cary Grant, Frances Farmer, and Jack Oakie. The film is a fictionalized account of the lives of financiers James Fisk and Edward S. Stokes...
.
Further reading
Adams, C.F.; Adams, Henry (1871). Chapters of Erie