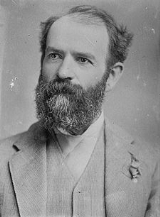 Jay Gould
Jason "Jay" Gould
was a leading American railroad developer and speculator. He has long been vilified as an archetypal
robber baron
Robber baron (industrialist)
Robber baron is a pejorative term used for a powerful 19th century American businessman. By the 1890s the term was used to attack any businessman who used questionable practices to become wealthy...
, whose successes made him the ninth richest American in history.
Condé Nast Portfolio
Condé Nast Portfolio
Portfolio.com is a website published by American City Business Journals that provides news and information for small to mid-sized businesses. It was formerly the website for the monthly business magazine Condé Nast Portfolio, published by Condé Nast from 2007 to 2009.Portfolio.com is continually...
ranked Gould as the 8th worst American CEO of all time. Some modern historians working from primary sources have discounted various myths about him.
Jason Gould was born in
Roxbury, New York
Roxbury, New York
Roxbury is a town in Delaware County, New York, United States. The population was 2,509 at the 2000 census.The Town of Roxbury is at the eastern end of the county.- History :...
, the son of John Burr Gould (1792–1866) and Mary More Gould (1798–1841).
The effect of this policy will be to annihilate the Indians & so greatly benefit us.

From a letter to a business associate, quoted in Maury Klein's The Life and Legend of Jay Gould