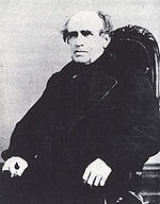 James Ferguson (astronomer)
James Ferguson
was an American
astronomer
Astronomer
An astronomer is a scientist who studies celestial bodies such as planets, stars and galaxies.Historically, astronomy was more concerned with the classification and description of phenomena in the sky, while astrophysics attempted to explain these phenomena and the differences between them using...
and
engineer
Engineer
An engineer is a professional practitioner of engineering, concerned with applying scientific knowledge, mathematics and ingenuity to develop solutions for technical problems. Engineers design materials, structures, machines and systems while considering the limitations imposed by practicality,...
(he helped build the
Erie canal
Erie Canal
The Erie Canal is a waterway in New York that runs about from Albany, New York, on the Hudson River to Buffalo, New York, at Lake Erie, completing a navigable water route from the Atlantic Ocean to the Great Lakes. The canal contains 36 locks and encompasses a total elevation differential of...
) born in
Scotland
Scotland
Scotland is a country that is part of the United Kingdom. Occupying the northern third of the island of Great Britain, it shares a border with England to the south and is bounded by the North Sea to the east, the Atlantic Ocean to the north and west, and the North Channel and Irish Sea to the...
who made the first discovery of an asteroid from
North America
North America
North America is a continent wholly within the Northern Hemisphere and almost wholly within the Western Hemisphere. It is also considered a northern subcontinent of the Americas...
(
31 Euphrosyne
31 Euphrosyne
31 Euphrosyne is one of the largest main-belt asteroids, discovered by James Ferguson on September 1, 1854. It was the first asteroid found from North America. It is named after Euphrosyne, one of the Charites in Greek mythology....
). Starting in 1847, he worked at the U.S. Naval Observatory in Washington, DC.
The
asteroid
Asteroid
Asteroids are a class of small Solar System bodies in orbit around the Sun. They have also been called planetoids, especially the larger ones...
1745 Ferguson
1745 Ferguson
1745 Ferguson is a main-belt asteroid discovered on September 17, 1941 by Willis, J. at Washington.- External links :*...
, discovered from the same observatory, was later named in his honour.
Asteroid

Asteroid

Asteroids are a class of small Solar System bodies in orbit around the Sun. They have also been called planetoids, especially the larger ones...


s discovered: 3
31 Euphrosyne

31 Euphrosyne

31 Euphrosyne is one of the largest main-belt asteroids, discovered by James Ferguson on September 1, 1854. It was the first asteroid found from North America. It is named after Euphrosyne, one of the Charites in Greek mythology....



September 1, 1854
50 Virginia

50 Virginia

50 Virginia is a large, very dark main belt asteroid. It was discovered by James Ferguson on October 4, 1857 from the United States Naval Observatory in Washington, D.C....



October 4, 1857
60 Echo

60 Echo

60 Echo is a quite large main-belt S-type asteroid. It was discovered by James Ferguson of the United States Naval Observatory in Washington D.C., on September 14, 1860. It was his third and final asteroid discovery. It is named after Echo, a nymph in Greek mythology.-References:...



September 14, 1860