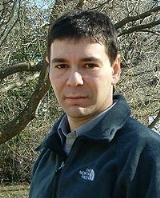 Jacob M. Appel
Jacob M. Appel
is an
American
United States
The United States of America is a federal constitutional republic comprising fifty states and a federal district...
author
Author
An author is broadly defined as "the person who originates or gives existence to anything" and that authorship determines responsibility for what is created. Narrowly defined, an author is the originator of any written work.-Legal significance:...
, bioethicist and social critic. He is best known for his short stories, his work as a
playwright
Playwright
A playwright, also called a dramatist, is a person who writes plays.The term is not a variant spelling of "playwrite", but something quite distinct: the word wright is an archaic English term for a craftsman or builder...
, and his writing in the fields of reproductive ethics,
organ donation
Organ donation
Organ donation is the donation of biological tissue or an organ of the human body, from a living or dead person to a living recipient in need of a transplantation. Transplantable organs and tissues are removed in a surgical procedure following a determination, based on the donor's medical and...
,
neuroethics
Neuroethics
Neuroethics is the ethics of neuroscience, and the neuroscience of ethics.The ethics of neuroscience deals with matters as a subclass of bioethics...
and
euthanasia
Euthanasia
Euthanasia refers to the practice of intentionally ending a life in order to relieve pain and suffering....
.
Writer
Over one hundred of Appel's short stories have been published in numerous literary journals, including
Agni
AGNI (magazine)
AGNI is an American literary magazine that publishes poetry, fiction, essays, reviews, interviews, and artwork twice a year in print and biweekly online from its home at Boston University...
,
The Gettysburg Review
The Gettysburg Review
The Gettysburg Review is a quarterly literary magazine featuring short stories, poetry, essays and reviews. Work appearing in the magazine often is reprinted in "best-of" anthologies and receives awards....
, and
StorySouth
StorySouth
storySouth is an online quarterly literary magazine that publishes fiction, poetry, criticism, essays, and visual artwork, with a focus on the Southern United States. The journal also runs the annual Million Writers Award to select the best short stories published each year in online magazines or...
.
The Boston Review
Boston Review
Boston Review is a bimonthly American political and literary magazine. The magazine covers, specifically, political debates, literature, and poetry...
named his short story, "Shell Game with Organs" the winner of its 1998 short fiction contest. He has won three
New Millennium Writings
New Millennium Writings
New Millennium Writings is an American literary magazine published in Knoxville, Tennessee. It was founded in 1996 by Don Williams, a prize-winning journalist and fiction writer who currently serves as editor. The magazine carries fiction, poetry, and creative non-fiction by up-and-coming writers...
first prizes in fiction (in 2004, 2007, 2008) for his short stories "Enoch Arden's One Night Stands," "Hazardous Cargoes," and "The Appraisal" (shared with Asha Vose). He won the
William Faulkner-William Wisdom Award
William Faulkner - William Wisdom Creative Writing Competition
The William Faulkner - William Wisdom Creative Writing Competition is one of America's leading literary competitions and has been presenting awards in fiction, nonfiction and poetry since 1993. The event is sponsored by the Pirate's Alley Faulkner Society of New Orleans...
for best short story in 2004 and a Sherwood Anderson Foundation grant in 2005.
His plays have been performed by companies across the U.S., including the
Detroit Repertory Theatre
Detroit Repertory Theatre
Detroit Repertory Theatre is a regional theatre located at 13103 Woodrow Wilson in Detroit, Michigan with a seating capacity of 194. The theatre began as a touring company in 1957 and performed throughout Michigan, Indiana, Ohio and Pennsylvnania, before it established itself on Woodrow Wilson...
,
Heller Theatre
Heller Theatre
The Heller Theatre in Tulsa, Oklahoma is the largest community theatre in Oklahoma. It was founded in October 1981 by Ken Spence with the partnership of Theatre Tulsa and has since produced more than one hundred shows including two dozen world premiers...
, and
Epilogue Players
Epilogue Players
Epilogue Players, a theater troupe based in Indianapolis, Indiana, was founded by Bertha Starkus in 1976 with the backing of the Indiana Arts Commission, as an acting company focussed on plays featuring older actors. The company's first production took place at the Children's Museum of...
.
Appel has taught creative writing at the
Gotham Writers' Workshop
Gotham Writers' Workshop
Gotham Writers' Workshop is the U.S.'s largest adult-education writing school. It was founded in New York City in 1993 by writers Jeff Fligelman and David Grae and currently offers courses both in New York and on-line...
and
New York University
New York University
New York University is a private, nonsectarian research university based in New York City. NYU's main campus is situated in the Greenwich Village section of Manhattan...
.
Academic bioethics
Appel has argued in favor of
abortion
Abortion
Abortion is defined as the termination of pregnancy by the removal or expulsion from the uterus of a fetus or embryo prior to viability. An abortion can occur spontaneously, in which case it is usually called a miscarriage, or it can be purposely induced...
rights,
assisted suicide
Assisted suicide
Assisted suicide is the common term for actions by which an individual helps another person voluntarily bring about his or her own death. "Assistance" may mean providing one with the means to end one's own life, but may extend to other actions. It differs to euthanasia where another person ends...
(not only for the terminally ill, but also for those suffering from long-term
mental illness
Mental illness
A mental disorder or mental illness is a psychological or behavioral pattern generally associated with subjective distress or disability that occurs in an individual, and which is not a part of normal development or culture. Such a disorder may consist of a combination of affective, behavioural,...
), and fertility treatment for homosexuals. He has also argued against electronic medical records. He has also argued in favor of
prostitution
Prostitution
Prostitution is the act or practice of providing sexual services to another person in return for payment. The person who receives payment for sexual services is called a prostitute and the person who receives such services is known by a multitude of terms, including a "john". Prostitution is one of...
,
polygamy
Polygamy
Polygamy is a marriage which includes more than two partners...
and
incest
Incest
Incest is sexual intercourse between close relatives that is usually illegal in the jurisdiction where it takes place and/or is conventionally considered a taboo. The term may apply to sexual activities between: individuals of close "blood relationship"; members of the same household; step...
between consenting adults and bestiality when the animal is not forced or harmed. He has raised concerns regarding the possibility that employers will require their employees to use pharmaceuticals for cognitive enhancement and has urged that death row inmates be eligible to receive kidney transplants. He generated considerable controversy for endorsing the mandatory use of
preimplantation genetic diagnosis
Preimplantation genetic diagnosis
In medicine and genetics pre-implantation genetic diagnosis refers to procedures that are performed on embryos prior to implantation, sometimes even on oocytes prior to fertilization. PGD is considered another way to prenatal diagnosis...
as part of the in vitro fertilization process to prevent the implantation of embryos carrying severe genetic defects. Appel has also written in support of an "open border" immigration policy.
Commentary
Appel writes for both
The Huffington Post
The Huffington Post
The Huffington Post is an American news website and content-aggregating blog founded by Arianna Huffington, Kenneth Lerer, and Jonah Peretti, featuring liberal minded columnists and various news sources. The site offers coverage of politics, theology, media, business, entertainment, living, style,...
and
Opposing Views
Opposing Views
Opposing Views is an American website where experts debate topics ranging from autism and child care to abortion and capital punishment. It was founded by Internet entrepreneur Russell Fine....
. He has staked out a
libertarian
Libertarianism
Libertarianism, in the strictest sense, is the political philosophy that holds individual liberty as the basic moral principle of society. In the broadest sense, it is any political philosophy which approximates this view...
position of many bioethical issues, advocating a worldview that he describes as "a culture of liberty." He has also authored opinion pieces in
The New York Times
The New York Times
The New York Times is an American daily newspaper founded and continuously published in New York City since 1851. The New York Times has won 106 Pulitzer Prizes, the most of any news organization...
,
New York Daily News
New York Daily News
The Daily News of New York City is the fourth most widely circulated daily newspaper in the United States with a daily circulation of 605,677, as of November 1, 2011....
,
Chicago Tribune
Chicago Tribune
The Chicago Tribune is a major daily newspaper based in Chicago, Illinois, and the flagship publication of the Tribune Company. Formerly self-styled as the "World's Greatest Newspaper" , it remains the most read daily newspaper of the Chicago metropolitan area and the Great Lakes region and is...
,
Orlando Sentinel
Orlando Sentinel
The Orlando Sentinel is the primary newspaper of the Orlando, Florida region. It was founded in 1876. The Sentinel is owned by Tribune Company and is overseen by the Chicago Tribune. As of 2005, the Sentinel's president and publisher was Kathleen Waltz; she announced her resignation in February 2008...
,
Albany Times-Union
Albany Times-Union
The Times Union is a major daily newspaper, serving the Capital Region of New York, United States. Although the newspaper focuses on Albany and its suburbs, it covers all parts of the four-county area, including the cities of Troy, Schenectady and Saratoga Springs. It is owned by the Hearst...
,
Tucson Citizen
Tucson Citizen
The Tucson Citizen was a daily newspaper in Tucson, Arizona. It was founded by Richard C. McCormick with John Wasson as publisher and editor on October 15, 1870 as the Arizona Citizen....
,
Detroit Free Press
Detroit Free Press
The Detroit Free Press is the largest daily newspaper in Detroit, Michigan, USA. The Sunday edition is entitled the Sunday Free Press. It is sometimes informally referred to as the "Freep"...
, New Haven Register and
The Providence Journal
The Providence Journal
The Providence Journal, nicknamed the ProJo, is a daily newspaper serving the metropolitan area of Providence, Rhode Island and is the largest newspaper in Rhode Island. The newspaper, first published in 1829 and the oldest continuously-published daily newspaper in the United States, was purchased...
.
Plays
The Resurrection of Dismas and Gestas (2005)
In the Floodplain (2005)
Arborophilia

Arborophilia

Arborophilia is a play by Jacob M. Appel, about a woman whose daughters have both vexed her in love: one is dating a Republican and the other has fallen in love with a poplar tree....


(2006)
The Three Belles of Eden (2006)
Thirds (2007)
The Mistress of Wholesome

The Mistress of Wholesome

The Mistress of Wholesome is a play by Jacob Appel that premiered at the Little Theatre of Alexandria on May 16, 2008.The play was directed by Keith Waters and starred Kacie Greenwood, Danielle Y. Eure and Jung Weil. A second production at the OpenStage Theater in Pittsburgh won the Theatre League...


(2007)
The Replacement (2008)
Woodpecker (2008)
Causa Mortis

Causa Mortis

Causa Mortis is a satiric play by Jacob M. Appel that lampoons the modern medical establishment. The plot focuses on a woman, Eleanor, whose brain surgeon has accidentally left his watch in her skull. Her daughters urge her to have the timepiece extracted before it harms her, but every surgeon...


(2009)
Helen of Sparta

Helen of Sparta (play)

Helen of Sparta is a tragicomic play by Jacob M. Appel. It premiered at the Venus Theatre in Laurel, Maryland on January 23, 2009. The play starred Julia Heynen as Helen, D. Grant Cloyd as Paris, Phil Amico as Protesilaus, Mary Burke-Hueffmeier as Laodamia and Ellie Nicoll as Oenone...


(2009)
External links