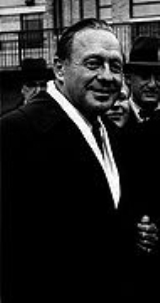 Jack Benny
Jack Benny
was an American
comedian
Comedian
A comedian or comic is a person who seeks to entertain an audience, primarily by making them laugh. This might be through jokes or amusing situations, or acting a fool, as in slapstick, or employing prop comedy...
,
vaudevillian
Vaudeville
Vaudeville was a theatrical genre of variety entertainment in the United States and Canada from the early 1880s until the early 1930s. Each performance was made up of a series of separate, unrelated acts grouped together on a common bill...
, and actor for
radio
Radio programming
Radio programming is the Broadcast programming of a Radio format or content that is organized for Commercial broadcasting and Public broadcasting radio stations....
,
television
Television
Television is a telecommunication medium for transmitting and receiving moving images that can be monochrome or colored, with accompanying sound...
, and
film
Film
A film, also called a movie or motion picture, is a series of still or moving images. It is produced by recording photographic images with cameras, or by creating images using animation techniques or visual effects...
. Widely recognized as one of the leading American entertainers of the 20th century, Benny played the role of the comic penny-pinching miser, insisting on remaining 39 years old on stage despite his actual age, and often playing the violin badly.
Benny was known for his
comic timing
Comic timing
Comic timing is the use of rhythm, tempo and pausing to enhance comedy and humour. The pacing of the delivery of a joke can have a strong impact on its comedic effect, even altering its meaning; the same can also be true of more physical comedy such as slapstick.A beat is a pause taken for the...
and his ability to get laughs with either a pregnant pause or a single expression, such as his signature exasperated "
Well!
" His radio and television programs, tremendously popular from the 1930s to the 1960s, were a foundational influence on the
situation comedy
Situation comedy
A situation comedy, often shortened to sitcom, is a genre of comedy that features characters sharing the same common environment, such as a home or workplace, accompanied with jokes as part of the dialogue...
genre.
Bob Crosby: That's like keeping the smog and throwing away Los Angeles.

Don Wilson: I don't think you know how much it means to me to do the commercial. After all I'm not a funny man. I can't sing or dance. I don't lead a band. What are you paying me for?

Jack: Don, you're hanging yourself.

Jack: I believe in being honest with myself. If there's one thing I hate it's when a comedian is great and won't admit it. I've never met one like that, but if I did, I'd hate them.

Jack: When another comedian has a lousy show, I'm the first one to admit it.

Jack: When they laugh at one of my jokes... it just gets me right here. [Puts hand on heart]

Rochester: Yes, that's the spot all right. You almost had a heart attack when they laughed at Bob Hope. ---- [At Liberace's House]

Liberace: What do we have for dinner?

Cook: We have some breast of flamingo and gazelle steaks.

Jack: Breast of flamingo and gazelle steaks?