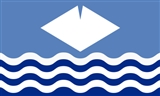 Isle of Wight
The
Isle of Wight
is a
county
Counties of England
Counties of England are areas used for the purposes of administrative, geographical and political demarcation. For administrative purposes, England outside Greater London and the Isles of Scilly is divided into 83 counties. The counties may consist of a single district or be divided into several...
and the largest island of England, located in the
English Channel
English Channel
The English Channel , often referred to simply as the Channel, is an arm of the Atlantic Ocean that separates southern England from northern France, and joins the North Sea to the Atlantic. It is about long and varies in width from at its widest to in the Strait of Dover...
, on average about 2–4 miles (3–6 km) off the south coast of the county of
Hampshire
Hampshire
Hampshire is a county on the southern coast of England in the United Kingdom. The county town of Hampshire is Winchester, a historic cathedral city that was once the capital of England. Hampshire is notable for housing the original birthplaces of the Royal Navy, British Army, and Royal Air Force...
, separated from the mainland by a strait called the
Solent
Solent
The Solent is a strait separating the Isle of Wight from the mainland of England.The Solent is a major shipping route for passengers, freight and military vessels. It is an important recreational area for water sports, particularly yachting, hosting the Cowes Week sailing event annually...
. The Island has many resorts which have been holiday destinations since
Victorian times
Victorian era
The Victorian era of British history was the period of Queen Victoria's reign from 20 June 1837 until her death on 22 January 1901. It was a long period of peace, prosperity, refined sensibilities and national self-confidence...
.
The Island has a rich history, including a brief status as an independent kingdom in the 15th century.