 Island platform
An
island platform
is a station layout arrangement where a single
platform
Railway platform
A railway platform is a section of pathway, alongside rail tracks at a train station, metro station or tram stop, at which passengers may board or alight from trains or trams. Almost all stations for rail transport have some form of platforms, with larger stations having multiple platforms...
is positioned between two tracks within a railway station,
tram stop
Tram stop
A tram stop is a place designated for a tram to stop so passengers can board or alight it. Tram stops share most characteristics of bus stops, but because trams operate on rails, they often include railway platforms, especially if stepless entries are provided for accessibility...
or transitway interchange. Island platforms are popular on twin-track routes and can provide for services in both directions from a single platform requiring only one set of supporting services (toilets, ticket offices, kiosks). They are also useful within larger stations where local and express services for the same direction of travel can be provided from opposite sides of the same platform thereby simplifying transfers between the two. An alternative arrangement is to position
side platform
Side platform
A Side platform is a platform positioned to the side of a pair of tracks at a railway station, a tram stop or a transitway. A pair of side platforms are often provided on a dual track line with a single side platform being sufficient for a single track line...
s on either side of the tracks.
Layout
Island platforms are popular in the modern railway world for several reasons. Besides their lower construction cost, island platforms also allow facilities such as escalators, elevators, shops, toilets and waiting rooms to be shared between both tracks rather than being duplicated or present only on one side. On commuter rail lines, passengers tend to use trains in one direction in the morning and the other direction in the evening. With two side platforms, one platform becomes crowded while the other is deserted. An island platform prevents this as the same large platform is used for trains in both ways.
Passenger convenience is another significant consideration. Generally, even
able-bodied
Able-bodied
Able-bodied refers, in law, to an individual's physical or mental capacity for gainful employment or military service, and it is in this sense that the term is also used regarding eligibility for payment of child support or alimony....
passengers dislike climbing steps to pass between platforms, and in some areas subways (i.e. pedestrian walkways) under the railway line may also pose vandalism and security problems. A growing consideration is the requirement for wheelchair accessible stations. An island platform makes it easier for wheelchair users and the infirm to change services, but it means that on a station at ground level, it is impossible to reach the platform without using a bridge, subway or track crossing. On the other hand, island platform subway stations allow passengers to use any station entrance and eliminate the need for some signage.
The historical use of island platforms depends greatly upon the location. In the United Kingdom the use of island platforms is relatively common when the railway line is in a cutting or raised on an
embankment
Embankment (transportation)
To keep a road or railway line straight or flat, and where the comparative cost or practicality of alternate solutions is prohibitive, the land over which the road or rail line will travel is built up to form an embankment. An embankment is therefore in some sense the opposite of a cutting, and...
, as this makes it easier to provide access to the platform without walking across the tracks.
Advantages and tradeoffs
Island platforms generally have a lower construction cost and require less space than
side platform
Side platform
A Side platform is a platform positioned to the side of a pair of tracks at a railway station, a tram stop or a transitway. A pair of side platforms are often provided on a dual track line with a single side platform being sufficient for a single track line...
s, a pair of separate platforms with the tracks running between them. However, island platforms may become overcrowded, especially at busy stations, and this can lead to safety issues such as
Clapham Common
Clapham Common tube station
Clapham Common tube station is a station on London Underground's Northern Line. It lies between Clapham North and Clapham South stations and is in Travelcard Zone 2.-History:...
(see image) and
Angel
Angel tube station
Angel tube station is a London Underground station in The Angel, Islington. It is on the Bank branch of the Northern Line, between Old Street and King's Cross St. Pancras stations. It is in Travelcard Zone 1. The tube stop serves as a portal to several Off West End, or fringe theatre, venues,...
(now rebuilt) on the
London Underground
London Underground
The London Underground is a rapid transit system serving a large part of Greater London and some parts of Buckinghamshire, Hertfordshire and Essex in England...
, or else the curves at either end of an island platform can impose undesirable speed limits, such as at Belmore, Turrumurra and in
Melbourne
Melbourne
Melbourne is the capital and most populous city in the state of Victoria, and the second most populous city in Australia. The Melbourne City Centre is the hub of the greater metropolitan area and the Census statistical division—of which "Melbourne" is the common name. As of June 2009, the greater...
.
Additionally, the need for the tracks to diverge around the center platform requires extra width along the right-of-way on each approach to the station, especially on high-speed lines. Track centers vary from rail systems throughout the world but are normally 3 to 5 meters (10 to 16 ft). If the island platform is 6 meters (20 ft) wide, the tracks have to slew out by the same distance. While this is not a problem on a new line that is being constructed, it makes it impossible to build a new station on an existing line without altering the tracks. In addition, a single island platform makes it quite difficult to have through tracks (used by trains that do not stop at that station), which are usually between the local tracks (where the island would be).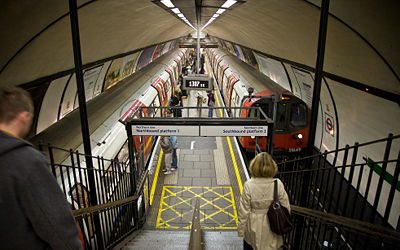 A common configuration in busy locations on high speed lines uses a pair of island platforms, with slower trains diverging from the main line so that the main line tracks remain straight. High-speed trains can therefore pass straight through the station, while slow trains pass around the platforms. This arrangement also allows the station to serve as a point where slow trains can be passed by faster trains. A variation at some stations is to have the slow and fast pairs of tracks each served by island platforms. A rarer layout, as at 34th Street in New York, uses two side platforms for local services with an island in between for fast services.
Examples
Many of the stations on the
Great Central Railway
Great Central Railway
The Great Central Railway was a railway company in England which came into being when the Manchester, Sheffield and Lincolnshire Railway changed its name in 1897 in anticipation of the opening in 1899 of its London Extension . On 1 January 1923, it was grouped into the London and North Eastern...
(now closed) were constructed in this form. This was because the line was planned to connect to a
Channel Tunnel
Channel Tunnel
The Channel Tunnel is a undersea rail tunnel linking Folkestone, Kent in the United Kingdom with Coquelles, Pas-de-Calais near Calais in northern France beneath the English Channel at the Strait of Dover. At its lowest point, it is deep...
. If this happened, the lines would need to be compatible with continental
loading gauge
Loading gauge
A loading gauge defines the maximum height and width for railway vehicles and their loads to ensure safe passage through bridges, tunnels and other structures...
, and this would mean it would be easy to change the line to a larger gauge, by moving the track away from the platform to allow the wider bodied continental rolling stock to pass freely while leaving the platform area untouched.
In
Toronto
Toronto
Toronto is the provincial capital of Ontario and the largest city in Canada. It is located in Southern Ontario on the northwestern shore of Lake Ontario. A relatively modern city, Toronto's history dates back to the late-18th century, when its land was first purchased by the British monarchy from...
, 29 subway stations use island platforms (a few on the Bloor line and namely in the newer stations, a few on the YUS line and all of the Sheppard Line) and one station on the Scarborough Rapid Transit line (Scarborough Centre).
In
Sydney
Sydney
Sydney is the most populous city in Australia and the state capital of New South Wales. Sydney is located on Australia's south-east coast of the Tasman Sea. As of June 2010, the greater metropolitan area had an approximate population of 4.6 million people...
, on the Eastern Suburbs Railway and the Epping Chatswood Railway, the twin tunnels are widely spaced and the tracks can remain at a constant track centres while still leaving room for the island platforms. A slight disadvantage is that
crossover
Crossover
-Fiction and media:* Fictional crossover, a storyline combining characters or settings from separate fictional properties** Fictional crossovers in video games* Crossover , a 2002 documentary by Justin Lin...
s have to be rather long.
Unused sides
Sometimes when the track on one side of the platform is unused by passenger trains, that side may be fenced off. Examples include Hurlstone Park and
Lewisham
Lewisham railway station, Sydney
-Transport links:Sydney Buses runs one route via Lewisham station:*Route 413 - east to King Street ferry wharf via Leichhardt, Annandale, Camperdown, University of Sydney, Railway Square, Town Hall, Wynyard; west to Campsie station via Ashbury...
.