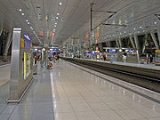 Railway platform
A
railway platform
is a section of pathway, alongside rail tracks at a
train station
Train station
A train station, also called a railroad station or railway station and often shortened to just station,"Station" is commonly understood to mean "train station" unless otherwise qualified. This is evident from dictionary entries e.g...
,
metro station
Metro station
A metro station or subway station is a railway station for a rapid transit system, often known by names such as "metro", "underground" and "subway". It is often underground or elevated. At crossings of metro lines, they are multi-level....
or
tram stop
Tram stop
A tram stop is a place designated for a tram to stop so passengers can board or alight it. Tram stops share most characteristics of bus stops, but because trams operate on rails, they often include railway platforms, especially if stepless entries are provided for accessibility...
, at which passengers may board or alight from trains or trams. Almost all stations for rail transport have some form of platforms, with larger stations having multiple platforms. The term platform is most commonly used, in British usage, for designated areas where trains stop. Almost all stations have their platforms numbered consecutively from 1; a few stations including
Cardiff Central
Cardiff Central railway station
Cardiff Central railway station is a major railway station on the South Wales Main Line in Cardiff, Wales.It is the largest and busiest station in Wales and one of the major stations of the British rail network, the tenth busiest station in the United Kingdom outside of London , based on 2007/08...
,
Haymarket
Haymarket railway station
For the Tyne and Wear Metro see Haymarket Metro station.Haymarket railway station is in Haymarket, Edinburgh, Scotland. It is Edinburgh's second largest station after Waverley, a major commuter and long-distance destination, located quite centrally near the West End...
, King's Cross,
Stockport
Stockport railway station
Stockport railway station is in Greater Manchester, England, 8 miles south-east of Manchester Piccadilly station on the West Coast Main Line from Manchester Piccadilly to London Euston. It was opened on 15 February 1843 by the Manchester and Birmingham Railway, following completion of the large...
, (in the UK),
Uppsala
Uppsala Central Station
Uppsala Central Station is a railway station located at Uppsala in Uppsala Municipality, Sweden. It lies on Ostkustbanan , which runs south to Stockholm and north to Gävle and Sundsvall and it is one of the termini for Dalabanan which runs northwest ending in Mora...
, (Sweden) and Lidcombe, Sydney (Australia) start from 0.