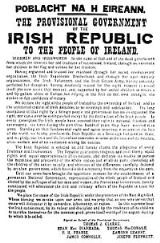 Easter Rising
The
Easter Rising
was an
insurrection
Rebellion
Rebellion, uprising or insurrection, is a refusal of obedience or order. It may, therefore, be seen as encompassing a range of behaviors aimed at destroying or replacing an established authority such as a government or a head of state...
staged in
Ireland
Ireland
Ireland is an island to the northwest of continental Europe. It is the third-largest island in Europe and the twentieth-largest island on Earth...
during
Easter Week
Easter Week
Easter Week is the period of seven days from Easter Sunday through the Saturday following.-Western Church:In the Latin Rite of Roman Catholicism, Anglican and other Western churches, Easter Week is the week beginning with the Christian feast of Easter and ending a week later on Easter Saturday...
, 1916. The Rising was mounted by
Irish republicans
Irish Republicanism
Irish republicanism is an ideology based on the belief that all of Ireland should be an independent republic.In 1801, under the Act of Union, the Kingdom of Great Britain and the Kingdom of Ireland merged to form the United Kingdom of Great Britain and Ireland...
with the aims of ending
British rule
United Kingdom of Great Britain and Ireland
The United Kingdom of Great Britain and Ireland was the formal name of the United Kingdom during the period when what is now the Republic of Ireland formed a part of it....
in Ireland and establishing the
Irish Republic
Irish Republic
The Irish Republic was a revolutionary state that declared its independence from Great Britain in January 1919. It established a legislature , a government , a court system and a police force...
at a time when the British Empire was heavily engaged in the First World War. It was the most significant uprising in Ireland since the
rebellion of 1798
Irish Rebellion of 1798
The Irish Rebellion of 1798 , also known as the United Irishmen Rebellion , was an uprising in 1798, lasting several months, against British rule in Ireland...
.
Organised by the Military Council of the
Irish Republican Brotherhood
Irish Republican Brotherhood
The Irish Republican Brotherhood was a secret oath-bound fraternal organisation dedicated to the establishment of an "independent democratic republic" in Ireland during the second half of the 19th century and the start of the 20th century...
, the Rising lasted from Easter Monday 24 April to 30 April 1916.