 Ionic crystal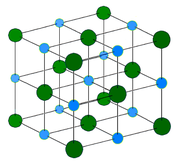 An
ionic crystal
is a
crystal
Crystal
A crystal or crystalline solid is a solid material whose constituent atoms, molecules, or ions are arranged in an orderly repeating pattern extending in all three spatial dimensions. The scientific study of crystals and crystal formation is known as crystallography...
consisting of
ion
Ion
An ion is an atom or molecule in which the total number of electrons is not equal to the total number of protons, giving it a net positive or negative electrical charge. The name was given by physicist Michael Faraday for the substances that allow a current to pass between electrodes in a...
s bound together by their electrostatic attraction. Examples of such crystals are the alkali halides, including
potassium fluoride
Potassium fluoride
Potassium fluoride is the chemical compound with the formula KF. After hydrogen fluoride, KF is the primary source of the fluoride ion for applications in manufacturing and in chemistry. It is an alkali metal halide and occurs naturally as the rare mineral carobbiite...
,
potassium chloride
Potassium chloride
The chemical compound potassium chloride is a metal halide salt composed of potassium and chlorine. In its pure state, it is odorless and has a white or colorless vitreous crystal appearance, with a crystal structure that cleaves easily in three directions. Potassium chloride crystals are...
,
potassium bromide
Potassium bromide
Potassium bromide is a salt, widely used as an anticonvulsant and a sedative in the late 19th and early 20th centuries, with over-the-counter use extending to 1975 in the United States. Its action is due to the bromide ion...
,
potassium iodide
Potassium iodide
Potassium iodide is an inorganic compound with the chemical formula KI. This white salt is the most commercially significant iodide compound, with approximately 37,000 tons produced in 1985. It is less hygroscopic than sodium iodide, making it easier to work with...
,
sodium fluoride
Sodium fluoride
Sodium fluoride is an inorganic chemical compound with the formula NaF. A colorless solid, it is a source of the fluoride ion in diverse applications. Sodium fluoride is less expensive and less hygroscopic than the related salt potassium fluoride....
, and other combinations of
sodium
Sodium
Sodium is a chemical element with the symbol Na and atomic number 11. It is a soft, silvery-white, highly reactive metal and is a member of the alkali metals; its only stable isotope is 23Na. It is an abundant element that exists in numerous minerals, most commonly as sodium chloride...
,
caesium
Caesium
Caesium or cesium is the chemical element with the symbol Cs and atomic number 55. It is a soft, silvery-gold alkali metal with a melting point of 28 °C , which makes it one of only five elemental metals that are liquid at room temperature...
,
rubidium
Rubidium
Rubidium is a chemical element with the symbol Rb and atomic number 37. Rubidium is a soft, silvery-white metallic element of the alkali metal group. Its atomic mass is 85.4678. Elemental rubidium is highly reactive, with properties similar to those of other elements in group 1, such as very rapid...
, or
lithium
Lithium
Lithium is a soft, silver-white metal that belongs to the alkali metal group of chemical elements. It is represented by the symbol Li, and it has the atomic number 3. Under standard conditions it is the lightest metal and the least dense solid element. Like all alkali metals, lithium is highly...
ions with
fluoride
Fluorine
Fluorine is the chemical element with atomic number 9, represented by the symbol F. It is the lightest element of the halogen column of the periodic table and has a single stable isotope, fluorine-19. At standard pressure and temperature, fluorine is a pale yellow gas composed of diatomic...
,
bromide
Bromine
Bromine ") is a chemical element with the symbol Br, an atomic number of 35, and an atomic mass of 79.904. It is in the halogen element group. The element was isolated independently by two chemists, Carl Jacob Löwig and Antoine Jerome Balard, in 1825–1826...
,
chloride
Chlorine
Chlorine is the chemical element with atomic number 17 and symbol Cl. It is the second lightest halogen, found in the periodic table in group 17. The element forms diatomic molecules under standard conditions, called dichlorine...
or
iodide
Iodine
Iodine is a chemical element with the symbol I and atomic number 53. The name is pronounced , , or . The name is from the , meaning violet or purple, due to the color of elemental iodine vapor....
ions.
NaCl has a 6:6 co-ordination.
The properties of NaCl reflect the strong interactions that exist between the ions. It is a good conductor of electricity when molten, but very poor in the solid state. When fused the mobile ions carry charge through the liquid.
They are characterized by strong absorption of infrared radiation and have planes along which they cleave easily.
The exact arrangement of ions in an ionic lattice varies according to the size of the ions in the solid.
External links