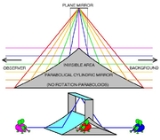 Invisibility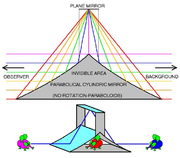 Invisibility
is the state of an object that cannot be
seen
Visual perception
Visual perception is the ability to interpret information and surroundings from the effects of visible light reaching the eye. The resulting perception is also known as eyesight, sight, or vision...
. An object in this state is said to be
invisible
(literally, "not visible"). The term is usually used as a
fantasy
Fantasy
Fantasy is a genre of fiction that commonly uses magic and other supernatural phenomena as a primary element of plot, theme, or setting. Many works within the genre take place in imaginary worlds where magic is common...
/
science fiction
Science fiction
Science fiction is a genre of fiction dealing with imaginary but more or less plausible content such as future settings, futuristic science and technology, space travel, aliens, and paranormal abilities...
term, where objects are literally made unseeable by
magical
Magic (paranormal)
Magic is the claimed art of manipulating aspects of reality either by supernatural means or through knowledge of occult laws unknown to science. It is in contrast to science, in that science does not accept anything not subject to either direct or indirect observation, and subject to logical...
or
technological
Technology
Technology is the making, usage, and knowledge of tools, machines, techniques, crafts, systems or methods of organization in order to solve a problem or perform a specific function. It can also refer to the collection of such tools, machinery, and procedures. The word technology comes ;...
means; however, its effects can also be seen in the real world, particularly in
physics
Physics
Physics is a natural science that involves the study of matter and its motion through spacetime, along with related concepts such as energy and force. More broadly, it is the general analysis of nature, conducted in order to understand how the universe behaves.Physics is one of the oldest academic...
and perceptional
psychology
Psychology
Psychology is the study of the mind and behavior. Its immediate goal is to understand individuals and groups by both establishing general principles and researching specific cases. For many, the ultimate goal of psychology is to benefit society...
.
Since objects can be seen by light in the
visible spectrum
Visible spectrum
The visible spectrum is the portion of the electromagnetic spectrum that is visible to the human eye. Electromagnetic radiation in this range of wavelengths is called visible light or simply light. A typical human eye will respond to wavelengths from about 390 to 750 nm. In terms of...
from a source reflecting off their surfaces and hitting the viewer's
eye
Human eye
The human eye is an organ which reacts to light for several purposes. As a conscious sense organ, the eye allows vision. Rod and cone cells in the retina allow conscious light perception and vision including color differentiation and the perception of depth...
, the most natural form of invisibility (whether real or fictional) is an object that neither reflects nor absorbs light (that is, it allows light to pass through it). In nature, this is known as
transparency, and is seen in many naturally occurring materials (although no naturally occurring material is 100% transparent).
Visibility also depends on the
eye
Human eye
The human eye is an organ which reacts to light for several purposes. As a conscious sense organ, the eye allows vision. Rod and cone cells in the retina allow conscious light perception and vision including color differentiation and the perception of depth...
s of the observer and/or the instruments used. Thus an object can be classified as "invisible to" a person, animal, instrument, etc. In the research of sensorial
perception
Perception
Perception is the process of attaining awareness or understanding of the environment by organizing and interpreting sensory information. All perception involves signals in the nervous system, which in turn result from physical stimulation of the sense organs...
invisibility has been shown to happen in cycles.
Invisibility is often considered the supreme form of
camouflage
Camouflage
Camouflage is a method of concealment that allows an otherwise visible animal, military vehicle, or other object to remain unnoticed, by blending with its environment. Examples include a leopard's spotted coat, the battledress of a modern soldier and a leaf-mimic butterfly...
, as it doesn't show any kind of
vital
Vital signs
Vital signs are measures of various physiological statistics, often taken by health professionals, in order to assess the most basic body functions. Vital signs are an essential part of a case presentation. The act of taking vital signs normally entails recording body temperature, pulse rate ,...
, visual, nor any of the frequencies of the
electromagnetic spectrum
Electromagnetic spectrum
The electromagnetic spectrum is the range of all possible frequencies of electromagnetic radiation. The "electromagnetic spectrum" of an object is the characteristic distribution of electromagnetic radiation emitted or absorbed by that particular object....
such as
radio
Radio
Radio is the transmission of signals through free space by modulation of electromagnetic waves with frequencies below those of visible light. Electromagnetic radiation travels by means of oscillating electromagnetic fields that pass through the air and the vacuum of space...
,
infrared
Infrared
Infrared light is electromagnetic radiation with a wavelength longer than that of visible light, measured from the nominal edge of visible red light at 0.74 micrometres , and extending conventionally to 300 µm...
, ultra violet, etc.
Technological
Technology can be used theoretically or practically to render real-world objects invisible:
Making use of real-time image displayed on a wearable display, scientists are able to create a see-through effect, if not invisibility. This is known as active camouflage

Active camouflage

Active camouflage or adaptive camouflage, is a group of camouflage technologies which allow an object to blend into its surroundings by use of panels or coatings capable of altering their appearance, color, luminance and reflective properties...


.
Though stealth technology

Stealth technology

Stealth technology also termed LO technology is a sub-discipline of military tactics and passive electronic countermeasures, which cover a range of techniques used with personnel, aircraft, ships, submarines, and missiles, to make them less visible to radar, infrared, sonar and other detection...


is cited as invisibility to radar

Radar

Radar is an object-detection system which uses radio waves to determine the range, altitude, direction, or speed of objects. It can be used to detect aircraft, ships, spacecraft, guided missiles, motor vehicles, weather formations, and terrain. The radar dish or antenna transmits pulses of radio...


, all officially disclosed applications of the technology can only reduce the size and/or clarity of the signature detected by radar.
In some science fiction stories, a hypothetical "cloaking device

Cloaking device

Cloaking devices are advanced stealth technologies still in development that will cause objects, such as spaceships or individuals, to be partially or wholly invisible to parts of the electromagnetic spectrum...


" is used to make objects invisible. On Thursday, October 19, 2006 a team effort of researchers from Britain and the US announced the development of a real cloak of invisibility, though it is only in its first stages.
In filmmaking

Filmmaking

Filmmaking is the process of making a film, from an initial story, idea, or commission, through scriptwriting, casting, shooting, directing, editing, and screening the finished product before an audience that may result in a theatrical release or television program...


, people, objects, or backgrounds can be made to look invisible on camera through a process known as chroma key

Chroma key

Chroma key compositing is a technique for compositing two images together. A color range in the top layer is made transparent, revealing another image behind. The chroma keying technique is commonly used in video production and post-production...


ing.
An artificially made meta material that is invisible on the microwave light spectrum.
Practical efforts
Engineers and scientists have performed various kinds of research to investigate the possibility of finding ways to create real optical invisibility (cloaks) for objects. Methods are typically based on implementing the theoretical techniques of
transformation optics
Transformation optics
Transformation optics represents an advancement in the design of optical devices. It is the basis for conceptualizing complex tools in the electromagnetic regime which allows for novel control of light, also known as electromagnetic waves. The mathematics underpinning transformation optics is...
, which have given rise to several theories of cloaking.
Currently, a practical cloaking device does not exist. A 2006 theoretical work predicts that the imperfections are minor, and metamaterial

Metamaterial

Metamaterials are artificial materials engineered to have properties that may not be found in nature. Metamaterials usually gain their properties from structure rather than composition, using small inhomogeneities to create effective macroscopic behavior....


s may make real-life "cloaking devices" practical. The technique is suspected to be applied to radio waves

Radio frequency

Radio frequency is a rate of oscillation in the range of about 3 kHz to 300 GHz, which corresponds to the frequency of radio waves, and the alternating currents which carry radio signals...


within five years, and eventually visible light is a possibility. The theory that light waves can be acted upon the same way as radio waves is now a popular idea among scientists and can be compared to a stone in a river, in which the water passes around it, but leaves no trace of a stone being in the water slightly down-stream. Comparing light waves to the water and whatever object that is being "cloaked" to the stone, the desire is to have light waves pass around that object, leaving no visible aspects of it, possibly not even a shadow. This is the technique depicted in the 2000 television portrayal of The Invisible Man

The Invisible Man (2000 TV series)

The Invisible Man is a Sci-Fi American television series starring Vincent Ventresca, Paul Ben-Victor, Eddie Jones, Shannon Kenny and Michael McCafferty...


.
Two teams of scientists worked separately to create two "Invisibility Cloaks" from 'metamaterials' engineered at the nanoscale level. They demonstrated for the first time the possibility of cloaking 3-dimensional (3-D) objects with artificially engineered materials that redirect radar, light or other waves around an object. While one uses a type of fishnet of metal layers to reverse the direction of light, the other uses tiny silver wires. Xiang Zhang, of the University of California

University of California

The University of California is a public university system in the U.S. state of California. Under the California Master Plan for Higher Education, the University of California is a part of the state's three-tier public higher education system, which also includes the California State University...


, Berkeley

Berkeley, California

Berkeley is a city on the east shore of the San Francisco Bay in Northern California, United States. Its neighbors to the south are the cities of Oakland and Emeryville. To the north is the city of Albany and the unincorporated community of Kensington...


said: "In the case of invisibility cloaks or shields, the material would need to curve light waves completely around the object like a river flowing around a rock. An observer looking at the cloaked object would then see light from behind it, making it seem to disappear."
UC Berkeley Researcher Jason Valentine's team made a material that affects light near the visible spectrum, in a region used in fibre optics: 'Instead of the fish appearing to be slightly ahead of where it is in the water, it would actually appear to be above the water's surface. It's kind of weird. For a metamaterial to produce negative refraction, it must have a structural array smaller than the wavelength of the electromagnetic radiation being used." Valentine's team created their 'fishnet' material by stacking silver and metal dielectric layers on top of each other and then punched through with holes. The other team used an oxide template and grew silver nanowires inside porous aluminum oxide at tiny distances apart, smaller than the wavelength of visible light. This material refracts visible light.
The Imperial College London

Imperial College London

Imperial College London is a public research university located in London, United Kingdom, specialising in science, engineering, business and medicine...


research achieved results with microwaves. An invisibility cloak layout of a copper cylinder was produced in May, 2008, by physicist Professor Sir John Pendry

John Pendry

Sir John Brian Pendry, FRS FInstP is an English theoretical physicist known for his research into refractive indexes and creation of the first practical "Invisibility Cloak"...


. Scientists working with him at Duke University

Duke University

Duke University is a private research university located in Durham, North Carolina, United States. Founded by Methodists and Quakers in the present day town of Trinity in 1838, the school moved to Durham in 1892. In 1924, tobacco industrialist James B...


in the US put the idea into practice.
Pendry, who theorized the invisibility cloak "as a joke" to illustrate the potential of metamaterials, said in an interview in August 2011 that grand, theatrical manifestations of his idea are probably overblown: "I think it's pretty sure that any cloak that Harry Potter would recognize is not on the table. You could dream up some theory, but the very practicality of making it would be so impossible. But can you hide things from light? Yes. Can you hide things which are a few centimeters across? Yes. Is the cloak really flexible and flappy? No. Will it ever be? No. So you can do quite a lot of things, but there are limitations. There are going to be some disappointed kids around, but there might be a few people in industry who are very grateful for it."
Psychological
A person can be described as invisible if others refuse to see them, or overlook them. The term was used in this manner in the title of the book
Invisible Man
Invisible Man
Invisible Man is a novel written by Ralph Ellison, and the only one that he published during his lifetime . It won him the National Book Award in 1953...
, by
Ralph Ellison
Ralph Ellison
Ralph Waldo Ellison was an American novelist, literary critic, scholar and writer. He was born in Oklahoma City, Oklahoma. Ellison is best known for his novel Invisible Man, which won the National Book Award in 1953...
, in reference to the protagonist, likely modeled after himself, being overlooked on account of his status as an
African American
African American
African Americans are citizens or residents of the United States who have at least partial ancestry from any of the native populations of Sub-Saharan Africa and are the direct descendants of enslaved Africans within the boundaries of the present United States...
.
Purported real world use
Practitioners of
magic
Magic (paranormal)
Magic is the claimed art of manipulating aspects of reality either by supernatural means or through knowledge of occult laws unknown to science. It is in contrast to science, in that science does not accept anything not subject to either direct or indirect observation, and subject to logical...
, usually those practicing
Black magic
Black magic
Black magic is the type of magic that draws on assumed malevolent powers or is used with the intention to kill, steal, injure, cause misfortune or destruction, or for personal gain without regard to harmful consequences. As a term, "black magic" is normally used by those that do not approve of its...
have claimed to have created spells or rituals to render themselves invisible.
Fictional use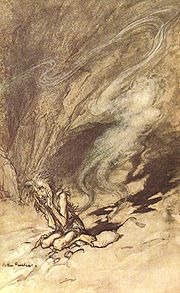 In fiction, people or objects can be rendered completely invisible by several means:
Magical objects such as rings, cloak

Cloak

A cloak is a type of loose garment that is worn over indoor clothing and serves the same purpose as an overcoat; it protects the wearer from the cold, rain or wind for example, or it may form part of a fashionable outfit or uniform. Cloaks are as old as human history; there has nearly always been...


s and amulet

Amulet

An amulet, similar to a talisman , is any object intended to bring good luck or protection to its owner.Potential amulets include gems, especially engraved gems, statues, coins, drawings, pendants, rings, plants and animals; even words said in certain occasions—for example: vade retro satana—, to...


s can be worn to grant the wearer permanent invisibility (or temporary invisibility until object is taken off).
Magical potion

Potion

A potion is a consumable medicine or poison.In mythology and literature, a potion is usually made by a magician, sorcerer, dragon, fairy or witch and has magical properties. It might be used to heal, bewitch or poison people...


s can be consumed to grant temporary invisibility.
Magic spells can be cast on people or objects, usually giving temporary invisibility.
Some mythical creatures

Legendary creature

A legendary creature is a mythological or folkloric creature.-Origin:Some mythical creatures have their origin in traditional mythology and have been believed to be real creatures, for example the dragon, the unicorn, and griffin...


can make themselves invisible at will, such as some versions of Leprechaun

Leprechaun

A leprechaun is a type of fairy in Irish folklore, usually taking the form of an old man, clad in a red or green coat, who enjoys partaking in mischief. Like other fairy creatures, leprechauns have been linked to the Tuatha Dé Danann of Irish mythology...


, and Chinese dragon

Chinese dragon

Chinese dragons are legendary creatures in Chinese mythology and folklore, with mythic counterparts among Japanese, Korean, Vietnamese, Bhutanese, Western and Turkic dragons. In Chinese art, dragons are typically portrayed as long, scaled, serpentine creatures with four legs...


s in some tales, which can shrink so small that humans cannot see them.
In some works, magical invisibility is "psychic" invisibility; while the character could be normally seen by anyone who notices him, the magic distracts anyone who actually could notice him. Such invisibility can be betrayed by mirrors or other reflective surfaces.
Where
magical
Magic (paranormal)
Magic is the claimed art of manipulating aspects of reality either by supernatural means or through knowledge of occult laws unknown to science. It is in contrast to science, in that science does not accept anything not subject to either direct or indirect observation, and subject to logical...
invisibility is concerned, the issue may arise of whether the
clothing
Clothing
Clothing refers to any covering for the human body that is worn. The wearing of clothing is exclusively a human characteristic and is a feature of nearly all human societies...
and items carried by the invisible wearer/carrier are also rendered invisible. In general, they are, but in some instances, clothing remains visible and must be removed for the full invisibility effect.
Sight while invisible
One of the few fictional examples of a double-blind cloak comes from the Thrawn Trilogy of Star Wars novels.
Grand Admiral Thrawn
Grand Admiral Thrawn
Grand Admiral Thrawn is a fictional character and major antagonist from the Star Wars galaxy. He first appeared in Timothy Zahn's Thrawn trilogy, published between 1992 and 1994...
's cloaking devices make the ships wielding them invisible, but also prevent those inside the ship from seeing out. Thus, most of the time, ships using this type of cloak remain stationary, dropping the cloak just before battle. (See the beginning of
Specter of the Past
Specter of the Past
Specter of the Past is the first of the two Hand of Thrawn novels by Timothy Zahn. Chronologically, it is the fourth in the Thrawn series.-Setting:...
for an example of this tactic.) An earlier example can be found in the
Traveller
Traveller (role-playing game)
Traveller is a series of related science fiction role-playing games, the first published in 1977 by Game Designers' Workshop and subsequent editions by various companies remaining in print to this day. The game was inspired from such classic science fiction stories as the Dumarest saga series by...
role-playing game, in which starships equipped with
black globe generators
are afforded resistance to physical detection and attack at the cost of being blind. The generators are set to 'flicker' at a pre-set frequency, permitting the ship's sensors to penetrate the globe but at the cost of momentary vulnerability.
In the
Halo
Halo (series)
Halo is a multi-million dollar science fiction video game franchise created by Bungie and now managed by 343 Industries and owned by Microsoft Studios. The series centers on an interstellar war between humanity and a theocratic alliance of aliens known as the Covenant...
video game series, the "active camouflage"
power-up
Power-up
In computer and video games, power-ups are objects that instantly benefit or add extra abilities to the game character as a game mechanic. This is in contrast to an item, which may or may not have a benefit and can be used at a time chosen by the player...
renders the wearer only partially invisible — the visible silhouette of the wearer is likely necessary so that the wearer's retinas can absorb what little light they need to see (though it also exists for game balance reasons). In the video game Quake, picking up a magic ring turns the player invisible to monsters for thirty seconds. In multiplayer
deathmatch
Deathmatch (gaming)
Deathmatch or Player vs All is a widely-used gameplay mode integrated into many shooter and real-time strategy computer games...
mode, only the player's eyes are visible, giving his opponents only a small clue to his location. With eyes being visible, light can be absorbed and the player can see.
In the
Predator
Predator (franchise)
The Predator film series is a science fiction horror film franchise. Produced by 20th Century Fox, the series started in 1987 with the film Predator, which led to two sequels and novel, comic book and video game spin-offs....
series,
the Predator
Predator (alien)
The Predator is a fictional extraterrestrial species featured in the Predator science-fiction franchise, characterised by its trophy hunting of other dangerous species for sport, including humans and its fictional counterparts, Aliens....
's cloaking device is similar to the active camouflage featured in
Halo
. The Predator can still "just" be seen by the careful observer. Whether this is to allow some of the EM spectrum to reach the Predator's eyes is debatable as the Predator sees in infrared. In fact theoretically the cloaking system could be manufactured to completely bend all visible light around it leaving him 100% invisible to species that only perceive visible light. However, this also may be the result of the species keeping a fair advantage, as Predators are known to be honorable warriors.
In
The Invisible Man
The Invisible Man (2000 TV series)
The Invisible Man is a Sci-Fi American television series starring Vincent Ventresca, Paul Ben-Victor, Eddie Jones, Shannon Kenny and Michael McCafferty...
, the main character of Darien Fawkes turns invisible thanks to a chemical called quicksilver that causes him to reflect light in a frequency that the human visual cortex cannot process. On some occasions, Darien has been able to see in this spectrum by turning his eyes invisible, allowing him to see other invisible people; when he was once blinded, he was able to use this ability to allow himself to see while his eyes healed to serve as a substitute visual cortex.
See also
External links