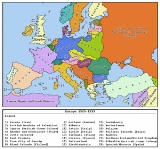 Interwar period
Interwar period
can refer to any period between two wars. The
Interbellum
(1918–1939) is understood to be the period between the end of the Great War or First World War and the beginning of the Second World War in Europe.
This period of
history
World History
World History, Global History or Transnational history is a field of historical study that emerged as a distinct academic field in the 1980s. It examines history from a global perspective...
was marked by turmoil, as
Europe
Europe
Europe is, by convention, one of the world's seven continents. Comprising the westernmost peninsula of Eurasia, Europe is generally 'divided' from Asia to its east by the watershed divides of the Ural and Caucasus Mountains, the Ural River, the Caspian and Black Seas, and the waterways connecting...
struggled to recover from the devastation of the First World War. Later a period of considerable prosperity (the
Roaring Twenties
Roaring Twenties
The Roaring Twenties is a phrase used to describe the 1920s, principally in North America, but also in London, Berlin and Paris for a period of sustained economic prosperity. The phrase was meant to emphasize the period's social, artistic, and cultural dynamism...
) followed, but this changed dramatically with the onset of the
Great Depression
Great Depression
The Great Depression was a severe worldwide economic depression in the decade preceding World War II. The timing of the Great Depression varied across nations, but in most countries it started in about 1929 and lasted until the late 1930s or early 1940s...
in 1929.