 Intertitle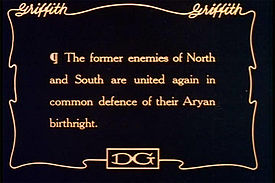 In motion pictures, an
intertitle
(also known as a
title card
) is a piece of filmed, printed text edited into the midst of (i.e. inter-) the photographed action, at various points, generally to convey character dialogue, or descriptive narrative material related to, but not necessarily covered by, the material photographed.
Intertitles were a mainstay of
silent film
Silent film
A silent film is a film with no synchronized recorded sound, especially with no spoken dialogue. In silent films for entertainment the dialogue is transmitted through muted gestures, pantomime and title cards...
s once they became of sufficient length and detail to necessitate dialogue and/or narration to make sense of the enacted or documented events.
In modern film, intertitles are used to supply an
epigraph
Epigraph (literature)
In literature, an epigraph is a phrase, quotation, or poem that is set at the beginning of a document or component. The epigraph may serve as a preface, as a summary, as a counter-example, or to link the work to a wider literary canon, either to invite comparison or to enlist a conventional...
, such as a poem, or to distinguish various "acts" of a film or multimedia production by use as a title card. However, they are most commonly used as part of a historical drama's epilogue to explain what happened to the depicted characters and events after the conclusion of the story proper.
The development of the
soundtrack
Soundtrack
A soundtrack can be recorded music accompanying and synchronized to the images of a motion picture, book, television program or video game; a commercially released soundtrack album of music as featured in the soundtrack of a film or TV show; or the physical area of a film that contains the...
slowly eliminated their utility as a narrative device (they were common for providing narration, but not dialogue, well into the 1930s), but they are occasionally still used as an artistic device. For instance, intertitles were used as a
gimmick
Gimmick
In marketing language, a gimmick is a unique or quirky special feature that makes something "stand out" from its contemporaries. However, the special feature is typically thought to be of little relevance or use. Thus, a gimmick is a special feature for the sake of having a special feature...
in
Frasier
Frasier
Frasier is an American sitcom that was broadcast on NBC for eleven seasons, from September 16, 1993, to May 13, 2004. The program was created and produced by David Angell, Peter Casey, and David Lee in association with Grammnet and Paramount Network Television.A spin-off of Cheers, Frasier stars...
. The BBC's drama
Threads
Threads
Threads is a British television drama produced by the BBC in 1984. Written by Barry Hines and directed by Mick Jackson, it is a documentary-style account of a nuclear war and its effects on the city of Sheffield in northern England....
uses them to give location, date and information on distant events beyond
Sheffield
Sheffield
Sheffield is a city and metropolitan borough of South Yorkshire, England. Its name derives from the River Sheaf, which runs through the city. Historically a part of the West Riding of Yorkshire, and with some of its southern suburbs annexed from Derbyshire, the city has grown from its largely...
.
Law & Order
Law & Order
Law & Order is an American police procedural and legal drama television series, created by Dick Wolf and part of the Law & Order franchise. It aired on NBC, and in syndication on various cable networks. Law & Order premiered on September 13, 1990, and completed its 20th and final season on May 24,...
use them to give only the location of the upcoming scene.
Guy Maddin
Guy Maddin
Guy Maddin, OM is a Canadian screenwriter, director, cinematographer and film editor of both features and short films from Winnipeg, Manitoba...
is a modern filmmaker known for recreating the style of older films, and uses intertitles appropriately. Some locally produced shows, such as quiz bowl game shows, use animated variations of intertitles to introduce the next round.
"Intertitle" is an academic term invented long after the advent of
sound film
Sound film
A sound film is a motion picture with synchronized sound, or sound technologically coupled to image, as opposed to a silent film. The first known public exhibition of projected sound films took place in Paris in 1900, but decades would pass before sound motion pictures were made commercially...
(see also
subtitle (captioning)
Subtitle (captioning)
Subtitles are textual versions of the dialog in films and television programs, usually displayed at the bottom of the screen. They can either be a form of written translation of a dialog in a foreign language, or a written rendering of the dialog in the same language, with or without added...
and supertitle). These "titles" should not be confused with the modern-day definition of
subtitle
Subtitle (titling)
In books and other works, a subtitle is an explanatory or alternate title. For example, Mary Shelley used a subtitle to give her most famous novel, Frankenstein; or, the Modern Prometheus, an alternate title to give a hint of the theme. In library cataloging the subtitle does not include an...
or main title.
Film preservationists know that these portions of a film are often the most highly prone to decomposition. This has been known for some time, and often intertitles are removed save for one or two frames to aid in placement. Distributors of unrestored prints of silent films sometimes are unable to replace these intertitles, and so they often flash unreadably past.
See also
Acknowledgment (creative arts)

Acknowledgment (creative arts)

In the creative arts and scientific literature, an acknowledgment is an expression of gratitude for assistance in creating a literary or artistic work....



Billing (filmmaking)
Character generator

Character generator

A character generator, often abbreviated as CG, is a device or software that produces static or animated text for keying into a video stream. Modern character generators are computer-based, and can generate graphics as well as text...



Closing credits

Closing credits

Closing credits or end credits are added at the end of a motion picture, television program, or video game to list the cast and crew involved in the production. They usually appear as a list of names in small type, which either flip very quickly from page to page, or move smoothly across the...



Credit (creative arts)

Credit (creative arts)

In general, the term credit in the artistic or intellectual sense refers to an acknowledgement of those who contributed to a work, whether through ideas or in a more direct sense.-Credit in the arts:...



Digital on-screen graphic

Digital on-screen graphic

A digital on-screen graphic is a watermark-like station logo that many television broadcasters overlay over a portion of the screen-area of their programs to identify the channel...


(BUG)
Lower third
Opening credits

Opening credits

In a motion picture, television program, or video game, the opening credits are shown at the very beginning and list the most important members of the production. They are now usually shown as text superimposed on a blank screen or static pictures, or sometimes on top of action in the show. There...



Title sequence

Title sequence

A Title Sequence is the method by which cinematic films or television programs present their title, key production and cast members, or both, utilizing conceptual visuals and sound...



WGA screenwriting credit system

WGA screenwriting credit system

In the United States, screenwriting credit for motion pictures and television programs under its jurisdiction is determined by either the Writers Guild of America, East or the Writers Guild of America, West . Since 1941, the Guilds have been the final arbiter of who receives credit for writing a...