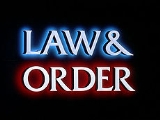 Law & Order
Law & Order
is an American police procedural and legal drama television series, created by
Dick Wolf
Dick Wolf
Richard Anthony "Dick" Wolf is an American producer, specializing in crime dramas such as Miami Vice and the Law & Order franchise. Throughout his career he has won several awards including an Emmy Award and a star on the Hollywood Walk of Fame.-Early life:Wolf was born in New York City, the son...
and part of the
Law & Order franchise
Law & Order (franchise)
The Law & Order franchise is a number of related American television series created by Dick Wolf and originally broadcast on NBC, all of which deal with some aspect of the criminal justice system...
. It aired on
NBC
NBC
The National Broadcasting Company is an American commercial broadcasting television network and former radio network headquartered in the GE Building in New York City's Rockefeller Center with additional major offices near Los Angeles and in Chicago...
, and in syndication on various cable networks. Law & Order premiered on September 13, 1990, and completed its 20th and final season on May 24, 2010. At the time of its cancellation, Law & Order was the longest-running crime drama on American primetime television, and tied for longest running American primetime drama series of all time with
Gunsmoke
Gunsmoke
Gunsmoke is an American radio and television Western drama series created by director Norman MacDonnell and writer John Meston. The stories take place in and around Dodge City, Kansas, during the settlement of the American West....
; both are the second longest-running scripted primetime series with ongoing characters after
The Simpsons
The Simpsons
The Simpsons is an American animated sitcom created by Matt Groening for the Fox Broadcasting Company. The series is a satirical parody of a middle class American lifestyle epitomized by its family of the same name, which consists of Homer, Marge, Bart, Lisa and Maggie...
.
Set and filmed in
New York City
New York City
New York is the most populous city in the United States and the center of the New York Metropolitan Area, one of the most populous metropolitan areas in the world. New York exerts a significant impact upon global commerce, finance, media, art, fashion, research, technology, education, and...
, the series follows a two-part approach: in the first half hour, the investigation of a crime and apprehension of a suspect by
New York City Police Department
New York City Police Department
The New York City Police Department , established in 1845, is currently the largest municipal police force in the United States, with primary responsibilities in law enforcement and investigation within the five boroughs of New York City...
homicide detectives is shown, followed by the prosecution of the defendant by the
Manhattan District Attorney's office
New York County District Attorney
The New York County District Attorney is the elected district attorney for New York County , New York. The office is responsible for the prosecution of violations of New York state laws....
in the second half.
Green is intensly questioning a suspect while Briscoe and the suspects attorney look on Defense attorney: Detective! (to Briscoe) put a leash on your partner! Briscoe: We gave up, he chewed through all of ours

I specifically asked for him to be put on suicide watch. Apparently, here at Riker's that means that they watch you commit suicide.

New Hampshire. I spent a year there one weekend.

It's like I always say: parking in this city will kill ya. (after finding a body in a parking lot)

I'm trying to decide what to arrest you for: obstruction of justice, harboring a fugitive or just being a general pain in the ass!

[holding handcuffs and talking to someone accused of stealing a telescope and murder] You've heard of the Seven Rings of Saturn? These are the Two Rings of Riker's.

There's no such thing as hooker-client confidentiality.

(To the deceased's wife) Your husband had sexual narcolepsy. He kept falling into bed.

(Spotting a man in a full leg cast) Oh look, John. It's the latest thing in menswear.