 International Bank for Reconstruction and Development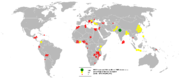 The
International Bank for Reconstruction and Development
(IBRD) is one of five institutions that compose the
World Bank Group
World Bank Group
The World Bank Group is a family of five international organizations that makes leveraged loans, generally to poor countries.The Bank came into formal existence on 27 December 1945 following international ratification of the Bretton Woods agreements, which emerged from the United Nations Monetary...
. The IBRD is an
international organization
International organization
An intergovernmental organization, sometimes rendered as an international governmental organization and both abbreviated as IGO, is an organization composed primarily of sovereign states , or of other intergovernmental organizations...
whose original mission was to finance the reconstruction of nations devastated by
World War II
World War II
World War II, or the Second World War , was a global conflict lasting from 1939 to 1945, involving most of the world's nations—including all of the great powers—eventually forming two opposing military alliances: the Allies and the Axis...
. Now, its mission has expanded to fight
poverty
Poverty
Poverty is the lack of a certain amount of material possessions or money. Absolute poverty or destitution is inability to afford basic human needs, which commonly includes clean and fresh water, nutrition, health care, education, clothing and shelter. About 1.7 billion people are estimated to live...
by means of financing
state
Sovereign state
A sovereign state, or simply, state, is a state with a defined territory on which it exercises internal and external sovereignty, a permanent population, a government, and the capacity to enter into relations with other sovereign states. It is also normally understood to be a state which is neither...
s. Its operation is maintained through payments as regulated by member states. It came into existence on December 27, 1945 following international ratification of the agreements reached at the
United Nations Monetary and Financial Conference
United Nations Monetary and Financial Conference
The United Nations Monetary and Financial Conference, commonly known as the Bretton Woods conference, was a gathering of 730 delegates from all 44 Allied nations at the Mount Washington Hotel, situated in Bretton Woods, New Hampshire, to regulate the international monetary and financial order after...
of July 1 to July 22, 1944 in
Bretton Woods, United States
Bretton Woods, New Hampshire
Bretton Woods is an area within the town of Carroll, New Hampshire, USA, whose principal points of interest are three leisure and recreation facilities...
.
The IBRD provides loans to governments, and public enterprises, always with a government (or "sovereign") guarantee of repayment subject to general conditions. The funds for this lending come primarily from the issuing of World Bank
bond
Bond (finance)
In finance, a bond is a debt security, in which the authorized issuer owes the holders a debt and, depending on the terms of the bond, is obliged to pay interest to use and/or to repay the principal at a later date, termed maturity...
s on the global
capital market
Capital market
A capital market is a market for securities , where business enterprises and governments can raise long-term funds. It is defined as a market in which money is provided for periods longer than a year, as the raising of short-term funds takes place on other markets...
s—typically $12–15 billion per year. These bonds are rated AAA (the highest possible) because they are backed by member states' share capital, as well as by borrowers' sovereign guarantees. (In addition, loans that are repaid are recycled, or relent.) Because of the IBRD's credit rating, it is able to borrow at relatively low interest rates. As most developing countries have considerably lower credit ratings, the IBRD can lend to countries at interest rates that are usually quite attractive to them, even after adding a small margin (about 1%) to cover administrative overheads.
Membership
Members of the IBRD are 186 of the UN members and
Kosovo
Republic of Kosovo
Kosovo , officially the Republic of Kosovo is a partially recognised state and a disputed territory in the Balkans...
. The latest member is
Tuvalu
Tuvalu
Tuvalu , formerly known as the Ellice Islands, is a Polynesian island nation located in the Pacific Ocean, midway between Hawaii and Australia. Its nearest neighbours are Kiribati, Nauru, Samoa and Fiji. It comprises four reef islands and five true atolls...
, which joined in 2010.
Non-members are
Andorra
Andorra
Andorra , officially the Principality of Andorra , also called the Principality of the Valleys of Andorra, , is a small landlocked country in southwestern Europe, located in the eastern Pyrenees mountains and bordered by Spain and France. It is the sixth smallest nation in Europe having an area of...
,
Cook Islands
Cook Islands
The Cook Islands is a self-governing parliamentary democracy in the South Pacific Ocean in free association with New Zealand...
,
Cuba
Cuba
The Republic of Cuba is an island nation in the Caribbean. The nation of Cuba consists of the main island of Cuba, the Isla de la Juventud, and several archipelagos. Havana is the largest city in Cuba and the country's capital. Santiago de Cuba is the second largest city...
,
Liechtenstein
Liechtenstein
The Principality of Liechtenstein is a doubly landlocked alpine country in Central Europe, bordered by Switzerland to the west and south and by Austria to the east. Its area is just over , and it has an estimated population of 35,000. Its capital is Vaduz. The biggest town is Schaan...
,
Monaco
Monaco
Monaco , officially the Principality of Monaco , is a sovereign city state on the French Riviera. It is bordered on three sides by its neighbour, France, and its centre is about from Italy. Its area is with a population of 35,986 as of 2011 and is the most densely populated country in the...
,
Nauru
Nauru
Nauru , officially the Republic of Nauru and formerly known as Pleasant Island, is an island country in Micronesia in the South Pacific. Its nearest neighbour is Banaba Island in Kiribati, to the east. Nauru is the world's smallest republic, covering just...
,
Niue
Niue
Niue , is an island country in the South Pacific Ocean. It is commonly known as the "Rock of Polynesia", and inhabitants of the island call it "the Rock" for short. Niue is northeast of New Zealand in a triangle between Tonga to the southwest, the Samoas to the northwest, and the Cook Islands to...
,
North Korea
North Korea
The Democratic People's Republic of Korea , , is a country in East Asia, occupying the northern half of the Korean Peninsula. Its capital and largest city is Pyongyang. The Korean Demilitarized Zone serves as the buffer zone between North Korea and South Korea...
and
Vatican City
Vatican City
Vatican City , or Vatican City State, in Italian officially Stato della Città del Vaticano , which translates literally as State of the City of the Vatican, is a landlocked sovereign city-state whose territory consists of a walled enclave within the city of Rome, Italy. It has an area of...
. All other non-members are states with limited recognition.
All members of the IBRD are also
IMF
International Monetary Fund
The International Monetary Fund is an organization of 187 countries, working to foster global monetary cooperation, secure financial stability, facilitate international trade, promote high employment and sustainable economic growth, and reduce poverty around the world...
members, and vice versa.
History
Commencing operations on June 25, 1946, it approved its first loan on May 9, 1947 ($250m to
France
France
The French Republic , The French Republic , The French Republic , (commonly known as France , is a unitary semi-presidential republic in Western Europe with several overseas territories and islands located on other continents and in the Indian, Pacific, and Atlantic oceans. Metropolitan France...
for postwar reconstruction, in real terms the largest loan issued by the Bank to date).
The IBRD was established mainly as a vehicle for reconstruction of Europe and Japan after World War II, with an additional mandate to foster economic growth in developing countries in Africa, Asia and Latin America. Originally the bank focused mainly on large-scale infrastructure projects, building
highway
Highway
A highway is any public road. In American English, the term is common and almost always designates major roads. In British English, the term designates any road open to the public. Any interconnected set of highways can be variously referred to as a "highway system", a "highway network", or a...
s,
airport
Airport
An airport is a location where aircraft such as fixed-wing aircraft, helicopters, and blimps take off and land. Aircraft may be stored or maintained at an airport...
s, and
powerplant
PowerPlant
PowerPlant is an object-oriented GUI toolkit, application framework and set of class libraries for Mac OS, created by Metrowerks. The framework was fairly popular at the height of the Classic Mac OS era, and was primarily used with CodeWarrior...
s. As Japan and its European client countries "graduated" (achieved certain levels of income per capita), the IBRD became focused entirely on developing countries. Since the early 1990s the IBRD has also provided financing to the post-Socialist states of
Eastern Europe
Eastern Europe
Eastern Europe is the eastern part of Europe. The term has widely disparate geopolitical, geographical, cultural and socioeconomic readings, which makes it highly context-dependent and even volatile, and there are "almost as many definitions of Eastern Europe as there are scholars of the region"...
and the republics of the former
Soviet Union
Soviet Union
The Soviet Union , officially the Union of Soviet Socialist Republics , was a constitutionally socialist state that existed in Eurasia between 1922 and 1991....
.
External links