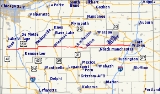 Indiana State Road 14
State Road 14
is an east–west road in
northern Indiana
Northern Indiana
Northern Indiana is the region of Indiana including 26 counties bordering parts of Illinois, Michigan, and Ohio. The area is generally sub-classified into other regions. The northwest is economically and culturally intertwined with Chicago, and is considered part of the Chicago metropolitan area...
. Its western terminus is at
U.S. Route 41
U.S. Route 41
U.S. Route 41 is a north–south United States Highway that runs from Miami, Florida to the Upper Peninsula of Michigan. Until 1949, the part in southern Florida, from Naples to Miami, was U.S...
in Enos, and its eastern terminus is at
Interstate 69
Interstate 69
Interstate 69 is an Interstate Highway in the United States. It exists in two parts: a completed highway from Indianapolis, Indiana, northeast to the Canadian border in Port Huron, Michigan, and a mostly proposed extension southwest to the Mexican border in Texas...
in
Fort Wayne
Fort Wayne, Indiana
Fort Wayne is a city in the US state of Indiana and the county seat of Allen County. The population was 253,691 at the 2010 Census making it the 74th largest city in the United States and the second largest in Indiana...
.
In August 2005, construction on a new ramp connecting Indiana State Road 14 to Interstate 65 was completed. Winamac is the only control city listed, and is approximately 40 miles (64.4 km) east of the interchange. The ramp is noted for direct access to Fair Oaks Farms, immediately west of the interchange.
History
Until 1995, State Road 14 continued east of I-69, following Illinois Road to Washington Boulevard, then following Washington Boulevard through downtown Fort Wayne. East of the city center, State Road 14 briefly joined
State Road 930
Indiana State Road 930
State Road 930 is a 900-series state highway entirely within greater Fort Wayne, Indiana.-Route description:SR 930 western terminus is at an interchange with Interstate 69, U.S. Route 30 , and U.S. Route 33 . SR 930 heads southeast on Goshen Ave. from the interchange to West Coliseum Blvd...
. It then split from SR-930 in
New Haven
New Haven, Indiana
-Demographics:As of the census of 2000, there were 12,406 people, 4,900 households, and 3,415 families residing in the city. The population density was 1,522.0 people per square mile . There were 5,141 housing units at an average density of 630.7 per square mile...
, continuing east on Lincoln Highway and Dawkins Road to its former eastern terminus at the village of
Edgerton, Indiana
Edgerton, Indiana
Edgerton is an unincorporated town in Jackson Township, Allen County, Indiana....
at the Ohio state line. This segment was decommissioned in 1995 with the opening of
Interstate 469
Interstate 469
Interstate 469 is an Interstate Highway in the northeastern portion of the mid-western U.S. state of Indiana. It is an auxiliary route of parent Interstate 69 that also carries portions of US 24, US 30 and US 33 around the urban parts of Fort Wayne, Indiana...
.
Major intersections