Imperial Oil
Imperial Oil Limited (French: Compagnie Pétrolière Impériale Limitée) is
Canada
Canada
Canada is a North American country consisting of ten provinces and three territories. Located in the northern part of the continent, it extends from the Atlantic Ocean in the east to the Pacific Ocean in the west, and northward into the Arctic Ocean...
's largest
petroleum
Petroleum
Petroleum or crude oil is a naturally occurring, flammable liquid consisting of a complex mixture of hydrocarbons of various molecular weights and other liquid organic compounds, that are found in geologic formations beneath the Earth's surface. Petroleum is recovered mostly through oil drilling...
company. The company is engaged in the exploration, production and sale of crude oil and natural gas. It is controlled by US based
ExxonMobil
ExxonMobil
Exxon Mobil Corporation or ExxonMobil, is an American multinational oil and gas corporation. It is a direct descendant of John D. Rockefeller's Standard Oil company, and was formed on November 30, 1999, by the merger of Exxon and Mobil. Its headquarters are in Irving, Texas...
, which owns 69.6% of its stock. Imperial owns 25% of
Syncrude Canada Ltd.
Syncrude
Syncrude Canada Ltd. is the world's largest producer of synthetic crude oil from oil sands and the largest single source producer in Canada. It is located just outside Fort McMurray in the Athabasca Oil Sands, and has a nameplate capacity of of oil, equivalent to about 13% of Canada's consumption...
, the world's largest producer of
synthetic crude
Synthetic crude
Synthetic crude is the output from a bitumen/extra heavy oil upgrader facility used in connection with oil sand production. It may also refer to shale oil, an output from an oil shale pyrolysis. The properties of the synthetic crude depend on the processes used in the upgrading. Typically, it is...
oil from strip mining of oil sands. Imperial Oil operates
service station
Filling station
A filling station, also known as a fueling station, garage, gasbar , gas station , petrol bunk , petrol pump , petrol garage, petrol kiosk , petrol station "'servo"' in Australia or service station, is a facility which sells fuel and lubricants...
s in Canada under the
trade name
Trade name
A trade name, also known as a trading name or a business name, is the name which a business trades under for commercial purposes, although its registered, legal name, used for contracts and other formal situations, may be another....
Esso
Esso
Esso is an international trade name for ExxonMobil and its related companies. Pronounced , it is derived from the initials of the pre-1911 Standard Oil, and as such became the focus of much litigation and regulatory restriction in the United States. In 1972, it was largely replaced in the U.S. by...
as well as other
brand
Brand
The American Marketing Association defines a brand as a "Name, term, design, symbol, or any other feature that identifies one seller's good or service as distinct from those of other sellers."...
names. Its owned-and-operated
convenience store
Convenience store
A convenience store, corner store, corner shop, commonly called a bodega in Spanish-speaking areas of the United States, is a small store or shop in a built up area that stocks a range of everyday items such as groceries, toiletries, alcoholic and soft drinks, and may also offer money order and...
s use the
On the Run / Marché Express
On the Run (convenience store)
thumb|350px|An Esso-branded service station, with On the Run convenience store, in [[Ottawa]], [[Ontario]], [[Canada]]. This location, owned by [[Imperial Oil]], includes a [[Tim Hortons]] drive-thru and an [[Royal Bank of Canada|RBC]] bank machine....
or Tiger Express brands.
The company was
incorporated
Incorporation (business)
Incorporation is the forming of a new corporation . The corporation may be a business, a non-profit organisation, sports club, or a government of a new city or town...
in
London, Ontario
London, Ontario
London is a city in Southwestern Ontario, Canada, situated along the Quebec City – Windsor Corridor. The city has a population of 352,395, and the metropolitan area has a population of 457,720, according to the 2006 Canadian census; the metro population in 2009 was estimated at 489,274. The city...
in 1880. Currently headquartered in
Calgary
Calgary
Calgary is a city in the Province of Alberta, Canada. It is located in the south of the province, in an area of foothills and prairie, approximately east of the front ranges of the Canadian Rockies...
,
Alberta
Alberta
Alberta is a province of Canada. It had an estimated population of 3.7 million in 2010 making it the most populous of Canada's three prairie provinces...
, Imperial Oil was based in Toronto, Ontario until August 2005. Imperial Oil maintains major corporate offices in Calgary, Toronto and Montreal.
In 1989 Imperial Oil acquired
Texaco
Texaco
Texaco is the name of an American oil retail brand. Its flagship product is its fuel "Texaco with Techron". It also owns the Havoline motor oil brand....
's Canadian retails operations, which led to the Texaco brand vanishing from Canada.
Imperial is one of Canada's top
natural gas
Natural gas
Natural gas is a naturally occurring gas mixture consisting primarily of methane, typically with 0–20% higher hydrocarbons . It is found associated with other hydrocarbon fuel, in coal beds, as methane clathrates, and is an important fuel source and a major feedstock for fertilizers.Most natural...
producers, the country's major
refiner
Refining
Refining is the process of purification of a substance or a form. The term is usually used of a natural resource that is almost in a usable form, but which is more useful in its pure form. For instance, most types of natural petroleum will burn straight from the ground, but it will burn poorly...
and
marketer
Marketing
Marketing is the process used to determine what products or services may be of interest to customers, and the strategy to use in sales, communications and business development. It generates the strategy that underlies sales techniques, business communication, and business developments...
of petroleum products and an important
manufacturer
Manufacturing
Manufacturing is the use of machines, tools and labor to produce goods for use or sale. The term may refer to a range of human activity, from handicraft to high tech, but is most commonly applied to industrial production, in which raw materials are transformed into finished goods on a large scale...
of
petrochemical
Petrochemical
Petrochemicals are chemical products derived from petroleum. Some chemical compounds made from petroleum are also obtained from other fossil fuels, such as coal or natural gas, or renewable sources such as corn or sugar cane....
s. Most of Imperial's production is from its vast
natural resource
Natural resource
Natural resources occur naturally within environments that exist relatively undisturbed by mankind, in a natural form. A natural resource is often characterized by amounts of biodiversity and geodiversity existent in various ecosystems....
holdings in
Alberta
Alberta
Alberta is a province of Canada. It had an estimated population of 3.7 million in 2010 making it the most populous of Canada's three prairie provinces...
and the
Northwest Territories
Northwest Territories
The Northwest Territories is a federal territory of Canada.Located in northern Canada, the territory borders Canada's two other territories, Yukon to the west and Nunavut to the east, and three provinces: British Columbia to the southwest, and Alberta and Saskatchewan to the south...
.
Corporate governance
Current members of the
board of directors
Board of directors
A board of directors is a body of elected or appointed members who jointly oversee the activities of a company or organization. Other names include board of governors, board of managers, board of regents, board of trustees, and board of visitors...
of Imperial Oil are: Krystyna Hoeg, Bruce March, Jack Mintz, Robert Olsen, Roger Phillips, Paul Smith, Sheelagh Whittaker and Victor Young.
Bruce March is the current Chairman, President and CEO since 2008, replacing Tim Hearn who retired effective March 31, 2008.
See also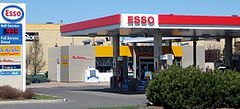 ExxonMobil

ExxonMobil

Exxon Mobil Corporation or ExxonMobil, is an American multinational oil and gas corporation. It is a direct descendant of John D. Rockefeller's Standard Oil company, and was formed on November 30, 1999, by the merger of Exxon and Mobil. Its headquarters are in Irving, Texas...



Esso

Esso

Esso is an international trade name for ExxonMobil and its related companies. Pronounced , it is derived from the initials of the pre-1911 Standard Oil, and as such became the focus of much litigation and regulatory restriction in the United States. In 1972, it was largely replaced in the U.S. by...



Imperial Oil - Dartmouth Refinery
Imperial Oil - Nanticoke Refinery
Imperial Oil - Strathcona Refinery

Strathcona Refinery (Imperial Oil)

The Imperial Oil - Strathcona Refinery is an oil refinery located adjacent to Edmonton, Alberta, Canada, owned by Imperial Oil. The refinery provides oil products, primarily gasoline, aviation fuel, diesel, lubricating oils, petroleum waxes, heavy fuel oil and asphalts.A fire occurred at the...



Imperial Oil Building

Imperial Oil Building (Toronto)

The Imperial Oil Building, designed by Alvan Mathers, is a skyscraper outside the downtown financial core of Toronto, Ontario, Canada. Located at 111 St...


(former Toronto headquarters building)
Nuns' Island gas station

Nuns' Island gas station

The Nun's Island gas station is a modernist-style filling station designed by Ludwig Mies van der Rohe in 1969, one of four buildings by Mies in Nuns' Island, an island in the city of Montreal. It is no longer a working gas station and as of January 2009, the city of Montreal was looking for a new...


, an Esso station designed by Ludwig Mies van der Rohe

Ludwig Mies van der Rohe

Ludwig Mies van der Rohe was a German architect. He is commonly referred to and addressed as Mies, his surname....


in 1969
External links