 Hydrocopter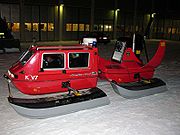 A
hydrocopter
is an amphibious aircraft-propelled
catamaran
Catamaran
A catamaran is a type of multihulled boat or ship consisting of two hulls, or vakas, joined by some structure, the most basic being a frame, formed of akas...
. The vehicle has a boat-like
hull
Hull (watercraft)
A hull is the watertight body of a ship or boat. Above the hull is the superstructure and/or deckhouse, where present. The line where the hull meets the water surface is called the waterline.The structure of the hull varies depending on the vessel type...
, small wheels and
pontoon
Pontoon (boat)
A pontoon is a flotation device with buoyancy sufficient to float itself as well as a heavy load. A pontoon boat is a flattish boat that relies on pontoons to float. Pontoons may be used on boats, rafts, barges, docks, floatplanes or seaplanes. Pontoons may support a platform, creating a raft. A...
skids (as in a
seaplane
Seaplane
A seaplane is a fixed-wing aircraft capable of taking off and landing on water. Seaplanes that can also take off and land on airfields are a subclass called amphibian aircraft...
). An aircraft engine with aircraft
propeller
Propeller (aircraft)
Aircraft propellers or airscrews convert rotary motion from piston engines or turboprops to provide propulsive force. They may be fixed or variable pitch. Early aircraft propellers were carved by hand from solid or laminated wood with later propellers being constructed from metal...
and air
rudder
Rudder
A rudder is a device used to steer a ship, boat, submarine, hovercraft, aircraft or other conveyance that moves through a medium . On an aircraft the rudder is used primarily to counter adverse yaw and p-factor and is not the primary control used to turn the airplane...
pushes the hydrocopter across water, ice, snow and land.
It is very useful in arctic coastal regions during "
rasputitsa
Rasputitsa
The rasputitsa refers to the biannual seasons when unpaved roads become difficult to traverse in parts of Belarus, Russia and Ukraine. The word may be translated as the "quagmire season" because during this period the large flatlands become extremely muddy and marshy, as do most unpaved roads...
" or great spring thaw when no boats are usable due to icy seas. It is a cheaper alternative to air-cushion vehicles and
helicopter
Helicopter
A helicopter is a type of rotorcraft in which lift and thrust are supplied by one or more engine-driven rotors. This allows the helicopter to take off and land vertically, to hover, and to fly forwards, backwards, and laterally...
s and more suitable in rescue operations during high winds.
see also:
Air boat
Air boat
An airboat, also known as a fanboat, is a flat-bottomed vessel propelled in a forward direction by an aircraft-type propeller and powered by either an aircraft or automotive engine. Airboats are a very popular means of transportation in the Florida Everglades, parts of the Indian River Lagoon, the...