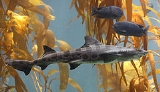 Hound shark
Houndsharks
are a family,
Triakidae
, of
ground sharks
Carcharhiniformes
The ground sharks, order Carcharhiniformes, are the largest order of sharks. With over 270 species, carcharhiniforms include a number of common types, such as the blue shark, catsharks, swellsharks, and sandbar shark....
, consisting of about 40 species in 9 genera. In some classifications, the family is split into two sub-families, with
Mustelus
,
Scylliogaleus
, and
Triakis
Triakis
Triakis is a genus of houndshark in the family Triakidae.The name comes from the Latin word tri meaning "three", and acis meaning "sharp" or "pointed", in reference to the three-pointed teeth of these sharks.-Species:* Subgenus Cazon...
in sub-family
Triakinae
, and the remaining genera in sub-family
Galeorhininae
.
Houndsharks are distinguished by possessing two large spineless
dorsal fin
Dorsal fin
A dorsal fin is a fin located on the backs of various unrelated marine and freshwater vertebrates, including most fishes, marine mammals , and the ichthyosaurs...
s, an anal fin, and oval eyes with nictitating eyelids. They are small to medium in size, ranging from 37 centimetres (14.6 in) to 220 centimetres (7.2 ft) in adult length. They are found throughout the world in warm and temperate waters, where they feed on fish and invertebrates on the seabed and in midwater.
Genera
Furgaleus Whitley

Gilbert Percy Whitley

Gilbert Percy Whitley was a British-born Australian ichthyologist and malacologist who was Curator of Fishes at the Australian Museum in Sydney for about 40 years. He was born at Swaythling, Southampton, England, and was educated at King Edward VI School, Southampton and Osborne House...


, 1951
Galeorhinus Blainville

Henri Marie Ducrotay de Blainville

Henri Marie Ducrotay de Blainville was a French zoologist and anatomist.Blainville was born at Arques, near Dieppe. In about 1796 he went to Paris to study painting, but he ultimately devoted himself to natural history, and attracted the attention of Georges Cuvier, for whom he occasionally...


, 1816
Gogolia Compagno, 1973
Hemitriakis

Hemitriakis

Hemitriakis is a genus of houndshark in the family Triakidae.-Species:* Hemitriakis abdita Compagno & Stevens, 1993 * Hemitriakis complicofasciata Takahashi & Nakaya, 2004...


Herre

Albert William Herre

Albert William Christian Theodore Herre was an American ichthyologist and lichenologist.Herre was born in 1868 in Toledo, Ohio....


, 1923
Hypogaleus J. L. B. Smith, 1957
Iago

Iago (genus)

Iago is a genus of houndshark in the family Triakidae.The name comes from the villain in Shakespeare´s Othello.-Species:* Iago garricki Fourmanoir & Rivaton, 1979 * Iago omanensis...


Compagno & Springer

Stewart Springer

Stewart Springer, was a world renowned expert on shark behavior, classification , and distribution of shark populations. There are more than 35 species of sharks, skates, rays, and other animals either classified originally by him or named after him.-Education:Springer was a field naturalist,...


, 1971
Mustelus H. F. Linck, 1790
Scylliogaleus Boulenger

George Albert Boulenger

George Albert Boulenger FRS was a Belgian-British zoologist who identified over 2000 new animal species, chiefly fish, reptiles and amphibians.-Life:...


, 1902
Triakis

Triakis

Triakis is a genus of houndshark in the family Triakidae.The name comes from the Latin word tri meaning "three", and acis meaning "sharp" or "pointed", in reference to the three-pointed teeth of these sharks.-Species:* Subgenus Cazon...


J. P. Müller

Johannes Peter Müller

Johannes Peter Müller , was a German physiologist, comparative anatomist, and ichthyologist not only known for his discoveries but also for his ability to synthesize knowledge.-Early years and education:...


& Henle

Friedrich Gustav Jakob Henle

Friedrich Gustav Jakob Henle was a German physician, pathologist and anatomist. He is credited with the discovery of the loop of Henle in the kidney. His essay "On Miasma and Contagia" was an early argument for the germ theory of disease...


, 1839
Cladogram
Triakidae

Triakinae

Scylliogaleini
Triakini

Mustelus
Triakis

Subgenus Triakis
Subgenus Cazon (may be a genus)

Galeorhininae