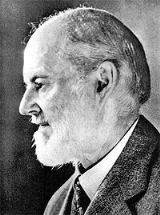 Henry Royce
Sir Frederick Henry Royce, 1st Baronet
, OBE (27 March 1863 – 22 April 1933) was a pioneering car manufacturer, who with Charles Stewart Rolls founded the
Rolls-Royce
Rolls-Royce Limited
Rolls-Royce Limited was a renowned British car and, from 1914 on, aero-engine manufacturing company founded by Charles Stewart Rolls and Henry Royce on 15 March 1906 as the result of a partnership formed in 1904....
company.
Early life
Frederick Henry Royce was born in
Alwalton
Alwalton
Alwalton is a village in Huntingdonshire in the United Kingdom, five miles to the west of the city of Peterborough....
,
Huntingdonshire
Huntingdonshire
Huntingdonshire is a local government district of Cambridgeshire, covering the area around Huntingdon. Traditionally it is a county in its own right...
, near
Peterborough
Peterborough
Peterborough is a cathedral city and unitary authority area in the East of England, with an estimated population of in June 2007. For ceremonial purposes it is in the county of Cambridgeshire. Situated north of London, the city stands on the River Nene which flows into the North Sea...
, the son of James and Mary Royce (maiden name King) and was the youngest of their five children. His family ran a flour mill which they leased from the
Ecclesiastical Commissioners
Ecclesiastical Commissioners
Ecclesiastical Commissioners were, in England and Wales, a body corporate, whose full title is Ecclesiastical and Church Estates Commissioners for England. The commissioners were authorized to determine the distribution of revenues of the Church of England, and they made extensive changes in how...
but the business failed and the family moved to London. His father died in 1872 and Royce had to go out to work selling newspapers and delivering telegrams, having had only one year of formal schooling.
In 1878 he started an apprenticeship with the
Great Northern Railway
Great Northern Railway (Great Britain)
The Great Northern Railway was a British railway company established by the Great Northern Railway Act of 1846. On 1 January 1923 the company lost its identity as a constituent of the newly formed London and North Eastern Railway....
company at its works in Peterborough thanks to the financial help of an aunt. After three years the money ran out and, after a short time with a tool-making company in
Leeds
Leeds
Leeds is a city and metropolitan borough in West Yorkshire, England. In 2001 Leeds' main urban subdivision had a population of 443,247, while the entire city has a population of 798,800 , making it the 30th-most populous city in the European Union.Leeds is the cultural, financial and commercial...
, he returned to London and joined the Electric Light and Power Company. He moved to their
Liverpool
Liverpool
Liverpool is a city and metropolitan borough of Merseyside, England, along the eastern side of the Mersey Estuary. It was founded as a borough in 1207 and was granted city status in 1880...
office in 1882 working on street and theatre lighting.
In 1884 with £20 of savings he entered a partnership with Ernest Claremont, a friend who contributed £50, and they started a business making domestic electric fittings in a workshop in Cooke Street,
Hulme
Hulme
Hulme is an inner city area and electoral ward of Manchester, England. Located immediately south of Manchester city centre, it is an area with significant industrial heritage....
,
Manchester
Manchester
Manchester is a city and metropolitan borough in Greater Manchester, England. According to the Office for National Statistics, the 2010 mid-year population estimate for Manchester was 498,800. Manchester lies within one of the UK's largest metropolitan areas, the metropolitan county of Greater...
called F H Royce and Company. In 1894 they started making dynamos and electric cranes and F.H. Royce & Company was registered as a
limited liability company
Limited company
A limited company is a company in which the liability of the members or subscribers of the company is limited to what they have invested or guaranteed to the company. Limited companies may be limited by shares or by guarantee. And the former of these, a limited company limited by shares, may be...
. The company was re-registered in 1899 as Royce Ltd with a public share flotation and a further factory opened in
Trafford Park
Trafford Park
Trafford Park is an area of the Metropolitan Borough of Trafford, in Greater Manchester, England. Located opposite Salford Quays, on the southern side of the Manchester Ship Canal, it is west-southwest of Manchester city centre, and north of Stretford. Until the late 19th century it was the...
, Manchester.
Partnership with Rolls
Following a decline in trade after the
Second Boer War
Second Boer War
The Second Boer War was fought from 11 October 1899 until 31 May 1902 between the British Empire and the Afrikaans-speaking Dutch settlers of two independent Boer republics, the South African Republic and the Orange Free State...
, and the arrival of increasing competition in cranes and dynamos from Germany and the United States, Royce began considering the motor car as a potential new product for the company. With his fascination for all things mechanical he became increasingly focused on motor cars and bought first, in 1901, a small
De Dion
De Dion-Bouton
De Dion-Bouton was a French automobile manufacturer and railcar manufacturer operating from 1883 to 1932. The company was founded by the Marquis Jules-Albert de Dion, Georges Bouton and his brother-in-law Charles Trépardoux....
and in 1902 or 1903 a 1901 model two cylinder
Decauville
Décauville automobile
Decauville was a French automobile maker, a subsidiary of a company already famous for producing locomotives.The company was registered as Société des Voitures Automobiles Decauville in 1897 and the factory started producing automobiles in 1898. The first car was designed by Messrs Joseph Guédon...
. This did not meet his high standards and so he first improved it and then decided to manufacture a car of his own which he did in a corner of the workshop in 1904.
Two more cars were made. Of the three, which were called Royces and had two cylinder engines, one was given to Ernest Claremont and the other sold to one of the other directors, Henry Edmunds. Edmunds was a friend of Charles Rolls who had a car showroom in London selling imported models and showed him his car and arranged the historic meeting between Rolls and Royce at the
Midland Hotel
Midland Hotel (Manchester)
The Midland is a 312 bedroom grand hotel situated in Manchester city centre, in North West England. Opened in September 1903, it was built by the Midland Railway to serve the adjacent Manchester Central railway station...
,
Manchester
Manchester
Manchester is a city and metropolitan borough in Greater Manchester, England. According to the Office for National Statistics, the 2010 mid-year population estimate for Manchester was 498,800. Manchester lies within one of the UK's largest metropolitan areas, the metropolitan county of Greater...
, on 4 May 1904. In spite of his preference for three or four cylinder cars, Rolls was impressed with the two-cylinder Royce 10 and in a subsequent agreement of 23 December 1904 agreed to take all the cars Royce could make. These would be of two, three, four and six cylinders and would be badged as Rolls-Royces.
The first Rolls-Royce car, the
Rolls-Royce 10 hp
Rolls-Royce 10 hp
The Rolls-Royce 10 hp was the first car to be produced as a result of an agreement of 23 December 1904 between Charles Rolls and Henry Royce, and badged as a Rolls-Royce. The 10 hp was produced by Royce's company, Royce Ltd., at its factory in Trafford Park, Manchester, and was sold...
, was unveiled at the Paris Salon in December 1904. In 1906 Rolls and Royce formalised their partnership by creating Rolls-Royce Limited, with Royce appointed chief engineer and works director on a salary of £1,250 per annum plus 4% of the profits in excess of £10,000. Royce thus provided the technical expertise to complement Rolls's financial backing and business acumen. By 1907 the company was winning awards for the engineering reliability of its cars.
Royce & Company remained in business as a separate company making cranes until 1932 when it was bought by Herbert Morris of Loughborough. The last Royce-designed crane was built in 1964.
The partnership ended when Rolls died in 1910 in a crash of his
Wright Flyer
Wright Flyer
The Wright Flyer was the first powered aircraft, designed and built by the Wright brothers. They flew it four times on December 17, 1903 near the Kill Devil Hills, about four miles south of Kitty Hawk, North Carolina, U.S.The U.S...
.
Development of Rolls-Royce
Royce had always worked hard and was renowned for never eating proper meals which resulted in his being taken ill first in 1902 and again in 1911. Ill health had forced his move away from Derby in 1912. In the same year, he had a major operation in London and was given only a few months to live by the doctors. In spite of this he returned to work but was prevented from visiting the factory, which had moved to larger premises, fitted out to detailed plans by Royce, in
Derby
Derby
Derby , is a city and unitary authority in the East Midlands region of England. It lies upon the banks of the River Derwent and is located in the south of the ceremonial county of Derbyshire. In the 2001 census, the population of the city was 233,700, whilst that of the Derby Urban Area was 229,407...
in 1908. He insisted on checking all new designs and engineers and draughtsmen had to take the drawings to be personally checked by him, a daunting prospect with his well-known perfectionism. He had a house built at Le Canadel in the south of France and a further home at
Crowborough
Crowborough
The highest point in the town is 242 metres above sea level. This summit is the highest point of the High Weald and second highest point in East Sussex . Its relative height is 159 m, meaning Crowborough qualifies as one of England's Marilyns...
,
East Sussex
East Sussex
East Sussex is a county in South East England. It is bordered by the counties of Kent, Surrey and West Sussex, and to the south by the English Channel.-History:...
. In 1917, Henry Royce moved to the village of
West Wittering
West Wittering
West Wittering is a small village and civil parish, on the Manhood Peninsula, in the Chichester district of West Sussex, England. It lies near the mouth of Chichester Harbour on the B2179 road 6.5 miles southwest of Chichester and has a sandy beach with what has been described as excellent...
,
West Sussex
West Sussex
West Sussex is a county in the south of England, bordering onto East Sussex , Hampshire and Surrey. The county of Sussex has been divided into East and West since the 12th century, and obtained separate county councils in 1888, but it remained a single ceremonial county until 1974 and the coming...
.
In October 1928 he began design of the
"R"
Rolls-Royce R
The Rolls-Royce R was a British aero engine designed and built specifically for air racing purposes by Rolls-Royce Limited. Nineteen R engines were assembled in a limited production run between 1929 and 1931...
engine while walking with some of his leading engineers on the beach at West Wittering, sketching ideas in the sand.
Less than a year later the "R" engine designed in his studio in the village set a new world air speed record of 357.7 miles per hour and won the
Schneider Trophy
Schneider Trophy
The Coupe d'Aviation Maritime Jacques Schneider was a prize competition for seaplanes. Announced by Jacques Schneider, a financier, balloonist and aircraft enthusiast, in 1911, it offered a prize of roughly £1,000. The race was held eleven times between 1913 and 1931...
of 1929. When the
Ramsay MacDonald
Ramsay MacDonald
James Ramsay MacDonald, PC, FRS was a British politician who was the first ever Labour Prime Minister, leading a minority government for two terms....
Government decided not to finance the next attempt in 1931,
Lucy, Lady Houston
Lucy, Lady Houston
Lucy, Lady Houston, DBE , born Fanny Lucy Radmall, was an English benefactor, philanthropist, adventuress and patriot.-Early life:...
felt that Britain must on no account be left out of this contest. She wired the Prime Minister that she would guarantee £100,000 if necessary towards the cost leaving the Government with no alternative but to reverse their previous decision. The result was that Royce found that the "R" could be made to produce more power and the
Supermarine
Supermarine
Supermarine was a British aircraft manufacturer that became famous for producing a range of sea planes and the Supermarine Spitfire fighter. The name now belongs to an English motorboat manufacturer.-History:...
S.6B seaplane
Supermarine S.6B
|-See also:-References:NotesBibliography* Andrews, C.F. and E.B. Morgan. Supermarine Aircraft since 1914, 2nd edition. London: Putnam, 1987. ISBN 0-85177-800-3....
won the Trophy at 340.08 mi/h on 13 September 1931. Later that month on the 29th, the same aircraft with an improved engine flew at 407.5 mi/h – becoming the first craft to fly at over 400 mi/h and breaking the world's speed record.
Bentley, shock absorber, and Merlin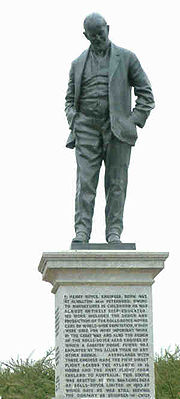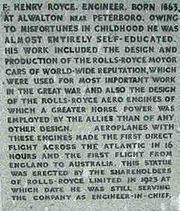 In 1931 Rolls-Royce Ltd. bought out the famous firm of W.O. Bentley. A "20/25" engine was put into a chassis and a
Bentley
Bentley
Bentley Motors Limited is a British manufacturer of automobiles founded on 18 January 1919 by Walter Owen Bentley known as W.O. Bentley or just "W O". Bentley had been previously known for his range of rotary aero-engines in World War I, the most famous being the Bentley BR1 as used in later...
radiator fitted. An open four seater body completed the picture. The engine was "hotted-up" and the car was taken down to West Wittering to get Royce's approval. They were somewhat apprehensive of what he would say, but he gave it his blessing. He told them that such a fast car should have a means of varying the stiffness of the springing. The night before he died he sat up in bed and drew a sketch on the back of an envelope which he gave to Miss Aubin (his nurse and housekeeper) telling her to see that the "boys" in the factory got it safely. He died before it reached Derby. This was the adjustable shock-absorber. Thus, in 1933 the first Bentley made by Rolls-Royce Ltd. made its appearance and another famous name is carried on.
Following the success of the "R" engine, it was clear that they had an engine that would be of use to the
Royal Air Force
Royal Air Force
The Royal Air Force is the aerial warfare service branch of the British Armed Forces. Formed on 1 April 1918, it is the oldest independent air force in the world...
. As no Government assistance was forthcoming at first, in the national interest, they went ahead with development of what was called the "P.V.12" engine (P.V. standing for Private Venture). The idea was to produce an engine of about the same performance as the "R", albeit with a much longer life. Royce launched the PV12 in October 1932 but unfortunately did not live to see its completion. The engine completed its first test in 1934, the year after he died. Later, the PV12 became the
Rolls-Royce Merlin
Rolls-Royce Merlin
The Rolls-Royce Merlin is a British liquid-cooled, V-12, piston aero engine, of 27-litre capacity. Rolls-Royce Limited designed and built the engine which was initially known as the PV-12: the PV-12 became known as the Merlin following the company convention of naming its piston aero engines after...
engine and the man who had once humbly signed the visitors' book at the
RAF Calshot
RAF Calshot
RAF Calshot was initially a seaplane and flying boat station, and latterly an RAF marine craft maintenance and training unit. It was located at the end of Calshot Spit in Southampton Water, Hampshire, England, at...
seaplane base as "F.H. Royce – Mechanic" would never know how his engines would go on to change the course of the Second World War.
Personal
Henry Royce married Minnie Punt in 1893 and they set up home together in
Chorlton-cum-Hardy
Chorlton-cum-Hardy
Chorlton-cum-Hardy is a suburban area of the city of Manchester, England. It is known locally as Chorlton. It is situated about four miles southwest of Manchester city centre. Pronunciation varies: and are both common....
, Manchester, and were joined by Royce's mother who lived nearby until her death in 1904 and Minnie's niece Violet. The Royces moved to a newly built house in
Knutsford
Knutsford
Knutsford is a town and civil parish in the unitary authority area of Cheshire East and the ceremonial county of Cheshire, in North West England...
, Cheshire in 1898. Henry Royce and Minnie separated in 1912. After he was taken ill Royce was looked after by a nurse, Ethel Aubin.
Royce, who lived by the motto "Whatever is rightly done, however humble, is noble", had already been awarded the OBE after the First World War, and was created a
Baronet
Baronet
A baronet or the rare female equivalent, a baronetess , is the holder of a hereditary baronetcy awarded by the British Crown...
, of
Seaton
Seaton, Rutland
Seaton is a village and civil parish in the county of Rutland in the East Midlands of England.Nearby is the large Seaton Viaduct, on the Oakham to Kettering railway line. It is three quarters of a mile long and took four years to build. It has 82 arches which are up to high. The railway is now...
in the County of Rutland, on 26 June 1930 for his services to British Aviation.
He died at his house Elmstead in West Wittering on 22 April 1933. His last words were reported to be, "I wish I had spent more time in the office."
In 1962 a memorial window dedicated to his memory was unveiled in
Westminster Abbey
Westminster Abbey
The Collegiate Church of St Peter at Westminster, popularly known as Westminster Abbey, is a large, mainly Gothic church, in the City of Westminster, London, United Kingdom, located just to the west of the Palace of Westminster. It is the traditional place of coronation and burial site for English,...
. The window is one of a series designed by
Sir J. Ninian Comper
Ninian Comper
Sir John Ninian Comper was a Scottish-born architect. He was one of the last of the great Gothic Revival architects, noted for his churches and their furnishings...
and each one is dedicated to the memory of an eminent engineer. He is also commemorated in Royce Hall, student accommodation at
Loughborough University
Loughborough University
Loughborough University is a research based campus university located in the market town of Loughborough, Leicestershire, in the East Midlands of England...
.
External links