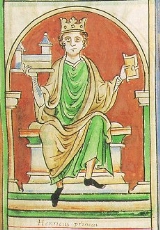 Henry I of England
Henry I
was the fourth son of
William I of England
William I of England
William I , also known as William the Conqueror , was the first Norman King of England from Christmas 1066 until his death. He was also Duke of Normandy from 3 July 1035 until his death, under the name William II...
. He succeeded his elder brother
William II
William II of England
William II , the third son of William I of England, was King of England from 1087 until 1100, with powers over Normandy, and influence in Scotland. He was less successful in extending control into Wales...
as King of England in 1100 and defeated his eldest brother, Robert Curthose, to become
Duke of Normandy
Duke of Normandy
The Duke of Normandy is the title of the reigning monarch of the British Crown Dependancies of the Bailiwick of Guernsey and the Bailiwick of Jersey. The title traces its roots to the Duchy of Normandy . Whether the reigning sovereign is a male or female, they are always titled as the "Duke of...
in 1106. A later tradition called him
Beauclerc
for his scholarly interests— he could read Latin and put his learning to effective use— and
Lion of Justice
for refinements which he brought about in the royal administration, which he rendered the most effective in Europe, rationalizing the itinerant court, and his public espousal of the
Anglo-Saxon
Anglo-Saxon
Anglo-Saxon may refer to:* Anglo-Saxons, a group that invaded Britain** Old English, their language** Anglo-Saxon England, their history, one of various ships* White Anglo-Saxon Protestant, an ethnicity* Anglo-Saxon economy, modern macroeconomic term...
legal tradition.
Henry's reign established deep roots for the
Anglo-Norman
Anglo-Norman
The Anglo-Normans were mainly the descendants of the Normans who ruled England following the Norman conquest by William the Conqueror in 1066. A small number of Normans were already settled in England prior to the conquest...
realm, in part through his dynastic (and personal) choice of a Scottish princess who represented the lineage of
Edmund Ironside
Edmund Ironside
Edmund Ironside or Edmund II was king of England from 23 April to 30 November 1016. His cognomen "Ironside" is not recorded until 1057, but may have been contemporary. According to the Anglo-Saxon Chronicle, it was given to him "because of his valour" in resisting the Danish invasion led by Cnut...
for queen.