 Helsinki Fair Centre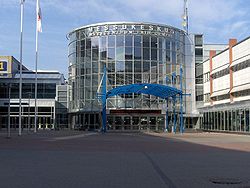 The
Helsinki Exhibition & Convention Centre
(
Finnish
Finnish language
Finnish is the language spoken by the majority of the population in Finland Primarily for use by restaurant menus and by ethnic Finns outside Finland. It is one of the two official languages of Finland and an official minority language in Sweden. In Sweden, both standard Finnish and Meänkieli, a...
:
Helsingin Messukeskus
,
Swedish
Swedish language
Swedish is a North Germanic language, spoken by approximately 10 million people, predominantly in Sweden and parts of Finland, especially along its coast and on the Åland islands. It is largely mutually intelligible with Norwegian and Danish...
:
Helsingfors Mässcentrum
) is the biggest and most famous
fair centre
Convention center
A convention center is a large building that is designed to hold a convention, where individuals and groups gather to promote and share common interests. Convention centers typically offer sufficient floor area to accommodate several thousand attendees...
in
Finland
Finland
Finland , officially the Republic of Finland, is a Nordic country situated in the Fennoscandian region of Northern Europe. It is bordered by Sweden in the west, Norway in the north and Russia in the east, while Estonia lies to its south across the Gulf of Finland.Around 5.4 million people reside...
. It is located in the capital city of
Helsinki
Helsinki
Helsinki is the capital and largest city in Finland. It is in the region of Uusimaa, located in southern Finland, on the shore of the Gulf of Finland, an arm of the Baltic Sea. The population of the city of Helsinki is , making it by far the most populous municipality in Finland. Helsinki is...
.
The exhibition & convention centre is located in eastern part of the district of
Pasila
Pasila
is a suburb in Helsinki, Finland. It is a central-northern neighbourhood, bordering Alppila to the south, Central Park to the west and Vallila to the east....
, a short walk northwards from the
Pasila railway station
Pasila railway station
Pasila railway station is a railway station in Helsinki, Finland, approximately north of Helsinki Central railway station. It is the second busiest railway station in Finland, after Helsinki Central, and takes up a large part of the district of Pasila...
. Visitors to the center usually stay at the
Holiday Inn
Holiday Inn
Holiday Inn is a brand of hotels, formally a economy motel chain, forming part of the British InterContinental Hotels Group . It is one of the world's largest hotel chains with 238,440 bedrooms and 1,301 hotels globally. There are currently 5 hotels in the pipeline...
hotel
Hotel
A hotel is an establishment that provides paid lodging on a short-term basis. The provision of basic accommodation, in times past, consisting only of a room with a bed, a cupboard, a small table and a washstand has largely been replaced by rooms with modern facilities, including en-suite bathrooms...
located immediately next to the fair centre.
The exhibition & convention centre holds appr. 70 different trade shows in a year and it has over one million annual visitors. The largest trade Shows in 2010 were Matka 2010/Caravan 2010 (81 537 visitors), Helsinki Book fair/Helsinki Music Fair/Wine, Food and Good Life 2010 (80 377 visitors) ja Boat 2010 (76 618 visitors). 1550 different meetings were held in the premisses in 2010.
Regular annual fairs at the Helsinki Fair Centre include the combined Health and Beauty fair for
cosmetics
Cosmetics
Cosmetics are substances used to enhance the appearance or odor of the human body. Cosmetics include skin-care creams, lotions, powders, perfumes, lipsticks, fingernail and toe nail polish, eye and facial makeup, towelettes, permanent waves, colored contact lenses, hair colors, hair sprays and...
,
fashion
Fashion
Fashion, a general term for a currently popular style or practice, especially in clothing, foot wear, or accessories. Fashion references to anything that is the current trend in look and dress up of a person...
and health, sports sports(SkiExpo as well as GoExpo)and the DigiExpo fair for
consumer electronics
Consumer electronics
Consumer electronics are electronic equipment intended for everyday use, most often in entertainment, communications and office productivity. Radio broadcasting in the early 20th century brought the first major consumer product, the broadcast receiver...
such as
digital photography
Digital photography
Digital photography is a form of photography that uses an array of light sensitive sensors to capture the image focused by the lens, as opposed to an exposure on light sensitive film...
.
External links