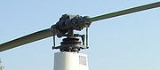 Helicopter rotor
A helicopter main rotor or rotor system is a type of
fan
Fan (mechanical)
A mechanical fan is a machine used to create flow within a fluid, typically a gas such as air.A fan consists of a rotating arrangement of vanes or blades which act on the air. Usually, it is contained within some form of housing or case. This may direct the airflow or increase safety by preventing...
that is used to generate both the aerodynamic
lift
Lift (force)
A fluid flowing past the surface of a body exerts a surface force on it. Lift is the component of this force that is perpendicular to the oncoming flow direction. It contrasts with the drag force, which is the component of the surface force parallel to the flow direction...
force that supports the weight of the
helicopter
Helicopter
A helicopter is a type of rotorcraft in which lift and thrust are supplied by one or more engine-driven rotors. This allows the helicopter to take off and land vertically, to hover, and to fly forwards, backwards, and laterally...
, and
thrust
Thrust
Thrust is a reaction force described quantitatively by Newton's second and third laws. When a system expels or accelerates mass in one direction the accelerated mass will cause a force of equal magnitude but opposite direction on that system....
which counteracts aerodynamic drag in forward flight. Each main rotor is mounted on a vertical mast over the top of the helicopter, as opposed to a helicopter
tail rotor
Tail rotor
The tail rotor, or anti-torque rotor, is a smaller rotor mounted so that it rotates vertically or near-vertically at the end of the tail of a traditional single-rotor helicopter. The tail rotor's position and distance from the center of gravity allow it to develop thrust in the same direction as...
, which is connected through a combination of drive shaft(s) and gearboxes along the tail boom.